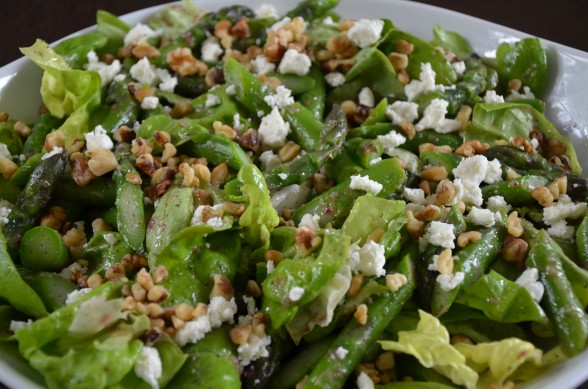 A great salad is part perfectly fresh and delicious ingredients and part winner dressing.  And the simpler the better.  But salad monogamy is not something I believe in.  There shouldn't be exclusivity with salad combinations and dressings.  A good vinaigrette should be able to play the field.  And let me tell you, the mint vinaigrette in this recipe sees a lot of action in my kitchen.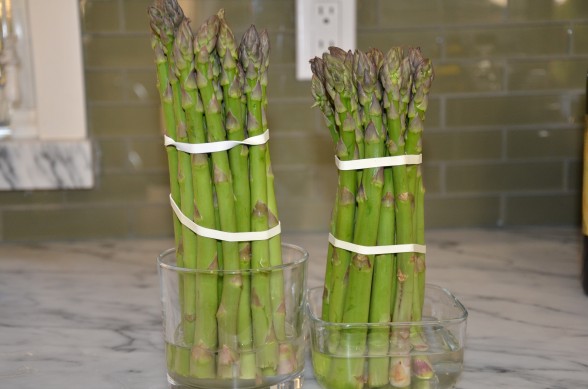 Does it look familiar to you?  If you took my class last July, you had it with a
Farro, Golden Beet and Cucumber Salad
.  If you saw the feature in 
ELLE Magazine
of my class at Jenni Kayne's and looked up 
the recipes
, you saw it there, too.  But what you don't know is that I have been using this dressing for years on lots of things and you will too!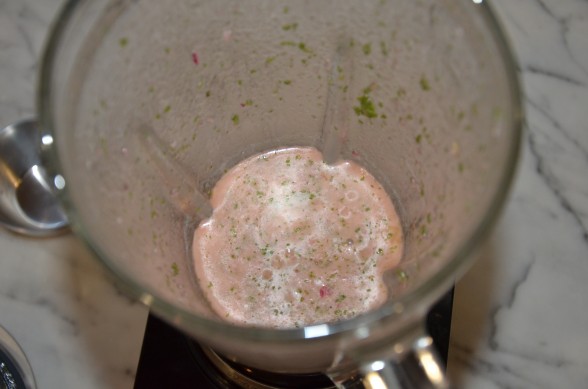 Why do I love this dressing?  Mint is one of my favorite herbs in both savory and sweet dishes.  Combined with rice vinegar and red onion, it is fresh and tangy and I could drink this dressing with a straw, I love it so much.  It is just perfect with asparagus, peas, cucumber, beets, carrots, potatoes and green beans.  Here I've shown you this asparagus salad prepared two ways - either sliced and mixed with butter lettuce or whole spears drizzled with dressing.  Easter is just around the corner and I think this would make a lovely light salad for brunch or a perfect complement to roast lamb for dinner.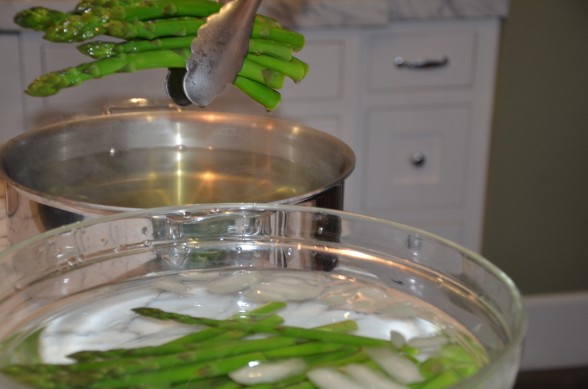 Don't forget about how nutritious asparagus is.  Asparagus is loaded with potassium, Vitamin C and folic acid, which is critical for proper cellular division (especially if you're pregnant.)  It also contains inulin which we don't digest, but the good bacteria in our gut do.  We want to promote the growth and activity of friendly bacteria so that they make it more difficult for unfriendly bacteria to take over our intestinal tract.  Asparagus is also rich in vitamin K, calcium and magnesium, all helpful in building bone strength.  I guess you could call this salad a win-win!

Asparagus Salad with Feta, Walnuts and Mint Vinaigrette
Ingredients
1 ½ pounds asparagus (medium thickness), tough ends trimmed
6 ounces butter lettuce, torn into bite size pieces (optional)
½ cup fresh mint leaves, about half of a ¾ ounce package
1 clove minced garlic (or 1 teaspoon, chopped)
¼ cup diced red onion
3 Tablespoons unseasoned rice vinegar
1 teaspoon raw honey
½ teaspoon sea salt (or more if you don't use the feta)
a few grinds of freshly ground black pepper
½ cup unrefined cold-pressed, extra-virgin olive oil
½ cup raw walnuts, chopped
3-4 ounces feta, preferably goat, crumbled
Instructions
Prepare a large bowl of ice water. Bring a large pot of salted water to a boil and blanch the asparagus spears for 3 minutes for medium thick spears (less for thinner). Remove asparagus with tongs and immediately submerge in the ice water. Once cool, remove asparagus to dry.
To prepare the dressing: place the mint leaves, garlic, rice vinegar, honey, diced onions, salt and pepper in a blender or food processor. Begin to blend and with the motor running, add the olive oil in a slow stream. Season to taste with sea salt and pepper.
Place lettuce on a platter and toss with enough dressing just to coat. Dry asparagus well and cut on the diagonal into fourths. Toss with a little dressing and add to lettuce. Scatter feta and walnuts all over salad and add more dressing if necessary.
Notes
The second photo shows how I store asparagus. When you bring it home from the market, trim the ends of the asparagus and store in a container with an inch of water at the base. Keep refrigerated. The asparagus will stay fresher for longer. When trimming asparagus to cook, bend the asparagus back close to the bottom and find the natural break in the stalk. Prepare as desired.