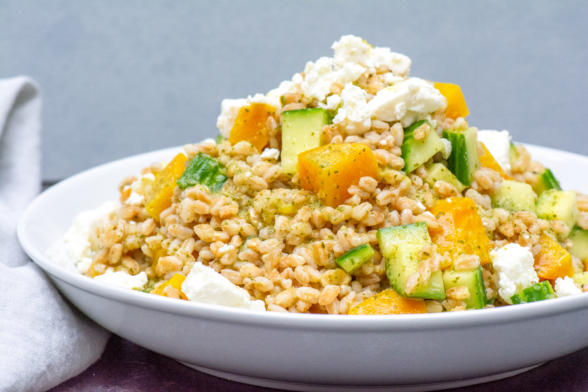 I recently made this recipe from deep in my archives.  It's always on the summer rotation, but this last time I decided to tweak the vinaigrette a little to make it punchier – yum! Even better.  And while I was at it, I re-photographed the dish since the blog photos needed a facelift.  I thought I would re-post the revamped recipe right before Labor Day weekend since it is THE PERFECT salad to serve or bring to a get-together.  The rest of this post is from the original!
Someone asked Daughter #1 yesterday what her favorite dish is that I make.  She thought that was a tough question since she really does like everything I cook at home.  So she decided to narrow it down herself to her favorite summer dish that I make which, she said, is Farro with Cucumber, Golden Beets and Feta with Mint Vinaigrette.  Really??  That, or Turkey Burgers, she added.  I thought she might say something a little fancier, but maybe farro is in her head because I've made it a few times recently, including once when she did most of the work herself.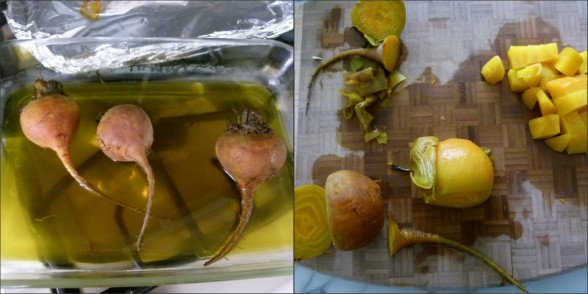 I shouldn't be surprised she loves this dish because I am crazy for it, too.  I originally found the inspiration for the recipe when I was looking through the offerings for cooking classes at the Natural Gourmet Institute in New York.  Peter Berley was teaching a vegetarian class with this dish on the menu. I thought it sounded so summery and tasty and I have a very trusty mint vinaigrette that I adore on asparagus, so I figured, how hard can this be?  Grain-based salads are among the easiest recipes to make up.  You take some cooked farro, barley, quinoa or whatever and add a few yummy ingredients that go together and a vinaigrette that's one part acid and one part oil.  Don't forget the salt and pepper and some fresh herbs if you have them and that's it.  I have no idea how Peter Berley makes his salad, but this is just delicious and I'm not going to fix what isn't broken.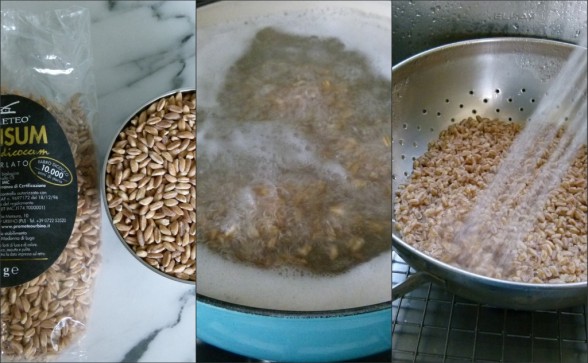 During the summer we tend to eat much more lightly, relying less on animal protein and more on whole grains, legumes and lots of vegetables.  I love this farro salad with a side of grilled vegetables and a glass of white wine (for me, not the kids.)  It's the perfect dish to bring to a potluck or a picnic, since you can assemble all the components ahead and even dress it beforehand.  Don't laugh, but I actually made this for our in-flight lunch when we flew back east last month.  I was so pleased with myself when I saw the airline cheese and cracker boxes that might have been.  Our friends Karen and Jonathan invited us to the Hollywood Bowl a few weeks ago, which is a lovely LA experience if you've never done it.  We brought a picnic dinner, some wine and boy, did I feel civilized.  Karen made grilled salmon and I brought a tomato salad, grated carrot salad and this farro.  Can you say "Pamela's perfect meal?"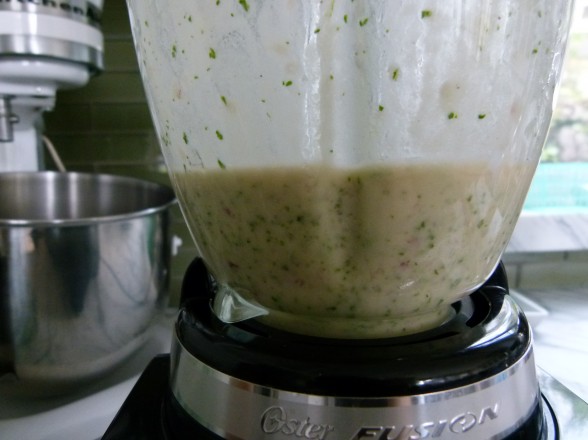 Farro might be my favorite grain.  It may not be the superpower that quinoa is, but I love its chewy, nuttiness especially when you can really appreciate it, like in a a salad.  It reminds me a little of barley, but more flavorful and with more toothiness.  I found this farro at Whole Foods and my local produce shop, Grow.  I know you can also buy it on Amazon.com, which I am relying on more and more for pantry staples.  If you want to make this right away and you have everything else but the farro, go ahead and substitute barley or wheat berries.  It will still be fabulous.  In fact, there are so many substitutions you can make — cherry tomatoes for beets, blanched green beans, zucchini or asparagus for cucumbers, drop the cheese altogether if you're dairy-free and add some toasted and salted walnuts or almonds.  Have fun playing around with this and trust your instincts.  You might end up creating your most favorite salad ever.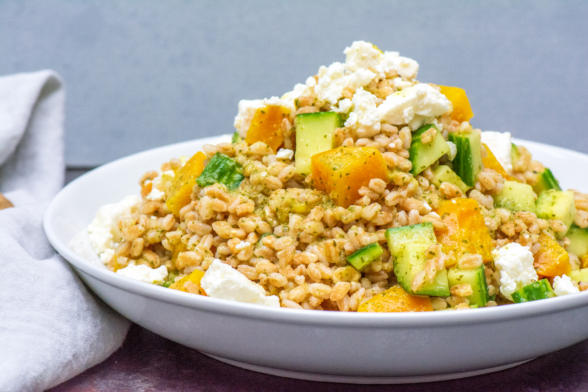 Farro with Cucumber, Golden Beets, Feta and Mint Vinaigrette
Ingredients
1 cup farro
3 golden beets, tops removed and reserved for another use, roasted, peeled and cubed, about 1 ½ cups (see this recipe for directions on how to roast beets)
1 ½ cups chopped cucumber (leave peel on for thin-skinned varieties)
6 ounces feta, diced
MINT DRESSING
¼ cup diced red onion
1 clove garlic
½ cup fresh mint leaves
⅓ cup unseasoned rice vinegar
1 teaspoon raw honey (pour oil into the teaspoon and pour that into the measuring cup; use the same teaspoon to measure the honey and the honey will slide right out )
½ teaspoon sea salt
freshly ground black pepper
⅓ cup unrefined, cold-pressed extra virgin olive oil
Instructions
Boil the farro and a pinch of salt in plenty of water. Cook until al dente, about 20 minutes. Pour into a colander and rinse under cold water until cool. Drain very well and transfer into a serving bowl.
Add the beets and cucumber to the serving bowl.
Prepare the dressing: In a blender or a food processor, combine the onions, garlic, mint, rice vinegar, sea salt and pepper. Turn on the motor and add the olive oil in a slow steady stream.
Drizzle the dressing over the salad and toss to combine. Add feta and toss gently. Taste for seasonings.