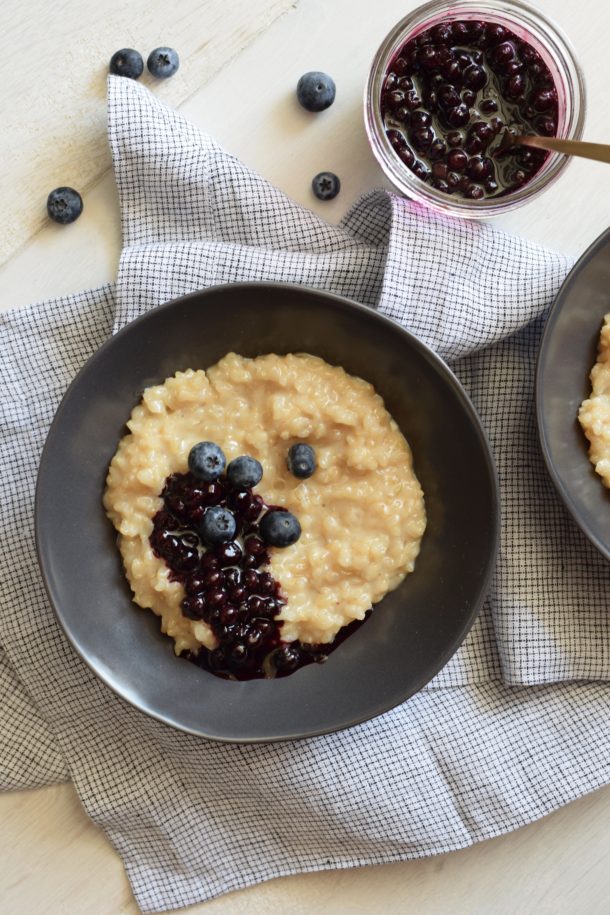 Brown rice is a staple in my home.  A simple bowl of steamed brown rice, whether it is short-grain, long-grain, basmati or jasmine is utterly satisfying to me.  I love the nuttiness and wholesomeness of brown over white.  Keeping the rice whole, with the bran and germ layers intact, gives you loads of fiber as well as protein, minerals and essential fatty acids that are stripped away if the grain is polished to white.  Just as those layers protect the kernel of rice, they'll protect you, too.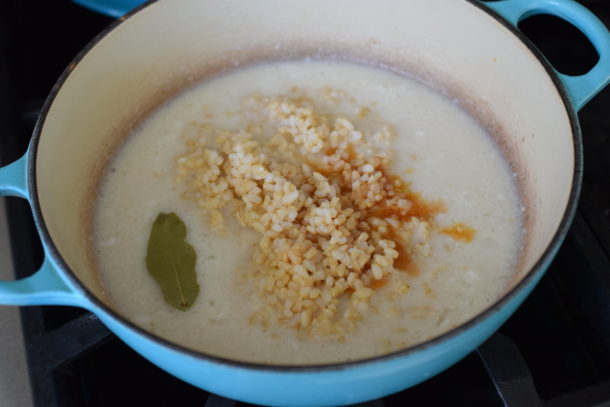 Sure, brown rice takes 45-50 minutes to cook, as opposed to 20 minutes for white, so that's why I make a huge batch early in the week and have it on the ready for breakfast, lunch, dinner and snacks.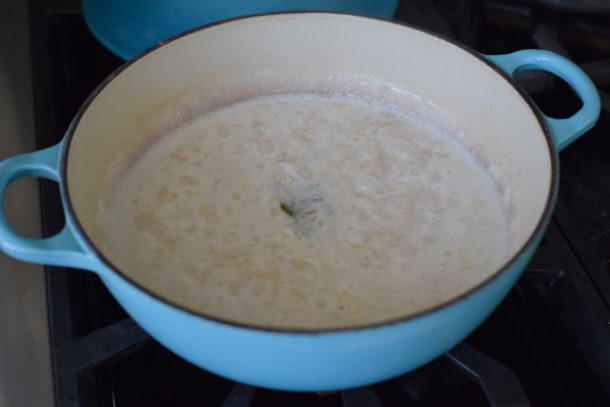 Are you skeptical about the use of bay leaves in rice pudding?  When my Puerto Rican mother-in-law suggested it to me, I was too.  But it really adds an interesting earthy, floral note to the creamy rice.  It's definitely not a deal-breaker, though.  Please make this whether you have bay leaves or not.  One ingredient my M-I-L did NOT suggest was using brown rice syrup as a sweetener.  That's my addition and one of my favorites in the "less refined sweeteners" category.  Brown rice syrup is made by cooking down soaked and sprouted brown rice with an enzyme that breaks the starches into maltose.  It is light and honey-like, but not as sweet with a butterscotch undertone.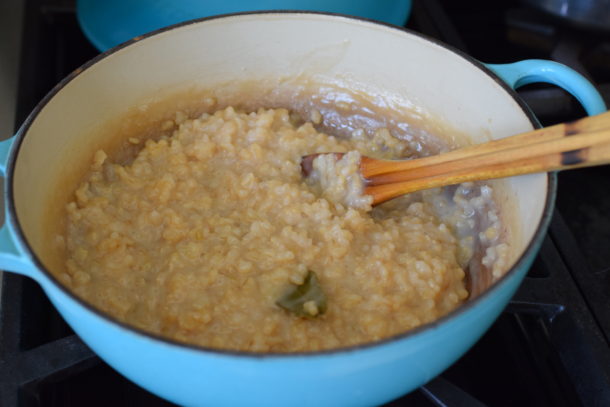 This brown rice pudding started off as a snack/dessert, but I realized it could do double duty as weekday morning breakfast, especially when everyone is looking for something warm other than oatmeal for a change.  Like I do when I make a big pot of oatmeal for a family breakfast, I set up a "topping bar" for the brown rice pudding.  Each person can choose his or her own favorites add-ons.  There is always fresh seasonal fruit, such as berries or peaches;  dried fruit like Goji berries or blueberries; raw almonds or walnuts; raw cacao nibs; maple sugar and ground cinnamon.  This beats a cold bowl of processed cereal any day!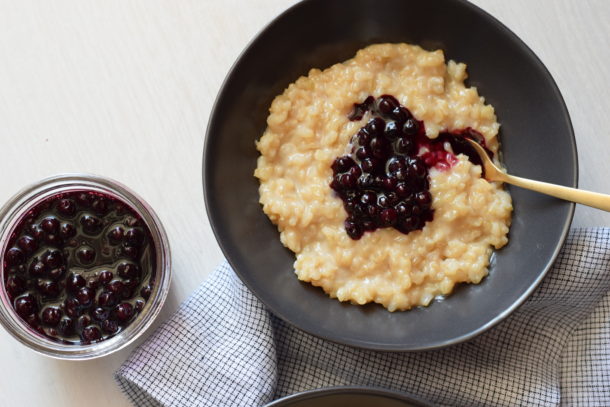 healthy brown rice pudding recipe
Serves:
4 for a snack, 2 for breakfast
Ingredients
½ 13-ounce can coconut milk or ¾ cup
¾ cup almond milk, rice milk or hemp milk
⅓ cup brown rice syrup
2 cups cooked brown rice (short or long-grain)
½ vanilla bean, split and seeds scraped or 1 teaspoon vanilla extract
1 bay leaf
pinch of salt
Instructions
Whisk together coconut milk, almond milk and brown rice syrup until blended.
Place the cooked brown rice in a medium, heavy-bottomed pot. Add coconut milk mixture, vanilla bean, bay leaf and salt. Bring to a gentle boil and simmer until most of the liquid has been absorbed by the rice, but is still creamy, about 20 minutes.
Turn off heat and remove vanilla bean and bay leaf. Serve warm or room temperature. Pudding will thicken as it sits.
Notes
Other additions: cinnamon stick or cardamom, dried fruit, chocolate chips or chocolate almond milk, pureed pumpkin and pumpkin pie spices, orange or lemon zest