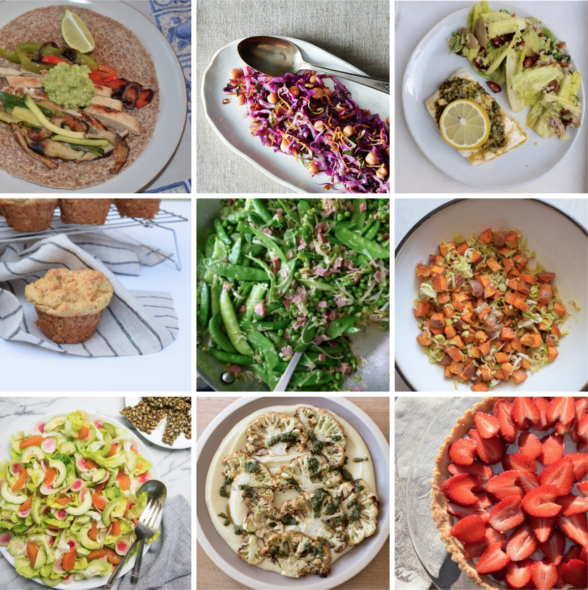 It's a big week if you're hosting either Easter or Passover next weekend.  My mother always hosts Easter dinner in NY and I have the best memories of coloring eggs, making the traditional Italian pizza rustica and pastiera, hiding eggs, and of course all the candy in my Easter basket.  My husband's family celebrates Passover and since we live in LA, I often host Passover, and even when I don't, I always make all the desserts.  I've been slowly chipping away at those and freezing them for Passover since I have a crazy busy week this week.    But we still have to eat dinner the other nights of the week, so I plan it all out.  Here's your dinner planner for the week:
Meatless Monday: Sweet potato bowl: cooked quinoa (or your favorite grain), diced sweet potato, shredded/chopped romaine lettuce, chopped cherry tomatoes, cucumbers, red onion, pickled radish, and tahini sauce – use this dressing
Tuesday: chicken and veggie fajitas (mushrooms, zucchini, bell peppers, onions) with guacamole
Wednesday: slow roasted salmon, spinach salad with roasted red onions and shiitakes from my cookbook
Thursday: Roasted chickpea salad with za'tar from Food52, roasted cauliflower steaks with mint pesto
Passover Seders Friday and Saturday: See this post and this post for some menu ideas. This year we are making brisket, a roasted vegetable platter, perfect spring salad, sweet potato casserole(using coconut instead of corn flakes), matzoh lasagnewith vegetables, baked chicken with artichokes and capers, halibut with chermoula, mazto ball soup, Passover popovers, fruit platter, coconut macaroons, fallen chocolate cake, lemon torte, cashew cheesecake, strawberry-rhubarb sauceand carrot banana cake (using this recipe).
Easter Sunday: See this post for how to cook hard-boiled eggs and this post for what to do with all the leftover eggs after Easter. Here are some lovely recipes for Easter:
Asparagus salad with walnuts and mint
Baked chicken with artichokes and capers
Creamy, dairy-free asparagus soup
Three pea sauté with turkey bacon
Spring salad with avocado, radishes and pumpkin-seed brittle
Spring green pasta with asparagus and peas
Roasted sweet potatoes with leeks and roasted garlic dressing
Cauliflower steaks with cauliflower puree and mint pesto
Pea and mushroom sauté with mint
Grilled artichokes with lemon-caper dipping sauce
Coconut almond tart with strawberries
Dairy-free strawberry cashew cheesecake
Grain-free balsamic roasted strawberry tart
Grain-free carrot cake with cream cheese frosting
In lieu of my usual tips of what you can do ahead, I wil give you some general tips.
Vegetables can be washed and chopped several days ahead.
Salad dressings, sauces, and marinades can be made several days ahead.
Stocks, legumes, grains can all be cooked several days ahead.
Most desserts can be frozen and thawed in the refrigerator for half a day.
Here's a link to my previous dinner planners.
I have LOVED seeing all your creations of my recipes on Instagram.
If you make any of my recipes, please tag me @pamelasalzman #pamelasalzman so I can check them out!
Click here to learn more about my online cooking classes!
If you like my recipes, you'll LOVE my cookbook!