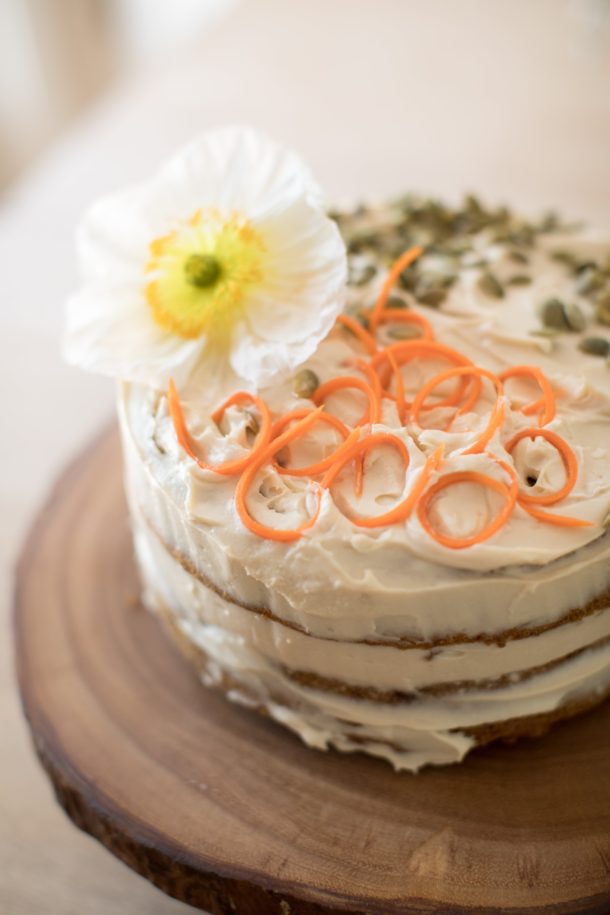 This cake.  I can't even be alone in the same room with it.  I originally developed this for Clean Eating Magazine's April 2017 issue and I have been finding excuses to make it for several months now — my daughters coming home for spring break, Jenni Kayne's Easter brunch, having friends over, going to a potluck.  Even though one cake would have been enough for Passover, I made two.  This cake changes the grain-free game.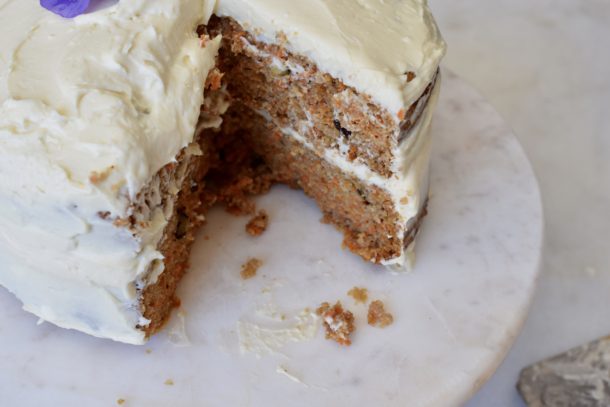 I love a good carrot cake, one that's dense, moist and lightly sweet, with crunchy walnuts and soft raisins.  This one does not disappoint and there are no grain flours or dairy in the cake whatsoever.  Quite honestly, I am starting to prefer grain-free baked goods.  They stay moister for longer and can be refrigerated without compromising texture.  Plus, the base is usually almond flour which has loads of protein and good fats, neither of which are plentiful in wheat flour baked goods.  I am not embarrassed to say that I have eaten this cake (without frosting) for breakfast and I find it to be quite satisfying and energizing.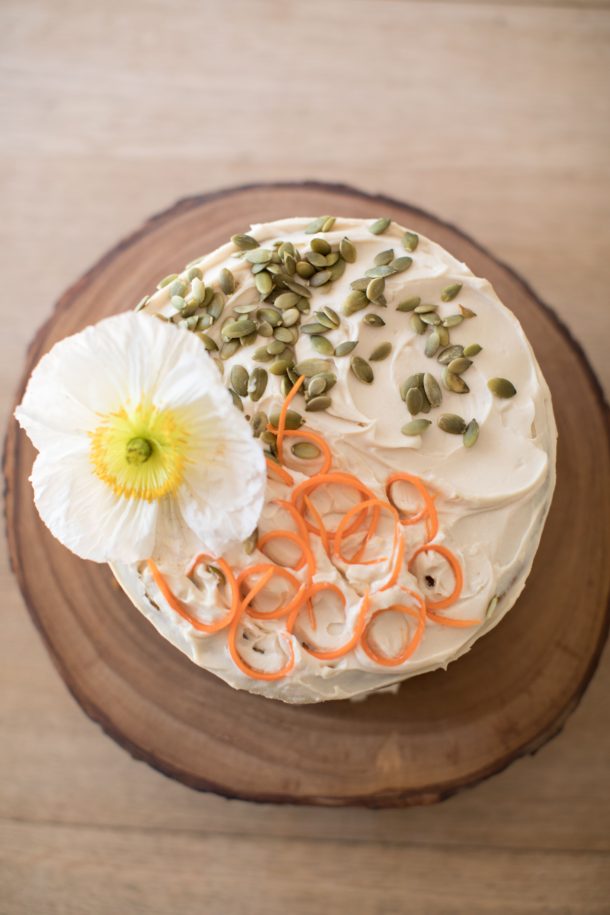 For Clean Eating, the recipe was developed with standard cream cheese frosting (and let me add my frosting is way less bad for you than a standard cream cheese frosting with butter and a bag of powdered sugar.) But for Jenni and her friends, I did an almond milk cream cheese frosting, which I thought was divine!  I buy Kite Hill almond milk cream cheese from Whole Foods and it's slightly saltier than normal cream cheese, but you know how I like my salt!  I had fun decorating this cake although styling food is not my forte.  I always keep things simple.  You can see from the above images that in one I used a fresh flower with julienned carrots and pumpkin seeds, and the other has just multiple edible flowers.  For Passover, I crushed freeze-dried mangoes and sprinkled them around the border of the cake.  On the cake plate, I arranged chamomile flowers.  Again, springy and simple.
You can freeze this cake, well-wrapped in plastic wrap and then foil, for up to 3 months.  Thaw in the refrigerator.  I even froze a cake with cream cheese frosting on it and served it for Passover.  Shhhh!  Don't tell.
Feel free to cut the recipe in half and use one cake which you can split in half and frost to create a thinner, but still 2-layer, cake.  You can make muffins too, or cupcakes (basically muffins with frosting, right?), and just cut the cook time.  I haven't done it, so you'll have to wing it.  Hope you all have a lovely Easter Sunday and that this carrot cake might grace your table this year!

Grain-Free Carrot Cake with Cream Cheese Frosting
Serves:
2 8-inch round pans
Ingredients
unrefined coconut oil for greasing pan
2 cups blanched fine almond flour
1 cup arrowroot powder
½ cup coconut flour
2 teaspoons ground cinnamon
½ teaspoon ground ginger
¼ teaspoon ground nutmeg
2 teaspoons baking soda
1 teaspoon sea salt
8 large eggs
¾ cup pure maple syrup or honey
½ cup melted unrefined virgin coconut oil (plus more for greasing pans)
2 teaspoons pure vanilla extract
3 cups grated carrots, about 6 medium carrots, peeled
½ cup chopped walnuts
½ cup raisins
Cream Cheese Frosting (optional)
16 ounces cream cheese, or almond milk cream cheese such as Kite Hill, at room temperature
6 Tablespoons Grade A maple syrup
1 teaspoon pure vanilla extract
Instructions
Preheat oven to 350 degrees. Grease 2 8-inch round pans. If desired, line the bottoms with unbleached parchment paper as well.
In a large bowl whisk together the almond flour, arrowroot, coconut flour, spices, baking soda, and salt.
In a medium bowl, whisk together the eggs, maple syrup/honey, coconut oil and vanilla. Pour into the almond flour mixture and combine well.
Stir in carrots, walnuts, and raisins.
Pour into prepared pans and bake 40-45 minutes until just set and a toothpick comes out clean or with dry crumbs.
Cool 5 minutes in pans before turning out onto a cooling rack. Cool completely before frosting.
Prepare the frosting: in the bowl of a mixer, beat the cream cheese, maple syrup, and vanilla until light and fluffy, about 1-2 minutes.
Place one cake on a cake plate and cover the top of the cake with half of the frosting. Place the second cake on top and use remaining frosting to ice the top of the cake.