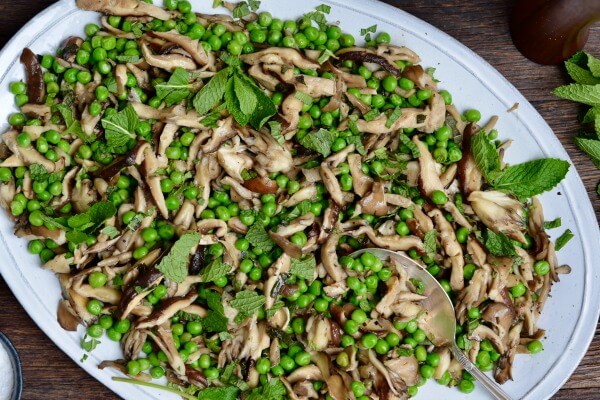 I receive a lot of requests for recipes – more entrees, more low-carb, more "kid-friendly" (I don't like that phrase, by the way), and the most popular, easy.  The term easy means different things to different people. In my opinion, easy means not complicated, something that a cook of any skill level can successfully prepare. Or perhaps easy implies very few steps.  But what I have deduced is that most of my students think that easy implies "quick," as in quick to put together and minimal hands-on time.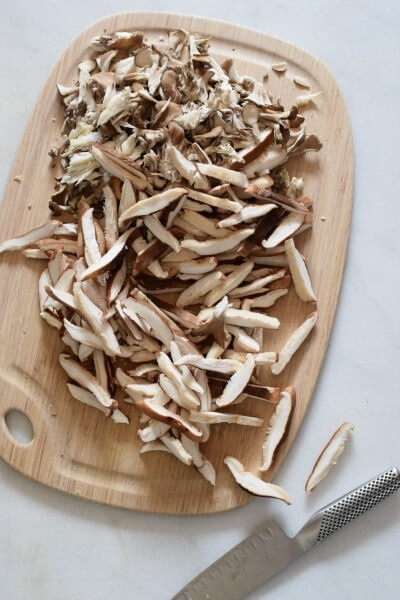 When I come up with recipes for classes, I don't like to demonstrate recipes that are too easy, because people don't necessarily get value from watching me demonstrate something overly straightforward.  But heaven knows I love easy recipes as much as the next person, so I save the really easy stuff for the blog or Instagram.  When a few bloggers reached out to me about partnering with a collective of fabulous instagrammers and other bloggers to contribute fresh, easy pea recipes, I was all in!  And that's what today's recipe is all about.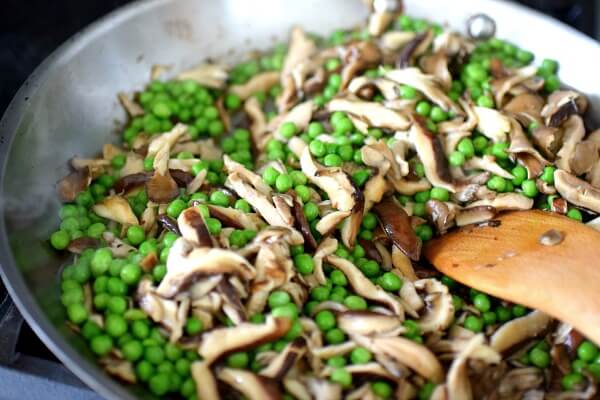 Peas are considered a spring vegetable because that's when fresh peas come into season.  But ironically, I hardly ever buy fresh peas because they are a pain in the neck to shell, and they need to be super fresh to be sweet.  I use frozen/defrosted peas in many different ways all year long and they are always tender and deliciously sweet.  They are great in dips, soups, sautes, fried rice, frittatas and even in smoothies.  Peas are in the legume family, which I mentioned in my last post is now considered ok to eat during Passover.  Peas have loads of protein and fiber, making this a great dish for a vegetarian meal.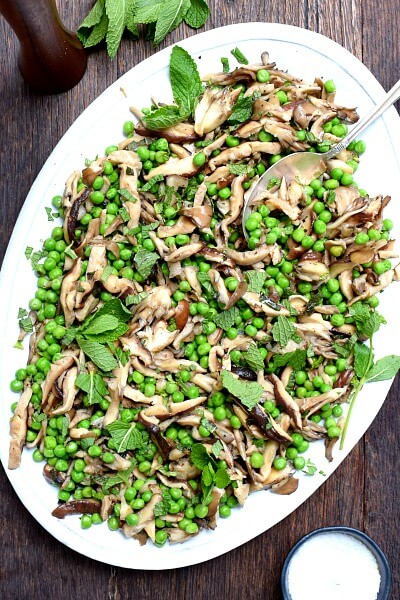 I've actually been making this pea and mushroom sauté for years and years.  It's a classic combo that never gets old for me.  In the winter, I use fresh thyme, but in the spring and summer I use fresh mint. Sometimes I add crushed red pepper with the mushrooms for a little background heat or I'll drizzle with some truffle oil at the end.  This recipe is fabulous with your Easter ham or lamb, as well as poultry and salmon.  And leftovers are divine in an omelet or frittata or my standby, soup (just add vegetable or chicken stock.)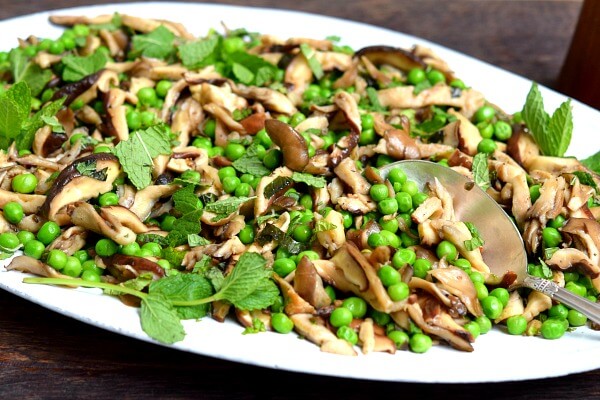 There are some talented bloggers participating in this collaboration.  Do check out their sites for additional Easy Peasy Spring recipes using peas! I think my post is up first, but everyone's should be up at some point today.
www.cooksandkid.com  www.weelicious.com   www.blossomtostem.net      www.squaremealroundtable.com     www.cocoaandsalt.com   www.thewholeelchilada.com

Pea and Mushroom Sauté with Mint
Ingredients
3 Tablespoons unrefined olive oil or a combination of olive oil and ghee or olive oil and unsalted butter
1 pound shiitake mushrooms, stems removed, caps wiped clean with a damp paper towel and sliced
½ pound maitake mushrooms, chanterelle or other mushroom of choice, cut into bite-size pieces
3½ cups fresh or frozen/defrosted peas
2 teaspoons sea salt
freshly ground black pepper to taste (I usually add quite a bit)
¼ cup chopped fresh mint leaves
a drizzle of truffle oil (optional)
other additions, if desired: crushed red pepper, fresh thyme leaves instead of mint, dollops of Kite Hill almond milk chive "cream cheese," a drop or two of hot sauce
Instructions
Warm oil in a large skillet over medium heat. Add the mushrooms and allow to sit undisturbed for a few minutes or until golden brown on the underside. Saute until softened, another 3-4 minutes.
Add the peas, salt and pepper and saute an additional 4-5 minutes.
Remove from the heat and stir in the mint. Drizzle with truffle oil, if using. Taste for seasoning and serve immediately.
Notes
Leftovers are delicious in a frittata with or without goat cheese.