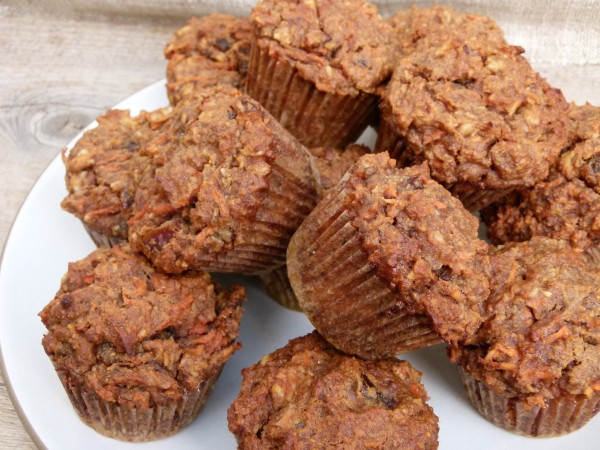 You know what makes me laugh about Passover?  When I was growing up (in a very Italian-Catholic home,) my mother was always quite excited when Passover was imminent because matzoh would hit the shelves in the supermarket.  And my grandmother was even more excited.  I remember Grandma visiting once during Passover and gifting us 3 boxes of Streit's matzoh that she received with a coupon at Shop Rite.  We didn't need any matzoh, of course, because my mom had already used a similar coupon at Pathmark and stocked up.  But we were happy to have it, because once Passover was over, matzoh would be nowhere to be found.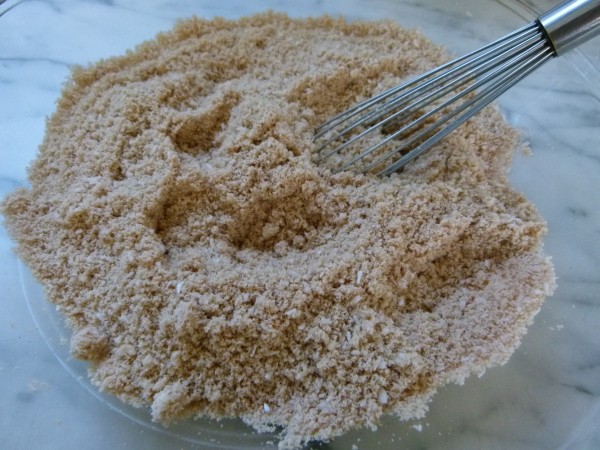 What's the point of this story?  We actually bought matzoh because we liked it!  Who likes matzoh?  We did and we ate it with a schmear of Breakstone's whipped butter, cream cheese or sometimes peanut butter.  Now, many years later, I am married to a nice Jewish guy and we observe Passover.  We don't eat any grains or legumes or anything that can leaven for those 8 days.  And I buy matzoh because it's traditional and we use it like we would bread, spreading it with almond butter and jelly or using it to sandwich roasted veggies and goat cheese (that's for me) or turkey and avocado.  I make a veggie "lasagne" with matzoh and a very delicious matzoh brie too (you should check out my recipe for Tex-Mex matzoh brie.)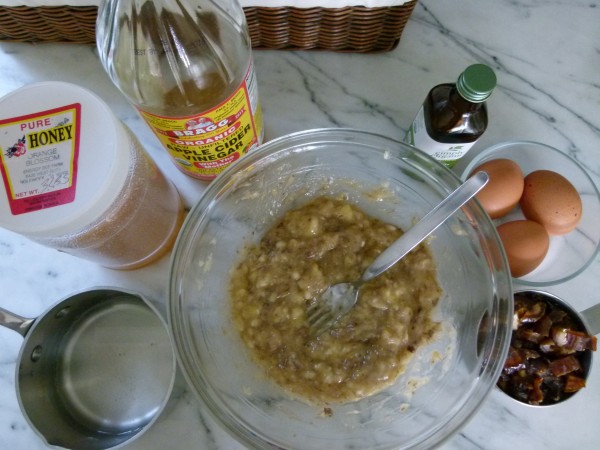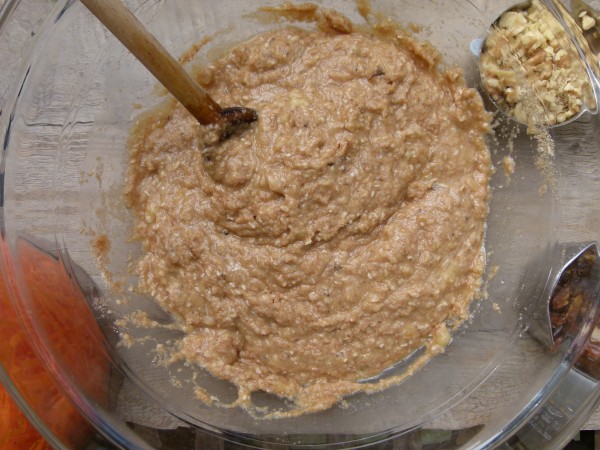 But let me tell you, I don't love it.  None of us in this house does.  But pickings were always slim during Passover, unless one resorted to boxes of cake mix made out of sugar, preservatives and matzoh meal.  Fast forward to 2014 when blanched almond flour has become as common as quinoa (which is ok to eat during Passover believe it or not.)  So I have been able to enjoy delicious, "normal" baked goods which just happen to be grain-free.   Just by using almond flour.  Game changer!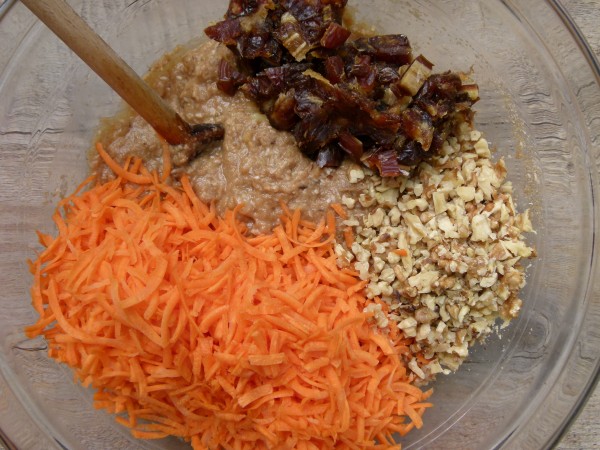 A few years ago I posted a recipe for some delicious almond flour muffins with banana, chocolate and chia seeds.  I will for sure make a batch or two of those next week, but I will also be making these amazing banana-carrot-coconut muffins.  I found this recipe in Andrew Weil's True Food cookbook and made a few adjustments to make them even more healthful.  These muffins are a great cross between carrot cake and banana bread and have a nice, subtle sweetness.  I actually make one batch as a 2-layer cake for the seders and spread my vegan frosting in between.  I'll make another batch and freeze them for breakfasts and lunchboxes, since I think these can serve as a meal-in-a-muffin.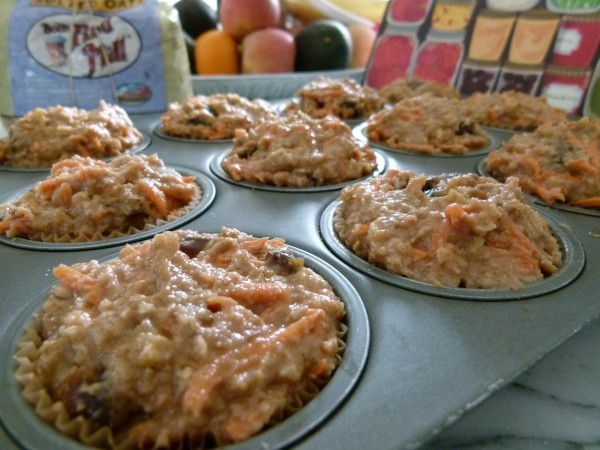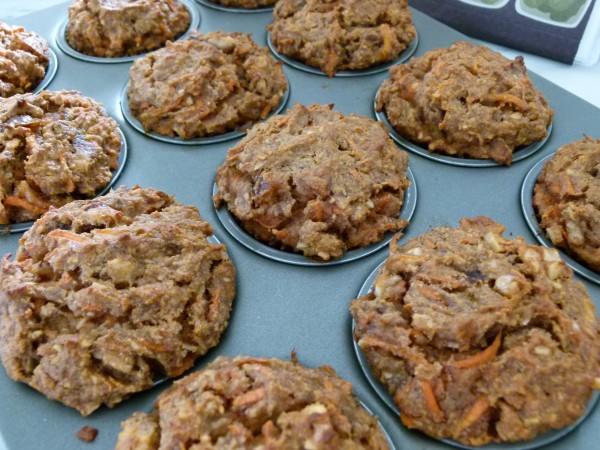 Ironically, my mother still buys matzoh, although the options are far more interesting than they used to be including spelt, onion and even gluten-free.  For me, I'll enjoy Passover much more with these muffins!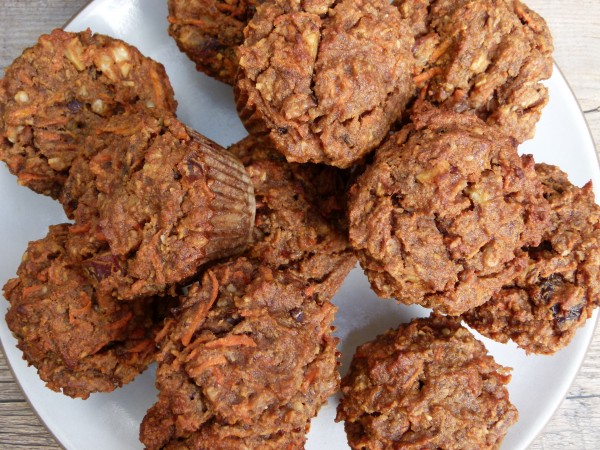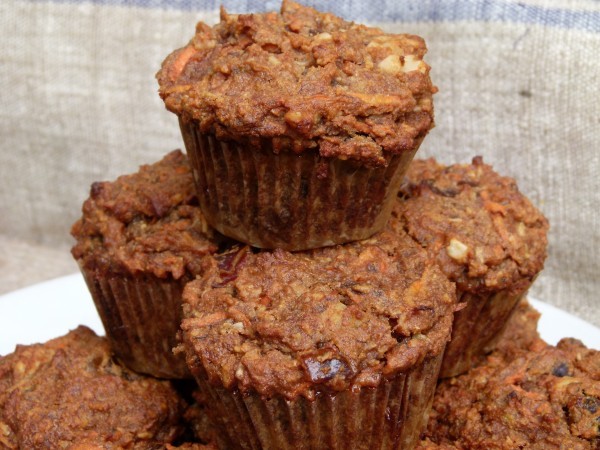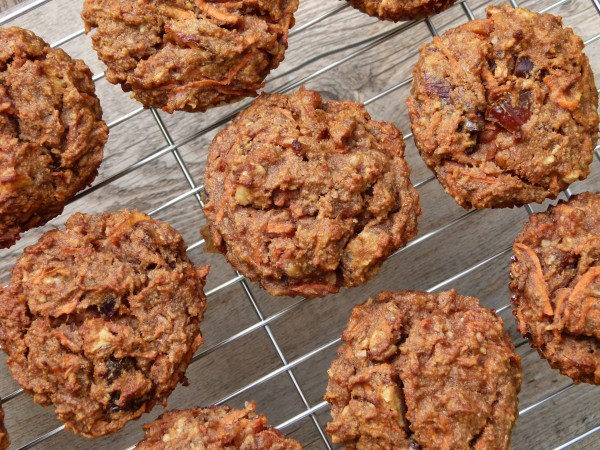 Banana-Carrot Almond Flour Muffins
Author:
Pamela, adapted from the True Food Cookbook
Ingredients
2 cups blanched almond flour (not almond meal) I use Honeyville.
2 teaspoons baking soda
½ teaspoon sea salt
1 Tablespoon ground cinnamon
½ cup unsweetened shredded coconut
3 large eggs, at room temperature
3 very ripe bananas*, mashed
2 Tablespoons raw honey
¼ cup (4 Tablespoons) unrefined coconut oil or unsalted butter, melted
1 teaspoon pure vanilla extract
1 teaspoon apple cider vinegar or white vinegar
1 cup dates, pitted and chopped (or raisins or dried cherries)
2 medium carrots, peeled and shredded
¾ cup chopped walnuts or pecans
Instructions
Preheat the oven to 350 degrees. Line a 12-cup muffin pan with paper liners.
In a large bowl, mix together the almond flour, baking soda, salt, cinnamon and coconut. In another bowl, whisk the eggs, bananas, melted coconut oil, honey, vanilla and vinegar together, making sure that the oil is well incorporated into the other ingredients.
Stir the wet ingredients into the dry ones. Fold in the dates, carrots, and walnuts. Divide the batter among the muffin cups. You will fill the cups to the top since these muffins don't rise very much.
Bake for 40 minutes, until golden brown or a skewer inserted into the center of a muffin comes out clean. (Since there is no actual flour, the muffins will not rise significantly.) Cool in the pan or on a wire rack for 5 minutes, then turn out the muffins onto the rack and let cool to warm or room temperature.
Notes
*Or substitute ¾ cup unsweetened applesauce + an extra 2 Tablespoons raw honey
This recipe calls for blanched almond flour, which is much finer and lighter than almond meal. Bob's Red Mill "almond flour/meal" is not fine enough. You can use almond meal in this recipe, but the results will be heavier and coarser.