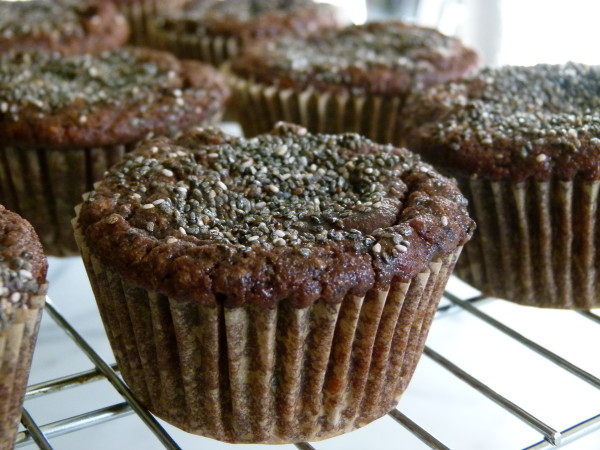 There's a new (but not really new) diet in town which everyone is talking about called the Paleolithic Diet or Paleo, for short.  Sometimes it's referred to as the Caveman or Hunter-Gatherer Diet and it focuses on the foods humans ate pre-industrial agriculture.  The idea is that our bodies recognize certain foods and haven't evolved to recognize other newer foods so we should stick to what was eaten during the Paleolithic time to be healthy and fit.  The diet allows lean grass-fed and pastured meats, eggs, nuts and seeds, fruits and vegetables, coconut, avocado and healthy fats.  Easy, right?  But the diet does not allow anything processed or refined (like sugar, flour, packaged food), or any grains (wheat, rice, barley, etc.), legumes (beans, lentils), dairy, potatoes or processed oils.  I am not encouraging or discouraging this diet, which I think has its pros and cons, but merely giving a quick explanation since I've received a few questions about it recently.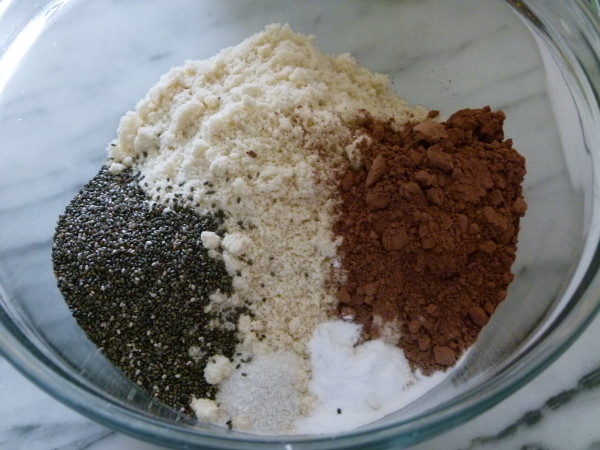 As I have noticed more and more people limiting gluten and grains, I have also noticed the increased popularity and use of almond flour, which is finely milled blanched almonds.  Almonds, like all nuts and seeds, are gluten-free, low in carbohydrates and high in protein.  Whereas nuts and seeds, generally speaking, can be slightly acid-forming, almonds are alkalizing.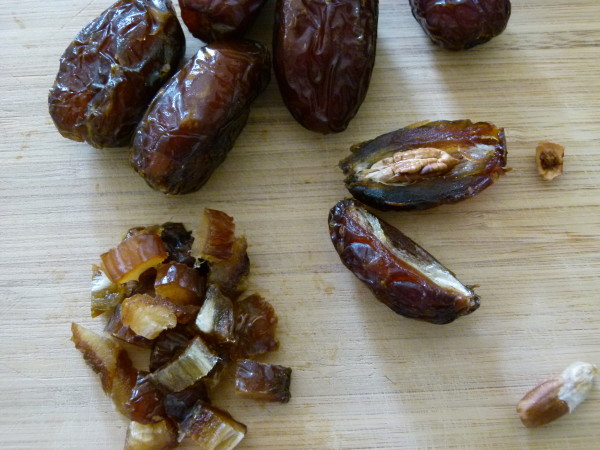 A few years ago I found Elana Amsterdam's great gluten-free website, www.elanaspantry.com, which I think started the almond flour revolution.  Elana has since turned paleo, and all her newer recipes follow those guidelines.  It's really because of her website that I was inspired to experiment with almond flour and although I have had mixed results, overall I think it's awesome once I figured out how to work with it.  I think it's great to add some variety to our diet and I love getting some extra protein into Mr. Picky.  Almond flour also comes in handy around Passover, 8 days of no grains or legumes, except Matzoh which can start to get a tad boring after a few days.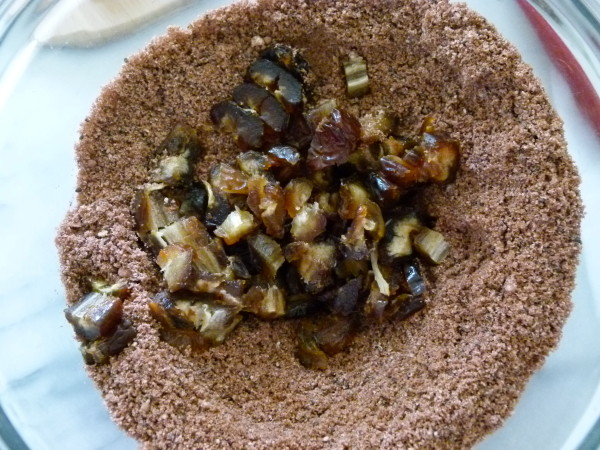 I had a really delicious Chocolate Banana Chia Seed muffin at Le Pain Quotidian last year or the year before and I was intent on duplicating it.   The muffin was moist with the perfect amount of sweetness and I loved the crunch from the chia seeds.  They were kind enough to tell me the ingredients (although not the exact recipe) and I made a tasty version at home with whole wheat pastry flour and maple syrup.  The kids thought they were great!  When I tried using almond flour in place of the wheat flour, we all went crazy for them.  The almond flour version of the muffin was the best — super moist, chocolaty and a little denser, but in a good way.  Now when I make these muffins, I always use almond flour!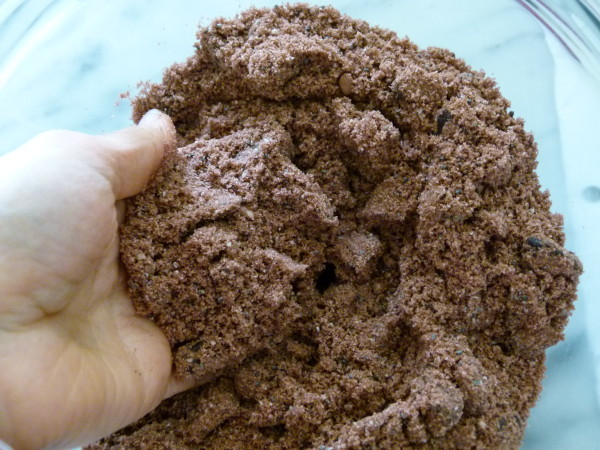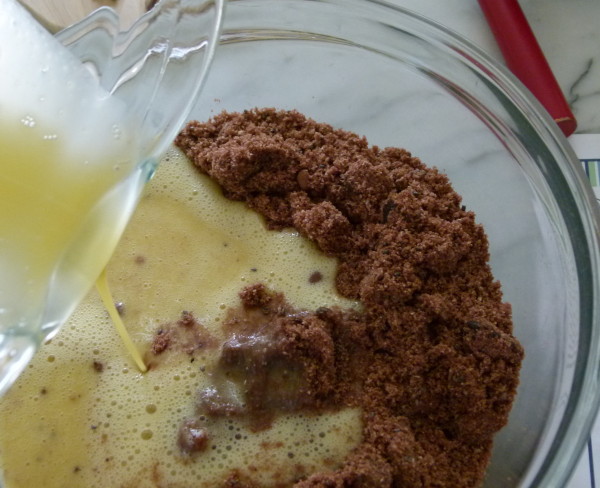 Before you start substituting almond flour one-for-one for wheat flour, stop right there.  It isn't a perfect substitution.  Almond flour has no gluten, but does contain way more fat than wheat flour so there are a few adjustments to be made.  I would stop by Elana's Pantry for a quick lesson on how almond flour works.  I also have found that specifically labeled "almond flour" is better than "almond meal" (like Bob's Red Mill.)  Per Elana, I started buying almond flour from Honeyville Grain, which has a very good, fresh product and a very reasonable shipping fee ($4.50 flat rate.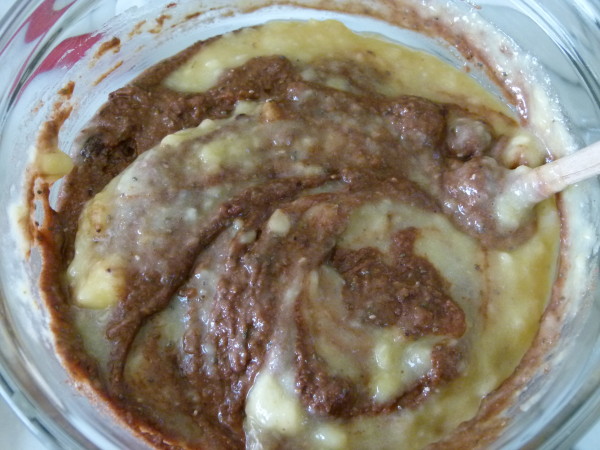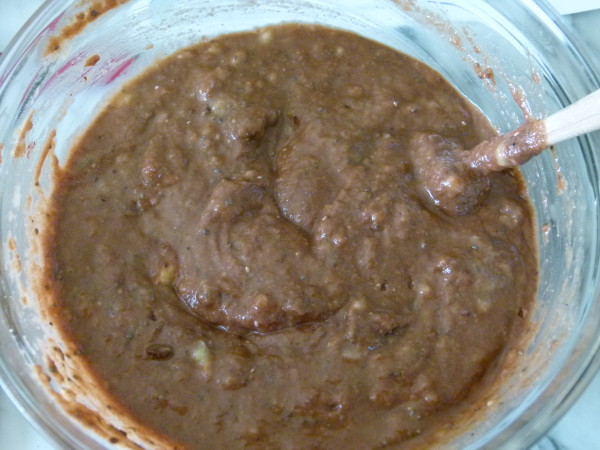 These muffins are not technically Paleo due to the yogurt, although if you can find an unsweetened almond milk yogurt, that would work here.  Or you can try making these without the yogurt and just add 1 teaspoon of apple cider vinegar, although I have never done it and can't guarantee the results.  I'm really posting these as a great gluten-free, Happy Passover muffin, although I make these all year.  In fact I made these recently and Daughter #2 had a few friends over and they inhaled half the batch in 2 minutes.  (I'm telling you, if you want the kids to hang out at your house, you need FOOD.)  To make this more of a dessert, you can certainly substitute chocolate chips for the diced dates.  The chia seeds are fun and obviously nutritious, but there's less than 1 teaspoon per muffin so it's not a dealbreaker if you want to omit them.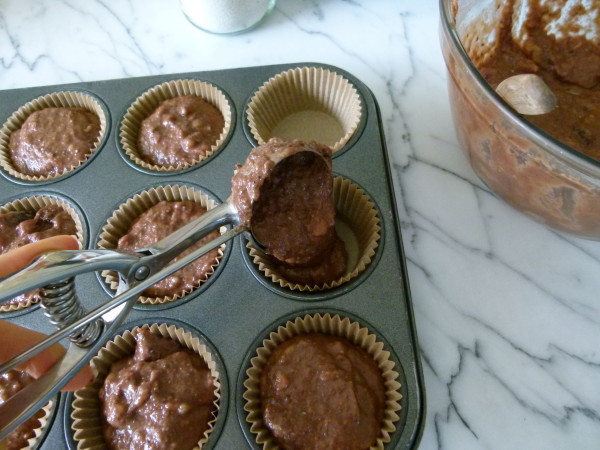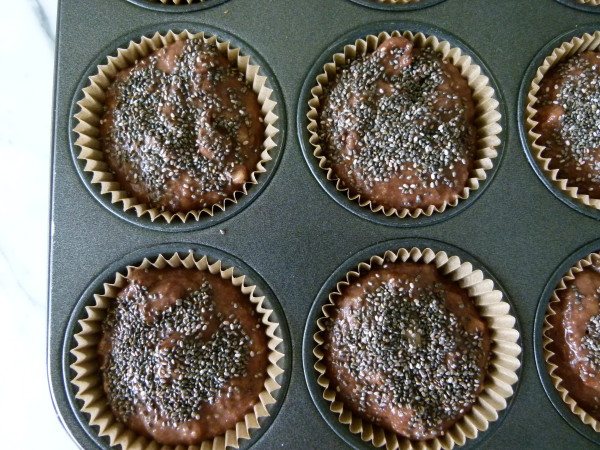 As always, I love hearing about your experiments in the kitchen and would especially be interested to know about your experience with almond flour or your favorite Passover treats.  Once again, I'm on dessert duty for Passover and I'm getting busy right now.  This weekend I will be making loads of Macaroons, both plain and dipped in chocolate, the Lemon Ice Torte which I have been making since 1991, and a raw cashew "cheesecake" which I will have to share another time.  There is also a recipe on my site for a (vegan) Coconut Tart with Strawberries which is perfect for Passover and Easter.  Lots of delicious options!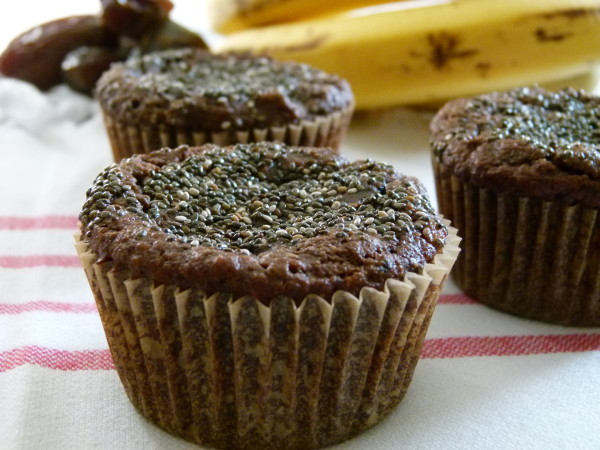 Chocolate Banana Almond Flour Muffins with Chia Seeds
Author:
Pamela, inspired by Le Pain Quotidien
Ingredients
1 ¾ cups blanched almond flour (not almond meal – I use Honeyville)
¼ cup unsweetened cocoa powder
1 teaspoon baking soda
½ teaspoon fine grain sea salt
2 Tablespoons of chia seeds + 1 Tablespoon for muffin tops
½ cup diced pitted dates, about 7 dates (easier to dice when they're cold) (optional, or ½ cup chocolate chips)
4 Tablespoons melted unrefined coconut oil
4 Tablespoons whole unsweetened yogurt
⅓ cup 100% pure maple syrup or honey
2 large eggs
1 teaspoon pure vanilla extract
3 medium very ripe bananas, mashed
Instructions
Preheat oven to 350 degrees.  Line a 12-cup muffin pan with unbleached parchment liners.
In a large bowl, whisk together almond flour, cocoa powder, baking soda, salt and 2 Tablespoons chia seeds.  Add dates and break up pieces so they don't stick together.
In a blender, combine coconut oil, yogurt, maple syrup, eggs, and vanilla.
Pour wet mixture into bowl with dry ingredients and stir until just combined.  Fold in mashed bananas.
Divide the batter into the prepared pan.  (An ice cream scoop makes this job easy.)  Bake for about 30-35 minutes or until a toothpick inserted into a muffin comes out  clean.