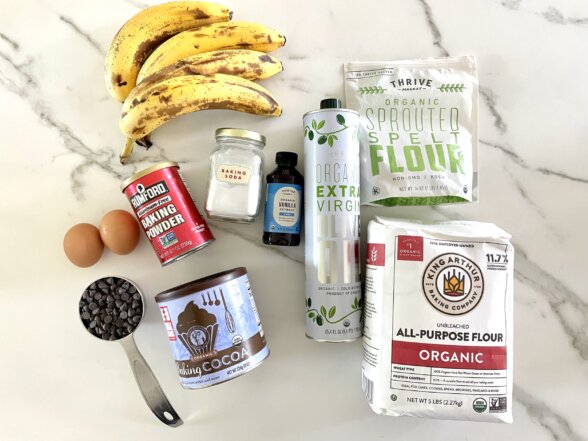 I had two years during a global pandemic to cook more at home than I ever thought possible.  Hubs perfected sourdough bread, which is crazy since he can't cook anything other than toast and oatmeal.  Even though I am fairly confident in the kitchen, I was starting to gravitate towards my book Quicker Than Quick and other simple, but flavorful recipes.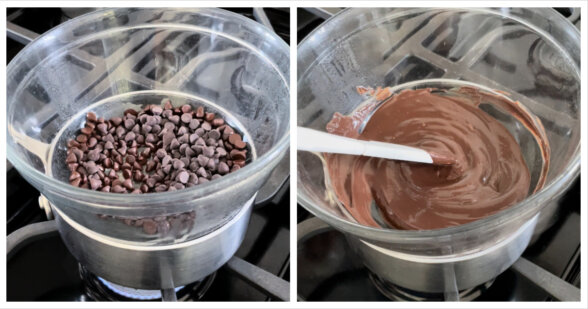 I didn't think I needed another banana bread recipe since I was very happy with my OG Date-Sweetened Banana Bread that I first taught in October 2009! But desperate, anxious times call for chocolate.  When I decided to swirl chocolate banana bread with regular banana bread, it made me happy and gave me hope for the world!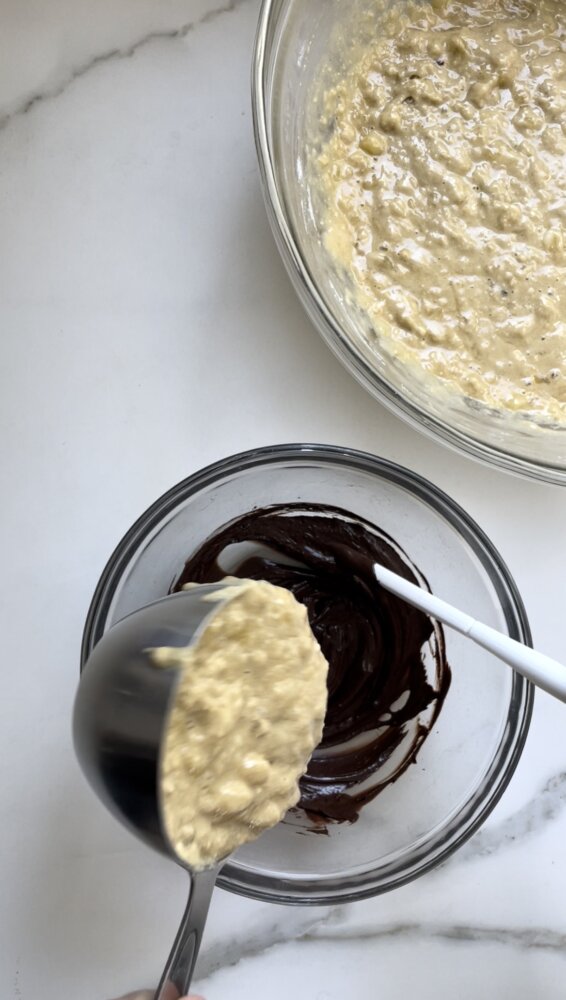 If you couldn't tell, this marbled banana bread is:
MOIST from a full 2 cups of ripe bananas and olive oil, my new favorite fat to bake with.
Ultra-chocolatey with melted chocolate chips and cocoa powder.
Dairy-free – no butter, yogurt, or sour cream
EASY – swirling is easier than it looks!
Not too sweet, which is how I prefer my desserts.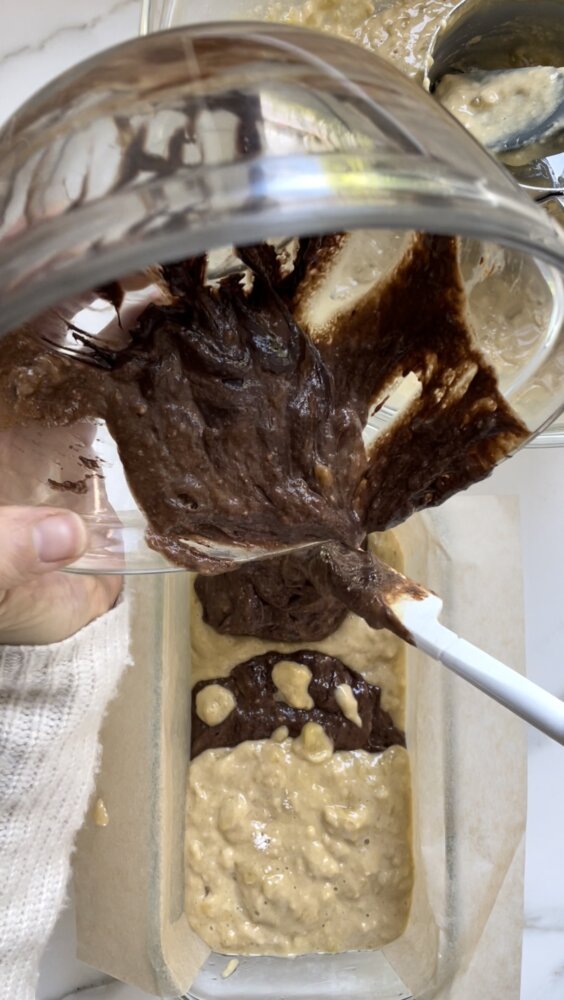 Marbled Banana Bread Ingredients
Bananas: They should be spotty so that they are sweet. You need 2 cups of mashed bananas which is about 3-4 bananas.
Olive oil: I love oil in cakes and quick breads. Olive oil keeps the crumb moister for longer and the fruitiness of the oil is compatible with chocolate, spices and fruits.
Flour: I use half whole grain flour and half white flour.  I love the nutty flavor of whole grain flours and I especially love using spelt and oat flours in combination with other grain flavors.  Oat flour contributes to the moist factor and spelt is less bitter than wheat.
Eggs: they help bind everything together but I had success swapping in applesauce for a vegan version.
Vanilla extract: pure extract with no added flavors or corn syrup solids adds a richness and natural sweetness.
Cocoa powder: look for unsweetened cocoa powder, preferably an organic brand.
Chocolate chips: I try to use chocolate chips or bars that have a higher percentage of cacao, which means there's less sugar.  Usually I buy dark or bittersweet.
How to Make Marbled Banana Bread
Preheat the oven and prep your loaf pan by greasing it and lining it with parchment paper.
Melt the chocolate chips and stir in cocoa powder. Set aside.
Combine remaining wet ingredients (banana, oil, eggs, vanilla) AND sugar in a bowl.
Combine dry ingredients (flours, leavening agents and salt) in a bowl.
Add banana mixture to dry mixture and stir until just combined.
Key step: remove 1 cup of the batter and stir it into the reserved chocolate mixture.
Alternate both batters in the loaf pan.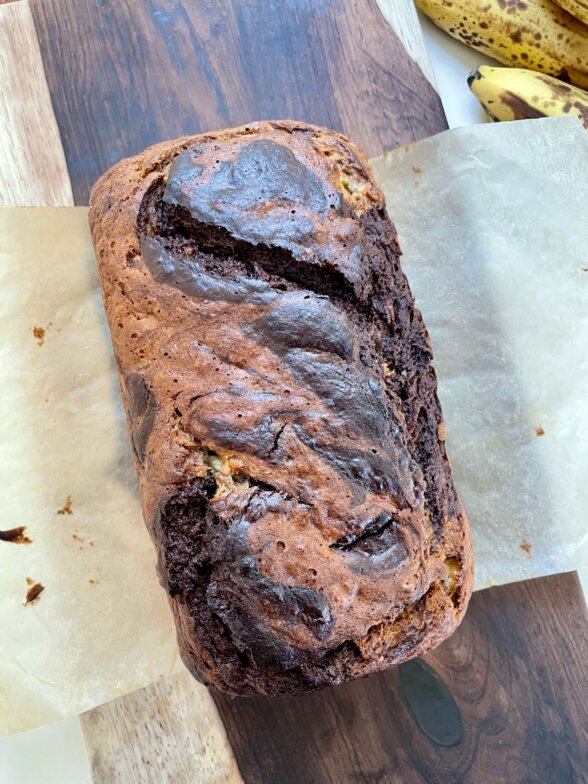 Tips for Making Marbled Banana Bread
Use room temperature ingredients: this will help everything combine well and give the bread a tender crumb.
Use well-speckled bananas for the sweetest flavor.
Don't make substitutions that aren't listed if you don't know if they'll work.
When swirling the batters together, less is more.  It is possible to OVER-SWIRL, which would result in no swirl!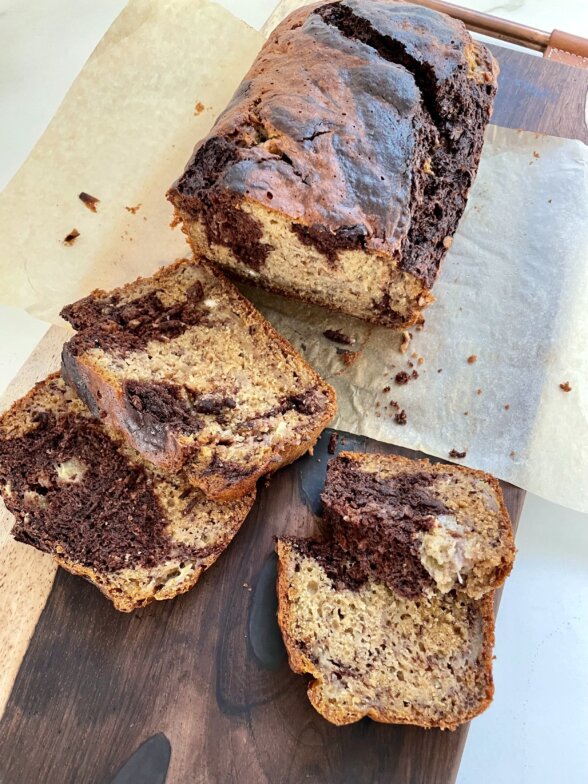 Substitutions for Marbled Banana Bread
Eggs: use 100 ml of unsweetened applesauce
Flours: for gluten-free, use half GF oat flour and half your favorite GF flour blend, such as King Arthur Multipurpose GF Flour + 1 teaspoon of xanthan gum.
Sugar: for a less refined sweetener, choose maple sugar.
If you give this recipe a try, snap a pic and tag @pamelasalzman so I can see your beautiful creations. I also really appreciate readers taking the time to leave a rating and review! Lastly, subscribe for free to my site for the latest recipes and updates.
 

 

 

View this post on Instagram

 

 
Whole Grain Marbled Banana Bread
Ingredients
3 ounces semisweet chocolate, chopped (about a heaping 1⁄2 cup)
2 teaspoons unsweetened cocoa powder or cacao powder
1⁄2 cup unrefined olive oil or melted coconut oil + additional for greasing the pan
2 cups mashed, well-speckled bananas, about 3½ large or 4 medium
1⁄2 cup maple sugar or brown sugar
2 large eggs or 100 grams of unsweetened applesauce (just shy of a 1⁄2 cup)
2 teaspoons pure vanilla extract
1 cup whole wheat einkorn flour, whole wheat pastry flour, whole spelt flour, oat flour OR whole grain flour of choice*
1 cup all-purpose einkorn, all-purpose wheat, OR white spelt
1 teaspoon baking soda
1⁄2 teaspoon aluminum-free baking powder
3⁄4 teaspoon fine-grain sea salt
Add-in ideas: 1⁄2 cup chopped nuts (pecans or walnuts) or chocolate chips
Instructions
Preheat the oven to 350 degrees. Grease a 9 x 5-inch loaf pan with a little oil and line with unbleached parchment paper.
Place the 3 ounces of semisweet chocolate in a medium heat-proof bowl set over a saucepan of simmering water. Stir occasionally until the chocolate is melted. Remove from heat and stir in the cocoa powder. Set aside.
In a large bowl, stir together the oil, mashed banana, sugar, eggs, and vanilla.
In a medium bowl, whisk together the flours, baking soda, baking powder, and salt + nuts, if using. Add the flour mixture to the wet mixture and stir until just combined.
Remove 1 cup of the banana bread mixture and add it to the chocolate mixture and stir to combine.
Alternate each batter in the prepared loaf pan. Take a skewer or the tip of a thin knife and swirl the batters together. Less is more here! Don't swirl too much or you won't end up with a marbled bread. Bake in the center of the oven for 60-75 minutes or until a skewer inserted in the center comes out clean. If the bread is browning too quickly, tent the top with foil.
Remove from oven and allow to cool in pan for 15 minutes and then remove from pan and cool on a cooling rack.
Notes
**Or use all gluten-free flour blend + 1 teaspoon xanthan gum
After two days at room temperature, wrap in plastic wrap for a few more days or wrap in foil, place in a freezer bag and freeze for up to 3 months. Defrost in the refrigerator overnight before serving.