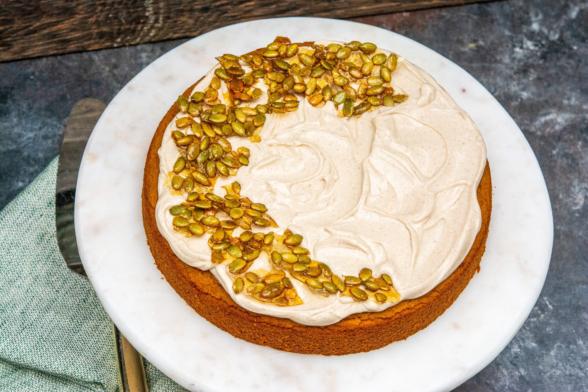 Last Thanksgiving recipe for y'all!  "But Thanksgiving is next Thursday. You're not going to post another recipe next week?"  Heck no!  I am encouraging you to commit to a menu TODAY if you have not done so already.  If you need help finding the perfect recipes, look no further than my 2019 Thanksgiving E-book.  It has everything recipe you could possibly need plus every tip and trick I have up my sleeve.  Commit and start writing your schedule and buy all of your groceries other than turkey, lettuces, fresh herbs, and a few perishable veggies and fruits like green beans and Brussels sprouts pronto.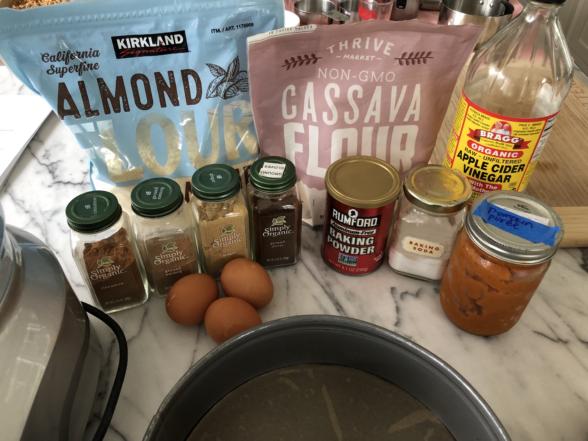 If you're looking for another dessert that's not a pie, I have the answer.  It's this exceptionally tasty grain-free pumpkin cake.  It will also accommodate anyone who is gluten-free, and anyone who is Paleo if you use a grain-free baking powder and honey.  It's full of pumpkin spices, is tender and moist, and is a cinch to make.  Basically all you have to do is throw all the ingredients in a food processor and process until well blended.  A mixer works equally well.  It takes a few minutes to make the batter and you can bake the cake the day before and leave it room temp.  Make the frosting up to a few days before and refrigerate it, and then frost the cake a few hours or right before serving.  How perfecto for Thanksgiving, right??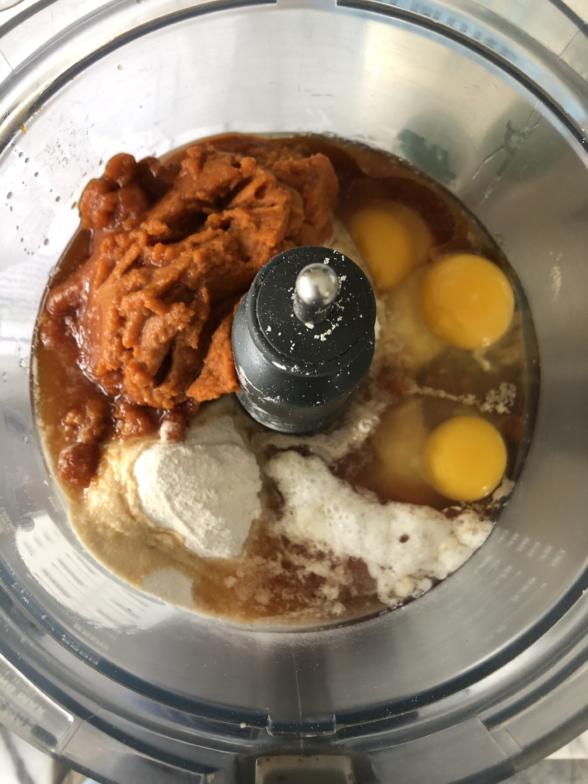 Last year, I actually used this as the base for my pumpkin bread pudding instead of traditional pumpkin bread.  It turned out amazing!  You could also double this recipe and make two 9-inch cakes and do a 2-layer cake.  Or do a single recipe and pour into 2 6-inch cake pans for a 2-layer mini cake!  Yes, you can also do cupcakes.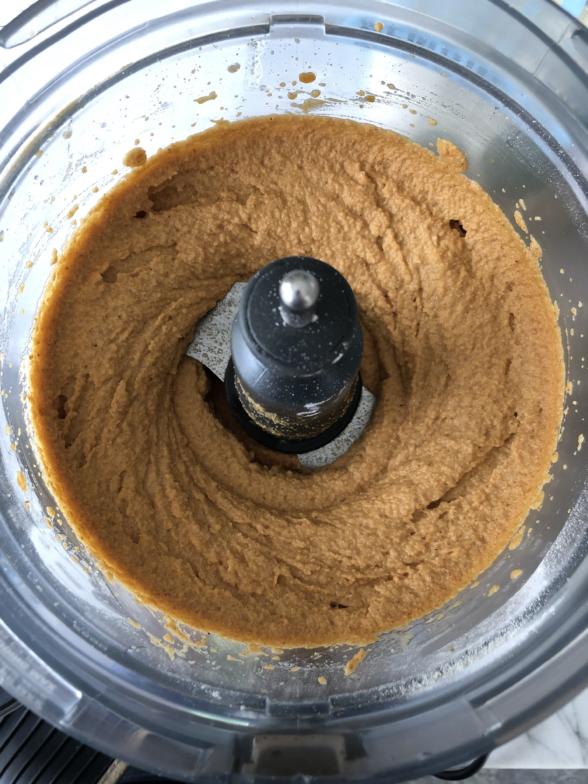 I frosted the cake with a simple cream cheese frosting and garnished with candid pumpkin seeds, but you can do whatever frosting you like (people seem to like the one from Simple Mills) and garnish with pomegranate seeds or candied pecans or walnuts or even crushed freeze-dried pineapple.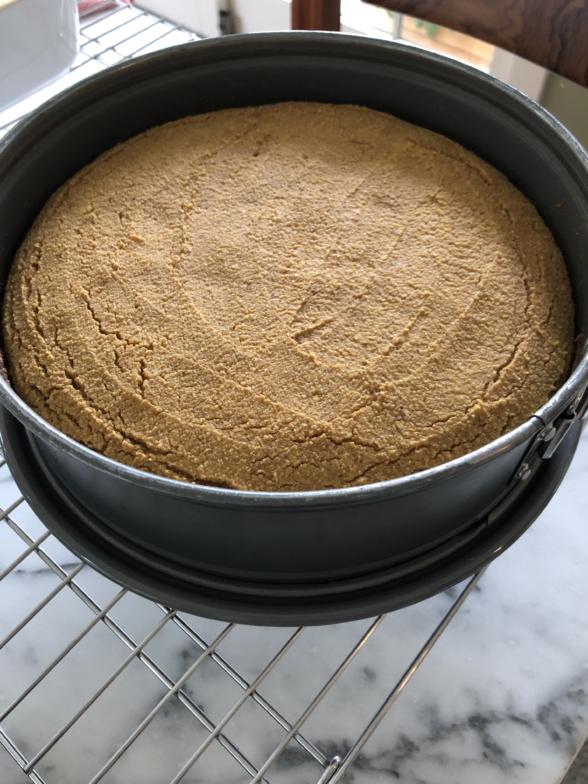 I have actually made this and after 2 days stored it well-wrapped in the fridge for a week and it was still amazing.  You could even freeze it.  Worth a try if you're really slammed up until Thanksgiving.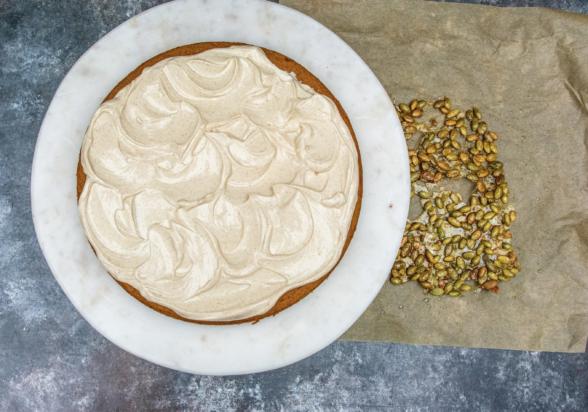 I know people love to know how to make substitutions and I can give you suggestions for almost anything other than "what can you replace the almond flour with?"  Grain-free cakes are best with almond flour mixed with a starchy flour.  Occasionally I'll add coconut flour too, but they are not all interchangeable.  I have a whole wheat pumpkin muffin on my site you can look at if you want a wheat-based recipe.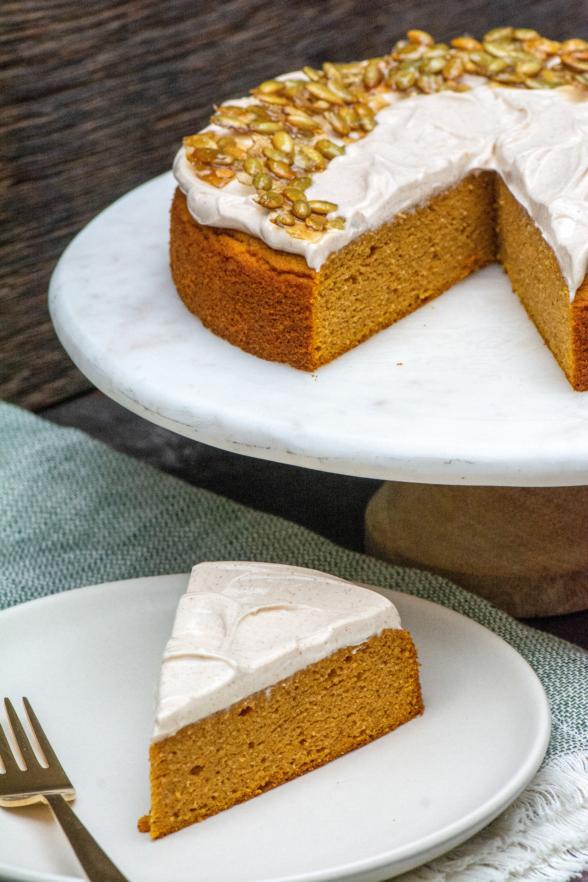 I just did an Instagram LIVE today which you can still see on my stories until Tuesday afternoon.  I'll be doing many more, including one on Thanksgiving Day first thing in the morning, exact time TBD.  It will be like a Thanksgiving Hotline – give me all your questions and problems and I'll help you out.  You got this!!  In exchange for my help, I want to see ALLLLLLLL your creations, so tag me on Instagram please #pamelasalzman @pamelasalzman.  Who's excited???!!
Shop the tools for this recipe by clicking on the images below:

Grain-Free Pumpkin Cake with Cinnamon-Maple Cream Cheese Frosting and Candied Pumpkin Seeds
Ingredients
2 cups fine blanched almond flour (not almond meal)
½ cup cassava flour, arrowroot powder, or tapioca flour
2 teaspoons aluminum-free baking powder (look for grain-free baking powder if necessary)
½ teaspoon baking soda
¾ teaspoon sea salt
¾ teaspoon ground cinnamon*
¾ teaspoon ground nutmeg
½ teaspoon ground ginger
½ teaspoon ground cloves
¼ cup melted unrefined virgin coconut oil or olive oil + more for greasing the pan
3 large eggs, at room temperature
1 cup pumpkin puree (NOT pumpkin pie filling) or half a 15-ounce can
½ cup pure maple syrup or honey
2 Tablespoons apple cider vinegar
1 teaspoon pure vanilla extract
Optional add ins: currants, raisins or diced dates, chopped pecans
Frosting:
8 ounces of cream cheese, at room temperature (dairy or dairy-free such as Kite Hill)
3 Tablespoons pure maple syrup
½ teaspoon ground cinnamon (omit for a basic frosting)
Candied Pumpkin Seeds:
Unrefined coconut oil or unsalted butter for greasing
1 Tablespoon pure maple syrup
1 Tablespoon brown sugar
Pinch of sea salt
¼ cup hulled pumpkin seeds
Instructions
Preheat oven to 350 degrees. Lightly grease an 8-inch or 9-inch cake pan, preferably a springform pan. Line the bottom with a piece of unbleached parchment paper, if desired.
Place all cake ingredients, except optional add-ins, in the bowl of a food processor fitted with the standard metal blade or in a blender. Process until well combined and smooth. Or do this with an electric mixer.
Pour the batter into the prepared pan, smoothing the top with a spatula.
Bake in the middle of the oven for 35-45 minutes or until the cake is lightly browned and a toothpick comes out clean. Baking time will depend on your oven as well as the size pan you use. Cool for 10 minutes, then run a knife around the edge of the pan, remove the cake and cool on a cooling rack. Cool completely before frosting. Cake can be made several days ahead and kept in the refrigerator, well-wrapped. Bring to room temp before serving.
Prepare the frosting: beat together cream cheese, syrup and cinnamon until smooth. If using dairy cream cheese, it is helpful to use an electric mixer. You can use a whisk for dairy-free cream cheese. Frosting can be made a few days ahead and kept refrigerated.
Prepare the candied pumpkin seeds: Preheat oven or toaster oven to 375 degrees. Line a small baking sheet with unbleached parchment paper and lightly grease the paper.
In a small saucepan, whisk together the maple syrup, brown sugar and salt over medium heat. Stirring constantly, cook until mixture is foamy, about 2 minutes. Stir in pumpkin seeds and toss to coat. Quickly spread out mixture on prepared parchment. Bake for 10 minutes, turning after 5 minutes. (Check early if your oven runs hot.) Remove from the oven to cool at room temperature where they will harden. Candied seeds can be prepared several days in advance.
Notes
*Or use 2 ½ teaspoons of your favorite pumpkin pie spice instead of all four individual spices.