I have to say, so far our family vacation is going really well!  I have to give much of the credit to my husband who enjoys planning and executing trips like this.  Unlike him, I don't have the knack for figuring out the best strategy for tackling a foreign city in a limited amount of time.  My husband is also a history buff, so he acts as tour guide too, giving us great tidbits of information so we have a better appreciation of how a particular region has evolved.  An unexpected bonus has been Daughter #1's European history coursework from last year, so she's getting in on the act too, and has been that much more interested in historical landmarks and art than in previous years.  It's a good "note to self" that kids are more invested in medieval Baltic trade unions after having studied it in school rather than before.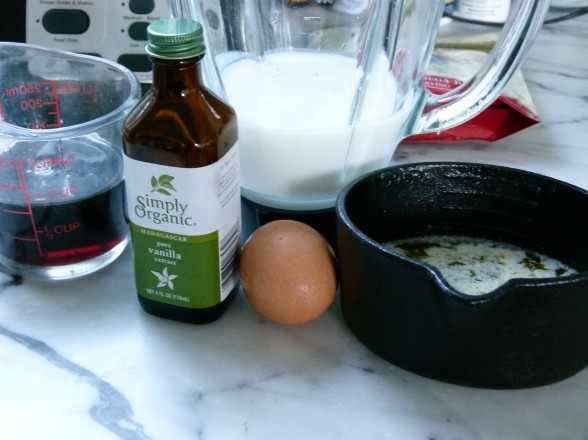 Mr. Picky, who has a very competitive nature about him, has been particularly fascinated with anything to do with wars – which countries were fighting against each other and why, who'd formed alliances, what weapons were used — and are they still rivals today on the soccer pitch?  Daughter #2 is more interested in art and famous paintings.  Does Europe not offer something for all of us?!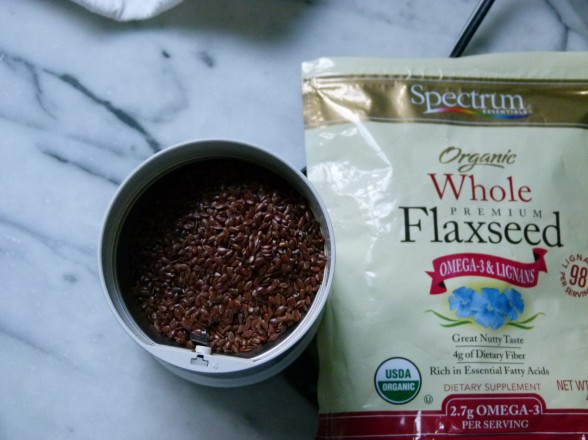 We thoroughly enjoyed our time in Amsterdam, a very civilized, and historically liberal and tolerant city.  Still feels that way today.   Amsterdam is a very easy city to get around on foot or bicycle as so many of the locals do.  We will be back there for a day in less than two weeks, so I'm hoping for good weather so that we can take a canal ride.  The buildings along the canals are really lovely.
After leaving the Netherlands, we are just passing through a few German coastal towns such as Rostock on our way to Scandinavia.  Our visit in Germany is brief because we will be back here in about 10 days when we are to visit Berlin for a more extended time.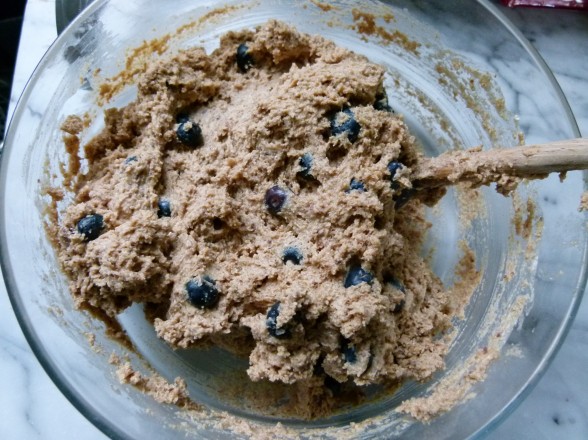 Like I mentioned in my last post, I have a few recipes up my sleeve while I am away to keep my lovely readers busy in the kitchen and eating well.  Today I hope to inspire you with a delicious Blueberry Spelt Muffin with Flax Recipe.  I thought of this recipe today as we walked through a German square from the Middle Ages in the city of Rostock, formerly part of East Germany.  It seemed as though there was a "Backerie" on every corner.  You may not know this about me, but I am obsessed with bake shops, bakeries, pastry shops and the like, especially in foreign countries.  I love the smell of bakeries and the different varieties of baked goods in other areas.  I don't indulge very often, but the last few days on our trip will be in Austria and all bets are off, people!  Here are a few photos of some of the baked goods my husband and children DID sample, because when in Rome…. All I can say is that it is a good thing we are walking 10 miles a day!
As opposed to the unsubstantial blueberry muffins you might find in a traditional bakery, which are really just blueberry cupcakes, these are hearty and flavorful and don't leave you craving something with nutrients.  I made these for breakfast a few days before we left when Daughter #2 had a few girlfriends spend the night.  I have been using whole spelt flour more and more (which you can read about here) since it is lower in gluten than wheat, hence more digestible and more tender, plus it is a little less bitter than whole wheat.  Of course you can use a whole wheat pastry flour or white whole wheat flour here, too.  Either way this is a denser batter than most of my other quick bread recipes.  I added a little extra nutrition bonus here with some ground flaxseed to give a few Omega-3 fatty acids plus fiber and no will know.  Because of those very fragile Omega-3's, you have to be very careful with flax.  Here's all you need to know – buy flaxseeds whole and grind them fresh at home.  Pre-ground flaxseeds are likely already oxidized (free radicals have been created) and not worth the convenience.  I have an inexpensive coffee grinder which I use exclusively for grinding seeds.  If ground flaxmeal is something you use regularly, grind a few days' worth at once and keep it refrigerated in a tightly sealed container.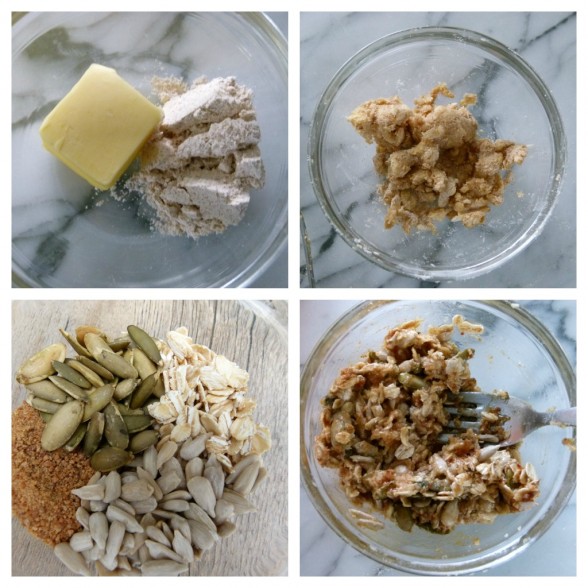 You can keep this recipe on the simple side by not making the optional streusel topping, but it makes the muffins look really pretty and earthy.  It also adds a nice texture and a light glaze of extra sweetness.  If you don't have time to make the streusel, brushing the tops of the muffins with a little melted butter before baking will give them a nice golden glaze.   I haven't seen any muffins like this in Europe, but I'll let you know what I find in Sweden and Finland in the next few days!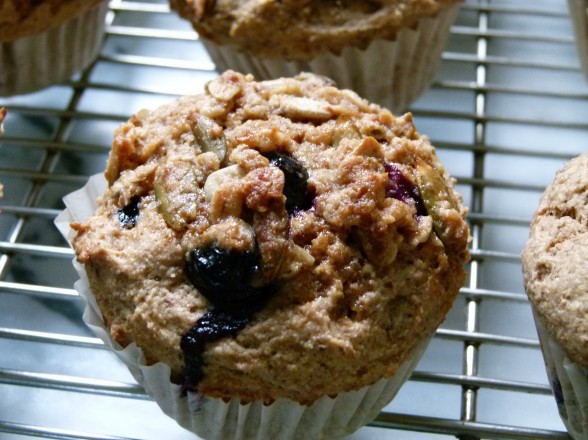 Blueberry Spelt Muffins with Flax
Ingredients
2 ½ cups whole spelt flour (or King Arthur Multi-purpose GF Flour + 1 teaspoon xanthan gum)
½ cup freshly ground flax meal (ground from approximately ¼ cup of whole flax seeds)
2 teaspoons aluminum- free baking powder
½ teaspoon baking soda
½ teaspoon fine grain sea salt
2 teaspoons ground cinnamon
1 large egg (or 1 Tbs. ground flax + 3 Tbs. warm water –allow to sit for 15 min.)
1 cup buttermilk (or half milk, half yogurt)
8 Tablespoons (1 stick) unsalted butter, melted and cooled slightly
1 teaspoon pure vanilla
½ cup pure maple syrup
1 ½ cups fresh or frozen blueberries
Optional additions: chopped walnuts or pecans, shredded coconut, lemon zest
Streusel topping:
1 Tablespoon butter
1 Tablespoon whole spelt flour
1 Tablespoon palm sugar
2 Tablespoons rolled oats
1 Tablespoon sunflower seeds
1 Tablespoon pumpkin seeds
1 Tablespoon raw honey
1 teaspoon water
Instructions
Preheat oven to 400 degrees. Line a 12-cup muffin tin with unbleached parchment liners.
Combine the dry ingredients in a large mixing bowl. In a separate bowl or in a blender, whisk together the eggs, milk, melted butter, vanilla, and maple syrup. Pour into the dry mixture and stir until just combined. Gently fold in the blueberries.
Streusel topping – combine butter and flour in a small bowl mash together with a fork to combine. Add sugar, oats, and seeds to butter-flour mixture. Stir together honey and water and add to mixture. Combine well.
Divide the batter among the muffin liners, sprinkle each with streusel topping and bake 22-30 minutes or until a toothpick inserted into the center of a muffin comes out clean. Cool on a rack.