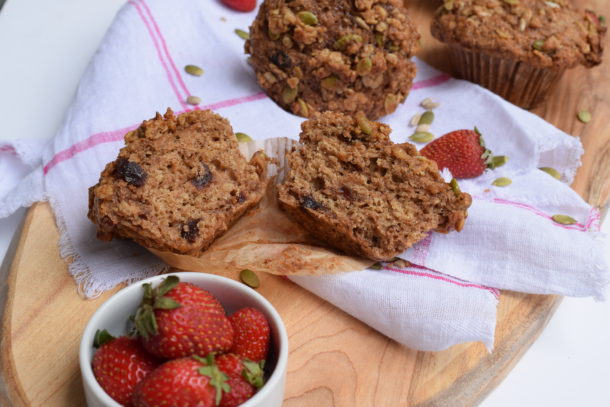 March, April, May, June, Blink, September.  Am I right???  It's ridiculous!  And just like that, everyone is frantic getting organized for back to school.  Backpacks, haircuts, sneakers, lunch boxes, school supplies and of course, proper meals.  My son's school has not started yet, so we have a little more time.  But in anticipation of school starting anew, I starting nesting like I am about to have a baby.  There's stock to be made, cookie dough to be rolled into logs, granola to be baked and muffins to stash in the freezer.  It's like the Amazing Race, back-to-school episode!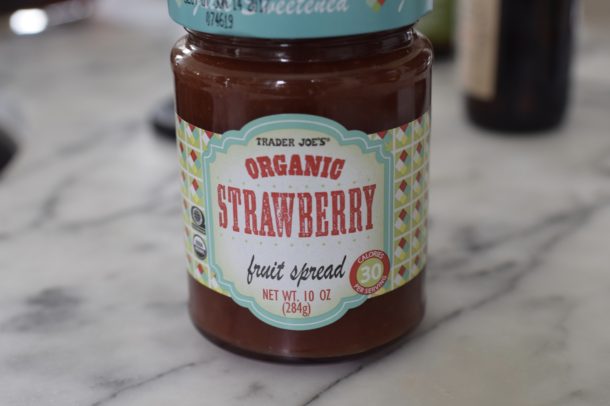 I am adjusting to the new reality of being down to one child in the house.  I say "in the house"  because my two darling daughters who are in college call and text me when they sneeze or have a thought they need to express to someone. "Should I order the smoothie with almond milk or hemp milk?"  "I am so frustrated!  I have been driving around for 6 minutes looking for parking!"  It's like they never left, which is both good and, you know. 😉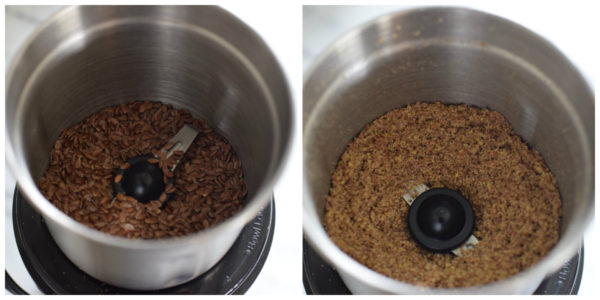 I thought I would share a fantastic, healthful muffin recipe with you all so that you can whip them up for breakfast this week or make a batch to store in the freezer for lunch boxes.  My kids absolutely love these muffins and have no clue they are loaded with fiber and protein.  They are moist and just sweet enough with a boost from fruit-sweetened jam and some diced dried fruit.  I like the Trader Joe's version which is in glass (yay!), organic (yay!), and has no added sweetness (yay!) I am providing a strawberry version of this recipe, but you can sub any flavor jam and dried fruit you like — blueberry, cherry, fig and so on.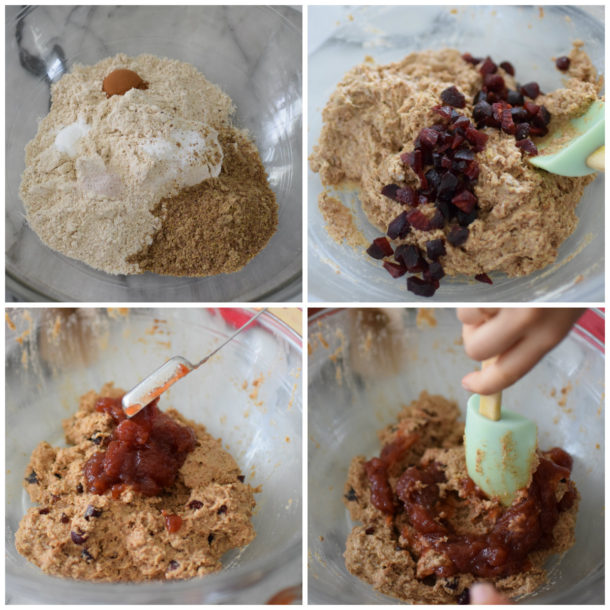 One day I tried baking these with a dollop of peanut butter in the center and they were amazing!  I filled the muffin tin halfway with batter and dropped a teaspoon of peanut butter in the center and then covered it with more batter.  PB&J muffin!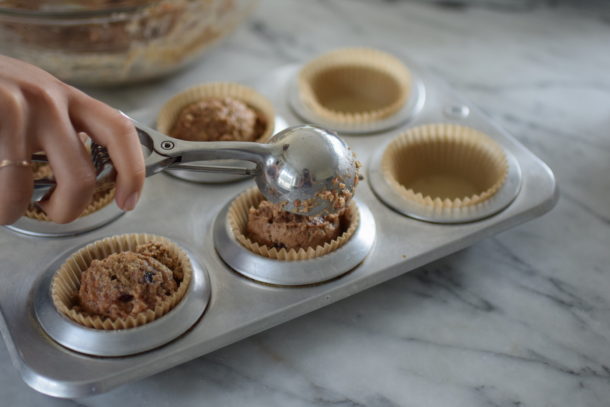 The key with muffins for breakfast is you've got to ditch the white flour and white sugar and boost them with some nutrition and fuel.  Think fiber, protein and fat.  I have actually been making more almond flour and almond pulp-based muffins and quick breads for breakfast over grain flour muffins for that reason.  But here, flax meal is giving these an excellent boost, as is the whole grain flour.  Flax is so nutritious but I never buy it already ground.  The fatty acids are so fragile that they go rancid (i.e. turn into free radicals) quite quickly.  It's better to grind them yourself so the fats stay as fresh as possible.  I use a coffee grinder dedicated to nuts and seeds for this task.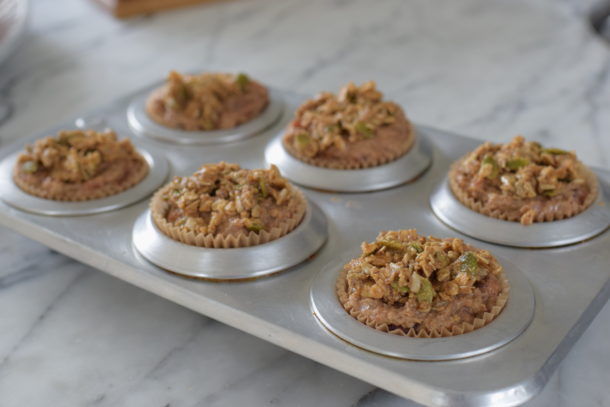 The streusel is awesome and whenever I take the time to add it to my muffins, my son thinks I bought them from a bakery because they look so fancy.  Aww, shucks.  You don't have to do the streusel, but topping the muffins with something makes them look prettier.  A few rolled oats or sliced almonds can do the trick.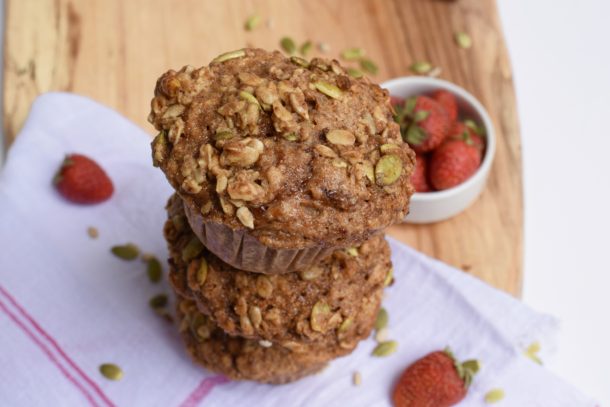 Here's wishing you a wonderful new beginning to the year.  May your mornings be easy and lunch-making be effortless.  LOL.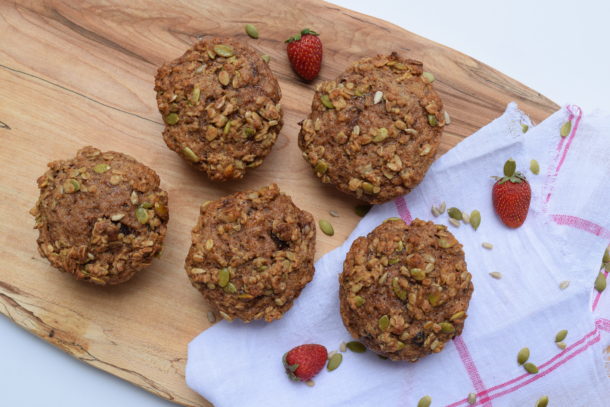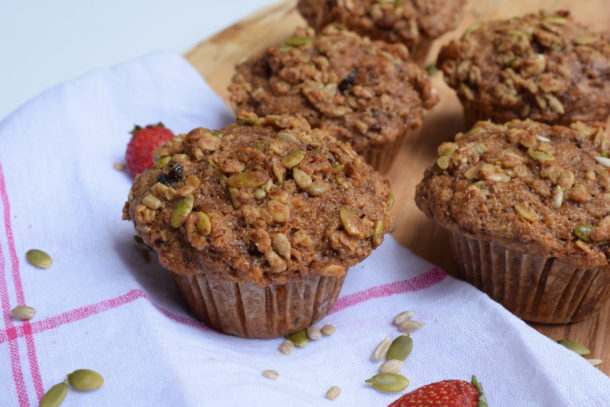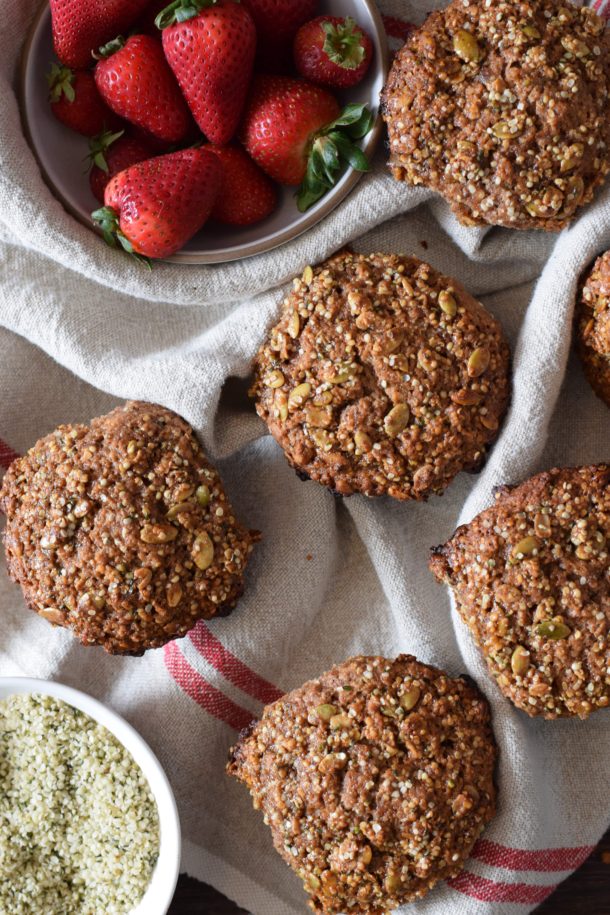 Strawberry Jam Spelt Flaxseed Muffins
Ingredients
1 ¼ cups whole spelt flour
¼ cup freshly ground flax meal (ground from approximately 2 ½ Tbs. of whole flax seeds)
1 teaspoon aluminum-free baking powder
¼ teaspoon baking soda
¼ teaspoon fine grain sea salt
1 teaspoon ground cinnamon
1 large egg (or 1 Tbs. ground flax + 3 Tbs. warm water –allow to sit for 15 min.)
½ cup buttermilk or kefir (or ¼ c. milk + ¼ c. yogurt or ½ c. coconut milk + ½ Tbs. apple cider vinegar)
4 Tablespoons (1/2 stick) unsalted butter, melted and cooled slightly or melted coconut oil
½ teaspoon pure vanilla extract
¼ cup pure maple syrup, Grade A or Grade B
6 Tablespoons strawberry preserves, preferably no sugar added
½ cup dried strawberries, diced if very large (optional) or chocolate chips
optional toppings: fresh strawberry slice or streusel*
Instructions
Preheat oven to 400 degrees. Line a 6-cup muffin tin with unbleached parchment liners.
Combine the dry ingredients in a large mixing bowl. In a separate bowl or in a blender, whisk together the egg, buttermilk, melted butter, vanilla, and maple syrup. Pour into the dry mixture and stir until just combined. Gently swirl in the preserves and diced dried strawberries.
Divide the batter among the muffin liners and top with a slice of fresh strawberry or some streusel. Bake 22-28 minutes or until a toothpick inserted into the center of a muffin comes out clean. Cool on a rack.
Notes
*Streusel Topping:
1 Tablespoon butter
1 Tablespoon whole spelt flour
1 Tablespoon palm sugar
2 Tablespoons rolled oats
1 Tablespoon sunflower seeds
1 Tablespoon pumpkin seeds

This recipe only makes 6 muffins, but you can easily double all the ingredients to make 12.
1 Tablespoon raw honey
1 teaspoon water

Combine butter and flour in a small bowl mash together with a fork to combine. Add sugar, oats, and seeds to butter-flour mixture. Stir together honey and water and add to mixture. Combine well. Sprinkle each muffin with topping.