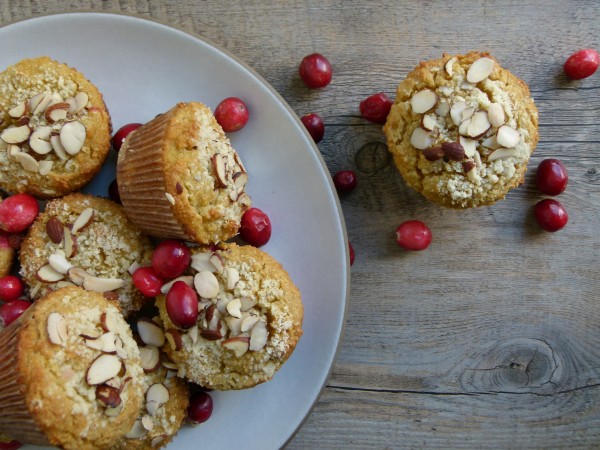 Even though Thanksgiving is passed, I am not letting go of cranberries just yet.  I'm not letting go of winter squashes, pears or apples either for that matter.  And I might just make some pumpkin pancakes tomorrow morning if I feel like it.  I am not yet tired of all those fall flavors, nevermind that winter is knocking at the door.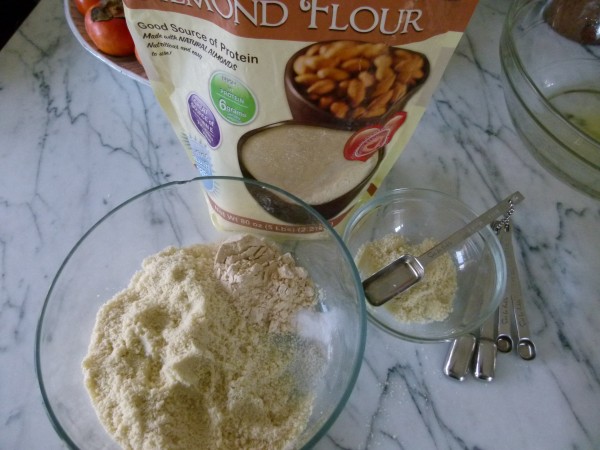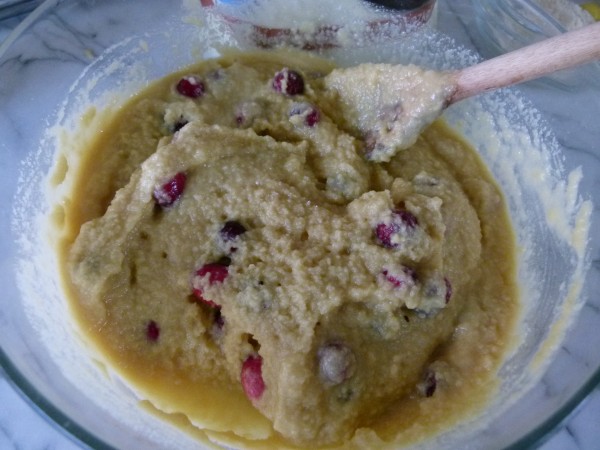 I made these cranberry-orange muffins on a whim the other day and just had to share.  Even though my family and I are not technically gluten-intolerant, gluten is something I mindful about limiting because it is quite pro-inflammatory and hard to digest and something that can be overeaten very easily.  So every now and again when I want to bake something, I play around with gluten-free flours based on grains like rice or millet (if you haven't tried these Millet Blondies, you must!), or to go grain-free I love using almond flour and coconut flour.  There's not one flour that mimics wheat perfectly, but there are ways to achieve a similar result.  One of my kids' favorite muffins is this recipe for Chocolate-Banana-Almond Muffins with Chia Seeds.  That recipe uses all almond flour and has a very nice light, moist interior and such a yummy flavor.  I otherwise don't love using all almond flour in baking since things can get a little heavy.  And you have to be sure to use almond flour and not almond meal.  Almond flour is very fine and almost powdery.  Almond meal is a little coarser which isn't as desirable when you're baking a muffin.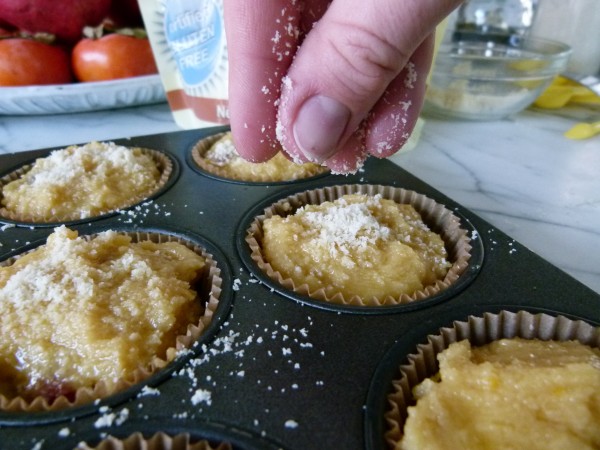 One of my new favorite combinations is using almond flour with a little coconut flour mixed in.  The result is just a little lighter and chewier than with all almond flour.  It's still not exactly like wheat or spelt flour, but it's close enough and my kids love muffins I make this way, including these cranberry-orange beauties.  These muffins are just sweet enough, in my opinion, with a hint of orange.  My family doesn't love an overwhelming orange flavor, so the zest of 1 orange was perfect for us.  But my favorite part is biting into a tart cranberry.  I love contrasts in textures and flavors, so the tart and sweet always gets me!  I remember making cranberry-orange quick bread when I was little girl.  One of the reasons I'll never forget it is because I completely screwed up the recipe the first time by mistaking baking powder for baking soda and things didn't rise the way they were supposed to.  Live and learn.  Even though it was as dense as a brick, the flavors were still so good and we ate the whole thing anyway!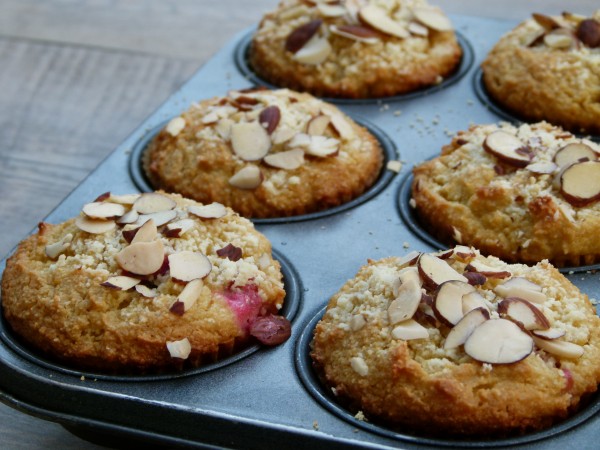 You can still find fresh cranberries in the markets and they also freeze beautifully if you would like to stock up and make cranberry-based recipes in the future.  I think these are great for lunch boxes or for a chilly afternoon with a cup of tea, but I also would love them on Christmas morning, which is two and a half weeks away!!  Loved being with you today, but it's time for me to make like an elf and get back to business.  Until next time!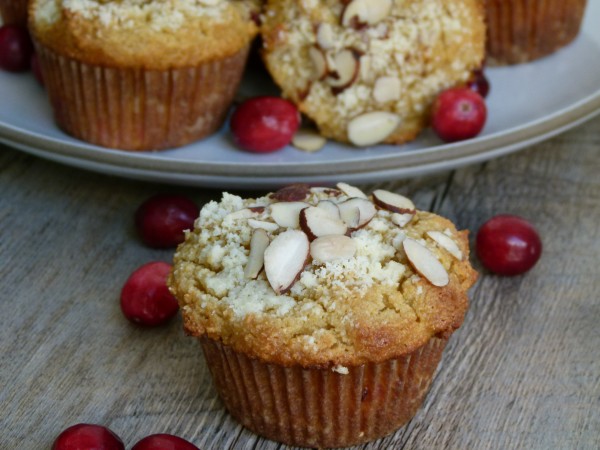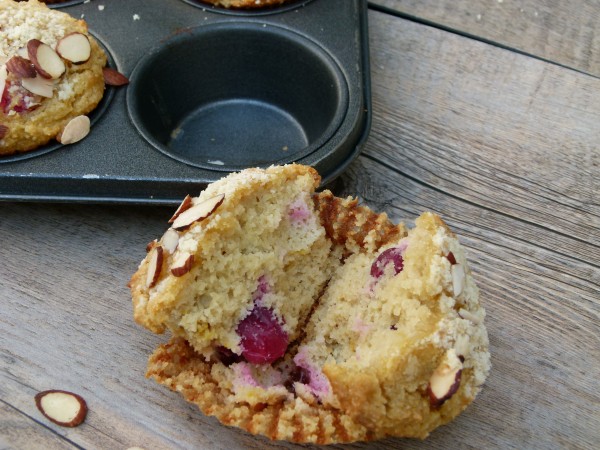 Cranberry-Orange Almond Flour Muffins
Ingredients
2 cups blanched almond flour (I use Honeyville)
¼ cup coconut flour
½ teaspoon baking soda
½ teaspoon sea salt
grated zest of 1 orange
6 large eggs (or 4 eggs and 2 "flax eggs"*)
½ cup honey
1 teaspoon pure vanilla extract
1 teaspoon apple cider vinegar or white vinegar
a heaping cup of fresh cranberries
1 Tablespoon unsalted butter or unrefined coconut oil, melted
2 Tablespoons sliced almonds (optional)
Instructions
Preheat oven to 350 degrees. Line a standard muffin tin with 9 unbleached parchment liners.
Place the 2 cups of almond flour in a large mixing bowl. Remove 2 Tablespoons and transfer it to a small bowl and set aside. Add the coconut flour, baking soda, salt and orange zest to the large mixing bowl and whisk to combine.
In a blender, add the eggs, honey, vanilla and vinegar. Blend until well combined.
Pour the egg mixture into the large bowl and combine well. Fold in the cranberries.
Scoop the batter into the prepared muffin tin, filling each cup to the top. I use an ice cream scooper to do this. Lightly brush the tops of each muffin with butter and sprinkle with the reserved almond flour and (optional) sliced almonds.
Bake until lightly golden and when a toothpick inserted comes out clean, about 30 minutes.
Notes
*1 flax egg = 1 Tablespoon ground flax meal + 3 Tablespoons warm water. Stir together and allow to gel, about 15 minutes.

You don't have to do the almond flour and sliced almonds on top, but it makes a pretty finish!