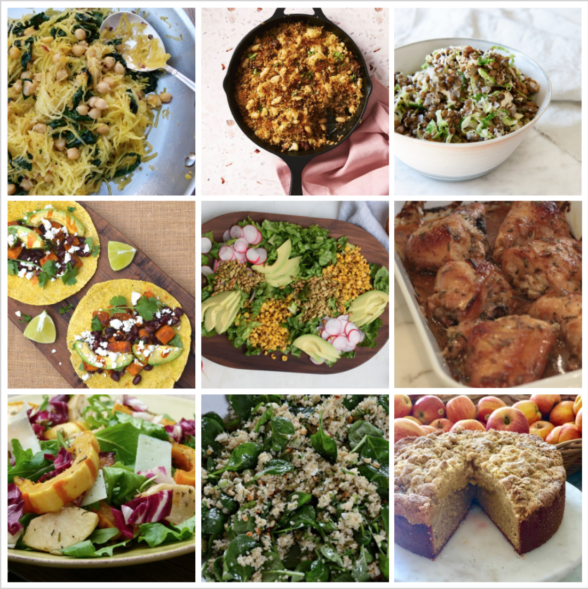 School is in full swing for almost everyone I know.  By "full-swing," I do not mean back to normal, by any means.  I feel for you parents with elementary children at home.  I know you have a lot on your plate right now.  We can all only do the best we can and that is absolutely good enough.  If cooking dinner isn't going to happen most nights, then that's what it is.  No shame in that.  When energy is low and time is tight, I am a big fan of picking the easiest recipes in my repertoire and just repeating them week after week. No one will ask for a their money back.
My monthly online cooking class subscribers, your new class was uploaded earlier this week and I know you will love it!  If you missed my FB live with our group, I'll schedule another one in a week or so.  Here's your dinner planner for the week and Happy New Year to anyone celebrating!
Meatless Monday: Spaghetti squash with kale and chickpeas, roasted broccolini
Tuesday: Sausage cauliflower skillet casserole (swap crumbled tempeh or smoky tempeh for the sausage for plant-based) from Good Housekeeping, fresh green salad with everyday salad dressing #1
Wednesday: Braised lentils with Brussels sprouts and creamy dijon cashew drizzle p. 146 from Kitchen Matters, served with baked fresh fish (I usually drizzle with olive oil, sprinkle with salt and pepper and roast at 400 for 8-10 minutes per inch of thickness.)
Thursday: Sweet potato and black bean tacos, fiesta salad with salsa vinaigrette
Friday 1st Night of Rosh Hashanah: My mother-in-law cooks this meal, but here are a few options:
Pan-seared wild salmon from Kitchen Matters,  Onion-braised brisket, Baked Orange-Rosemary Glazed Chicken, Moroccan chicken with dates, oven baked eggplant with olives, capers, and basil (but I'll serve with pomegranate seeds and tahini sauce), roasted carrots with garlic yogurt (swap coconut yogurt for a DF option).  Other options I love are: Moroccan carrots and orange, sweet potato casserole, roasted sweet potatoes with leeks,  kale salad with citrus dressing, grain-free apple cake, apple crumble cake.  There are so many lovely recipes on my site that would be perfect for the holiday dinner.
Saturday brunch or Rosh Hashanah lunch if you celebrate: I won't be hosting lunch for 25 people this year, sadly.  But this is what I usually make:
3 whole roasted chickens with potatoes and fennel, delicata squash and apple salad, Marrakesh salad (from Quicker Than Quick), noodle kugels, seasonal fruit platter, bite size sweets like chocolate chip cookies, white bean tahini blondies from Kitchen Matters. In past years I've made hummus, Fall/Winter Tabbouleh, quinoa with spinach, dill and feta, butternut squash salad with pomegranate and pumpkin seeds, Fattoush, falafel, grated carrot salad, poached salmon.
Sunday: Depending on the leftovers from yesterday, I might turn them into a soup, chicken quesadillas, salad or grain bowls.
Here's what you can do ahead if it helps you:
Sunday:
Roast spaghetti squash
Make salad dressings
Cook lentils
Make dijon-cashew drizzle
Wash greens for salad
Thursday:
Make dessert for Rosh Hashanah
My new cookbook, Quicker Than Quick, is here!  I have LOVED seeing all your creations of my recipes on Instagram. If you make any of my recipes, please tag me @pamelasalzman #pamelasalzman so I can check them out!  If you have 1 minute, would you mind leaving a review on amazon?  I would be so grateful, thank you!
Take a peek at my first cookbook "Kitchen Matters"!