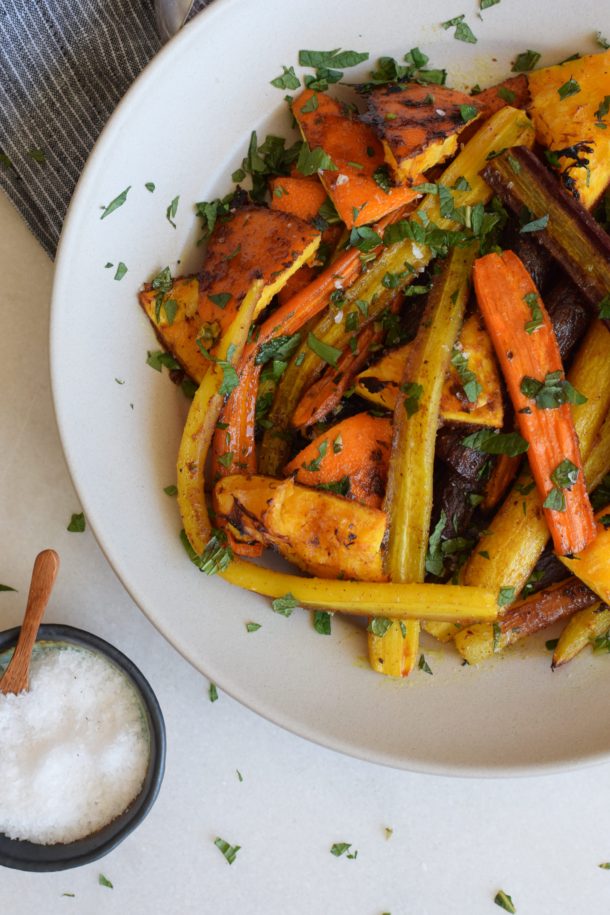 If you follow me on Instagram and you watch my Instagram stories, you have probably seen me shop at Trader Joe's and Whole foods, in addition to some local markets.  I don't buy too much produce at Trader Joe's because most of their stuff is not local and I have access to a lot of great local produce at farmers markets.  But I do love the organic rainbow carrots at Trader Joe's.  They make the ordinary, but nutritious carrot, seem extra special.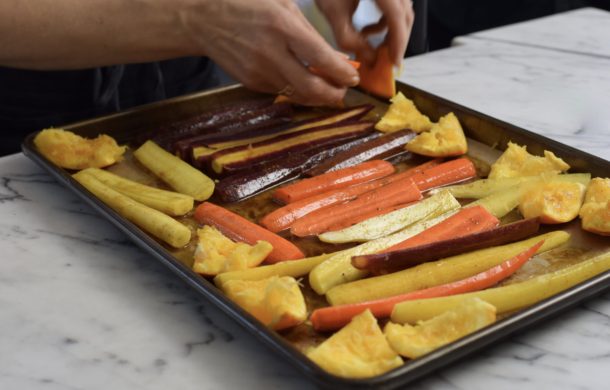 I love these carrots on a crudités platter, but my favorite way to cook them is to roast them.  I don't think many people tend to cook carrots, but they're one of my go-to side dishes since I always have them in the fridge.  In the spring and summer, I'll grate them quickly in the food processor for a carrot salad.  In the fall and winter, I love making them tender and sweet in the oven.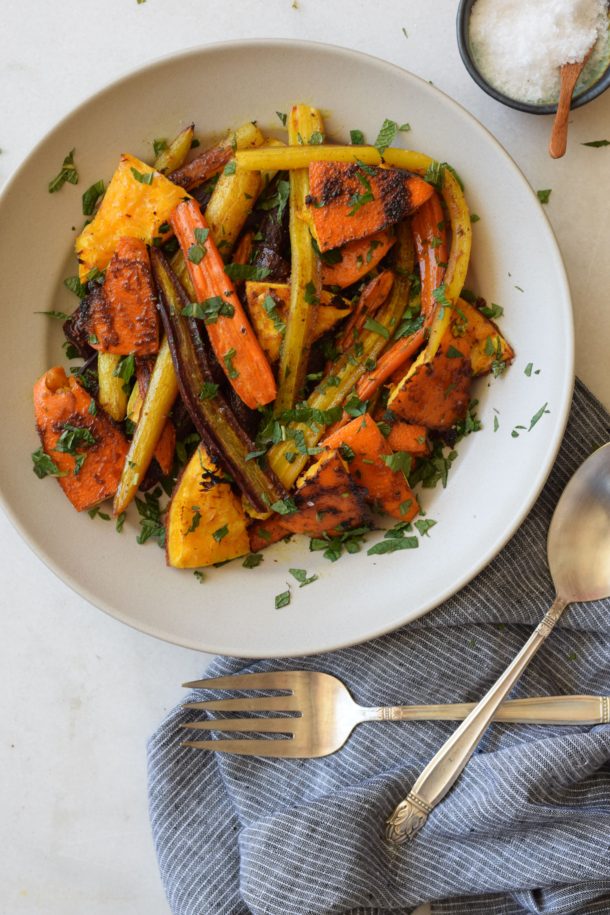 In this preparation, I load up the carrots with lots of great spices and some orange.  I am using the Moroccan label liberally here because I have no idea if anyone in Morocco makes carrots in this way.  But the spices are ones which I have used in Moroccan recipes before and they're all anti-inflammatory to boot.  These carrots are not spicy, just flavorful and delicious.  And easy!  And you don't need to make a Moroccan meal to enjoy them.  I pair these carrots with simple roasted salmon or chicken.  I'm sure lamb would be great, as would a rice-lentil pilaf or couscous with almonds for a vegetarian meal.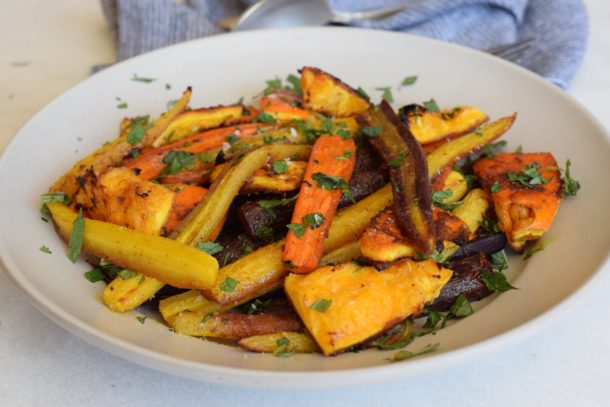 I like to serve my family lots of orange and yellow foods since they're rich in carotenoids which can protect against sun damage and skin cancer.  And since we live at the beach, this is a good thing.  Carrots go well with coconut oil which is a better oil to use at 400 degrees since it has a higher smoke point than unsaturated fats.  But if you are allergic or dislike coconut oil, the recipe works with avocado or olive oil.  It's just that those oils break down at higher temps and a few free radicals are formed.  You can rationalize all of this by consuming loads of antioxidants in your spices and veggies, so don't stress about it too much.  These Moroccan carrots were a cooking class favorite last fall and I know you will love them, too.  Please check out the video I posted for this recipe on Instagram!

Moroccan Roasted Carrots with Orange Recipe
Ingredients
2 bunches farmer's market carrots, tops trimmed or 1 ½ pounds regular carrots, peeled and cut in half lengthwise
2 tablespoons unrefined virgin coconut oil, melted (or use olive oil or avocado oil)
1 teaspoon sea salt
1 teaspoon ground cinnamon
¼ teaspoon ground cumin
¼ teaspoon ground coriander
½ teaspoon ground turmeric
pinch of cayenne
a few grinds freshly ground black pepper to taste
2 Tablespoons pure grade A maple syrup
1 orange, juiced (about 6 Tablespoons), then cut up into chunks (you can eat these, but they are just a little bitter after they're roasted)
2 Tablespoons flat-leaf parsley, chopped
2 Tablespoons fresh mint leaves, chopped
Instructions
Preheat the oven to 400 degrees. Line a baking sheet with unbleached parchment paper.
Melt the coconut oil in a small saucepan and add the salt, spices, maple syrup and orange juice, and whisk until well combined.
Place the carrots and the orange pieces on the baking sheet and pour the coconut oil/spice mixture over everything and toss to coat.
Roast the carrots for 20-25 minutes, until tender but still with a bite. Garnish with herbs and serve hot, warm or room temperature.