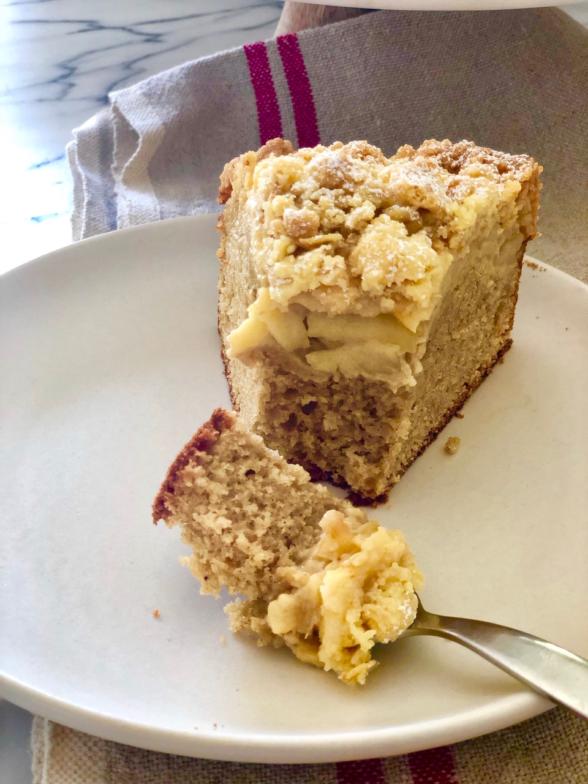 The only professional sport I watch on TV is football.  I used to follow tennis since that's the only sport I actually play, and I still occasionally watch a grand slam tournament.  My maternal grandfather sat me down in front of the television one Saturday afternoon when I was about 7 years old and started to teach me the game of football.  It was a Penn State game, since he grew up outside of State College, Pennsylvania and several of his brothers and family members attended the school.  He was a die hard fan and actually resembled then-coach, Joe Paterno.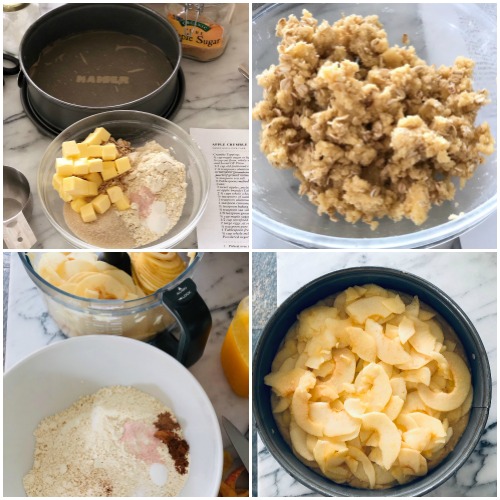 My grandfather served in the army in World War 2 and therefore also rooted for Army as well and took me to an Army game when I was a teenager.  My grandmother unfolded the back of the station wagon and introduced me to tailgating.  Such fun!  They also had season tickets to the Giants for years and years, so I inevitably grew up a Giants fan.  I married a major Steelers fan, therefore on Sundays in the fall and most of the winter, we so look forward to staying home and watching football.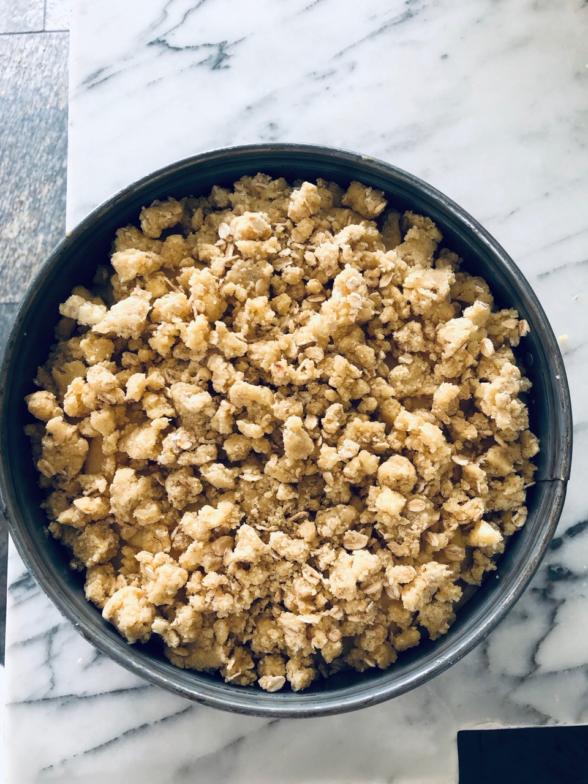 Sometimes we have friends over and sometimes we don't, or we go to someone else's house to watch.  But most Sundays you can find me in the kitchen making soup and squeezing in some meal prep during halftimes.  I also have bursts of creativity when I am just sitting in front of the tv. This past Sunday, I had an idea for a new apple cake and I thought I would try one out in time for Rosh Hashana.  Lucky for me, I had quite a few taste testers ready and willing to sample the results.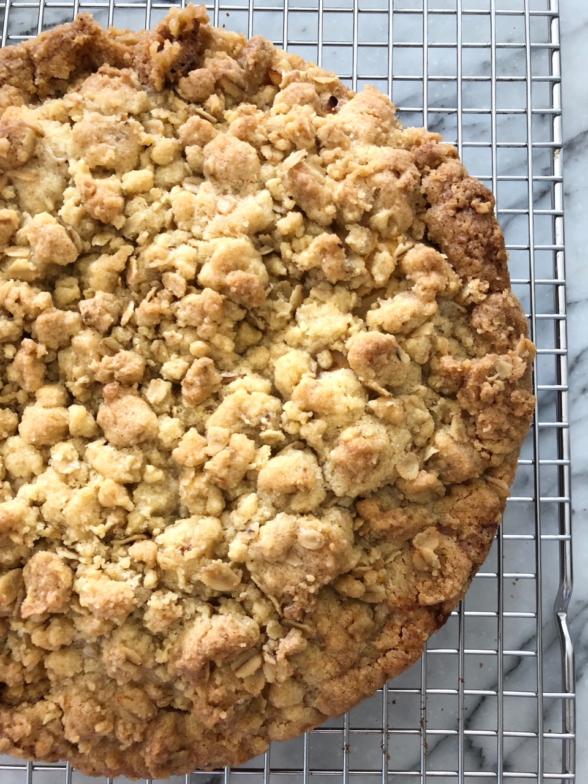 I was confident in this cake since I tweaked an existing cake recipe (the blueberry-lemon loaf with cornmeal crumb topping from a spring class), topped it with sliced apples and a crumb topping recipe that I tweaked from my cookbook.  The result was glorious – a moist, perfectly spiced cake with tender apples and a crunchy, crumbly top.  As with all my desserts, I aim to reduce the sugar as much as possible while keeping them "normal," as my son says. So this cake is not terribly sweet and would be delightful for brunch, as well as dessert.
Unlike most of my other recipes that I teach in classes, I did not have the opportunity to test this out a dozen ways.  But if you need substitution advice that is not given here, I think I can give you good suggestions.  In these photos I used Jovial Foods einkorn flour which is a new favorite.  (This is not sponsored, by the way.) I am really down on wheat, oats and the accompanying toxin, glyphosate, unless I have an option that has been tested.  Einkorn is an ancient wheat and although it contains gluten, Jovial's is grown glyphosate-free in Italy.  I sub it one-for-one with wheat flour.  There are gluten-free swaps within the recipe.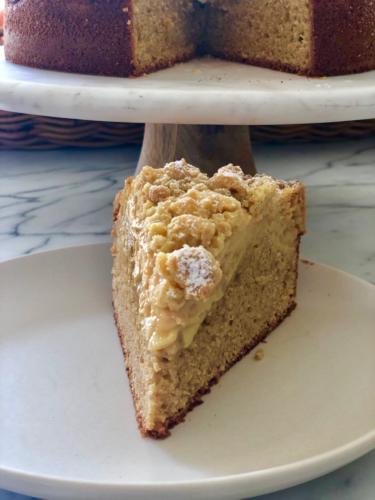 For those of you who need a dairy-free dessert, you're in luck!  I used olive oil in the cake and provided the option to use either butter or a vegan butter (I use Miyoko's Creamery) in the topping.  Olive oil is fruity and keeps the cake moist, but there is no actual olive oil taste.  It's not the quickest cake in the world since you have three steps – the cake batter, peeling and slicing apples, and the topping.  But it's well worth the effort and I know it will be a huge success when you serve it.  Happy fall and here's to a sweet new year. XO
As always, I get such joy out of seeing you recreate any of my recipes!  Please tag me @pamelasalzman #pamelasalzman on Instagram so I can check them out!  Thank you!
Shop the tools for this recipe by clicking on the images below:

Apple Crumble Cake Recipe
Ingredients
Crumble Topping:
½ cup maple sugar or light brown sugar
¾ cup oat flour, whole wheat pastry, spelt, einkorn, or a combo of GF oat flour and Jovial GF Flour
⅓ cup old-fashioned rolled oats (I use One Degree Organics)
1 ¼ teaspoons aluminum-free baking powder
½ teaspoon ground cinnamon
pinch of ground nutmeg
¼ teaspoon sea salt
6 Tablespoons cold unsalted butter or vegan butter, cut into pieces
Cake:
3 sweet apples, peeled, cored and thinly sliced and tossed with a little orange juice or apple brandy (Calvados) to prevent browning
2 ½ cups whole wheat pastry flour or Einkorn flour (or Jovial GF Pastry Flour + 1 ½ teaspoons of xanthan gum)
1 teaspoon aluminum-free baking powder
1 teaspoon cinnamon
½ teaspoon baking soda
½ teaspoon sea salt
⅛ teaspoon ground nutmeg
¾ cup maple sugar or unbleached cane sugar
½ cup unrefined cold-pressed extra-virgin olive oil + extra for greasing the pan
2 large eggs, at room temperature
½ teaspoon pure vanilla extract
1 Tablespoon fresh lemon juice or apple cider vinegar
¾ cup whole milk or oat milk (I used low-fat Oatly)
Powdered sugar for serving, if desired
Instructions
Preheat oven to 375 degrees. Grease a small amount of oil on the bottom of a 9-inch round springform cake pan and line it with parchment paper.
Make crumble: In a large mixing bowl, with your hands combine all topping ingredients until no longer dry. Set aside in the refrigerator or freezer.
Make the cake batter: In a medium bowl, whisk together the flour, baking powder, cinnamon, baking soda, salt and nutmeg.
In a large bowl, beat together the sugar, oil, eggs, vanilla, lemon juice, and milk until very well combined. Add the wet mixture to the dry mixture and stir until just combined. Pour into the prepared pan and spread evenly with a spatula.
Arrange the apple slices evenly over the batter. Sprinkle the crumble topping over the apples. Bake in the center of oven, until a cake tester inserted in the center comes out clean, 40-50 minutes*. Let cool in the pan for 10 minutes. Run a knife around the edges to loosen the cake and remove the springform ring. Cool completely before serving. Dust with powdered sugar if desired before serving.
Notes
Powdered sugar is not something something I normally use. But a light dusting of it gives the cake a pretty finish and I only used about 1 teaspoon total on the whole cake.
* I had someone tell me her cake was done at the 35 minute mark. Always check baked goods early, especially if your oven runs hot. Do not use convection here unless you drop the temp to 350 degrees.