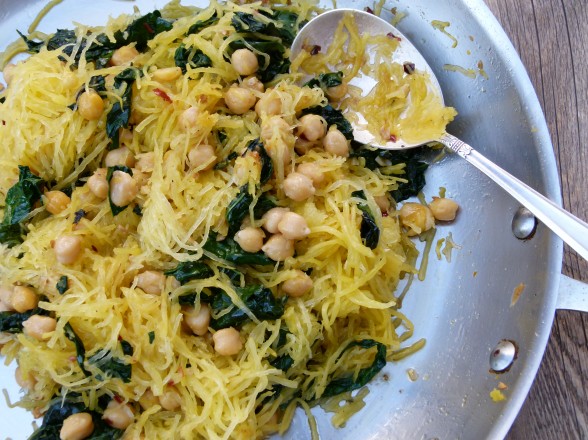 Did you participate in the low-carb craze of the 90's?  If you did, you may have eaten a lot of spaghetti squash with tomato sauce trying to convince your carb-starved body that you were actually eating pasta. The body is no fool, though.  At least mine isn't.  I ate lots of "spaghetti" for a good year, but never really felt like I was eating pasta and then I had a negative association with this pasta imposter.  The better attitude to take is to acknowledge that spaghetti squash is a delicious food unto itself and that replacing a processed food (pasta) with something whole and full of vitamins and minerals is a fantastic idea.  I had sworn off spaghetti squash for 15 years because I thought the only way to eat it was with marinara sauce and I had O.D.'d on that.  But my lovely summer intern, Hannah, had found this recipe that sparked my interest and I was back.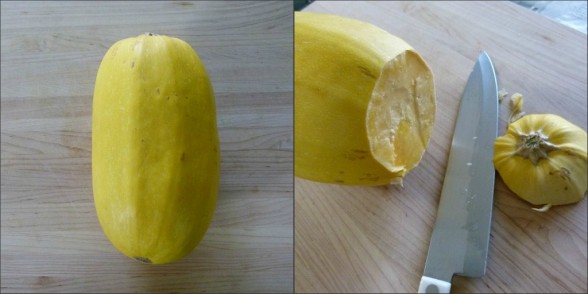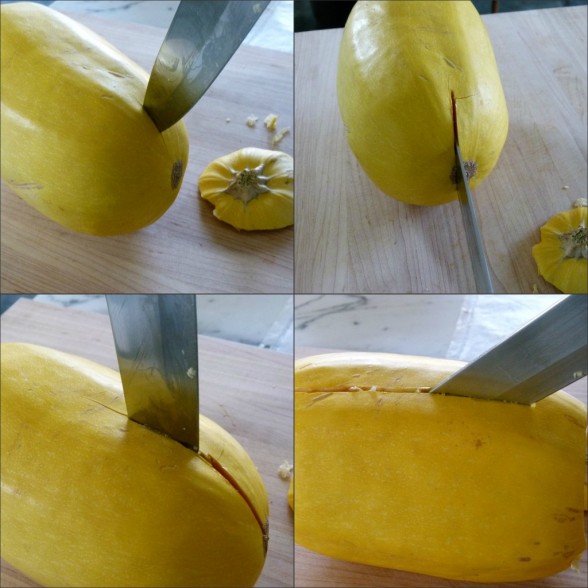 Spaghetti squash comes into season in the early fall and lasts through the early spring.  Like most winter squashes, spaghetti squash lasts quite a while off the vine without losing nutrients.  In fact, many winter squashes actually get a little sweeter when they've been allowed to "cure" on your countertop for a bit.  What is unique about spaghetti squash is that the flesh is not meaty like other winter squashes like butternut squash or pumpkin, for example, but instead stringy after it has been cooked.  It resembles spaghetti strands when you rake your fork through the flesh.  Pretty cool, actually.  The flavor of spaghetti squash is like the glass half empty-glass half full.  It has a very subtle flavor — really subtle — which means it tastes kind of bland, but it also means you're not that limited with flavors you can use.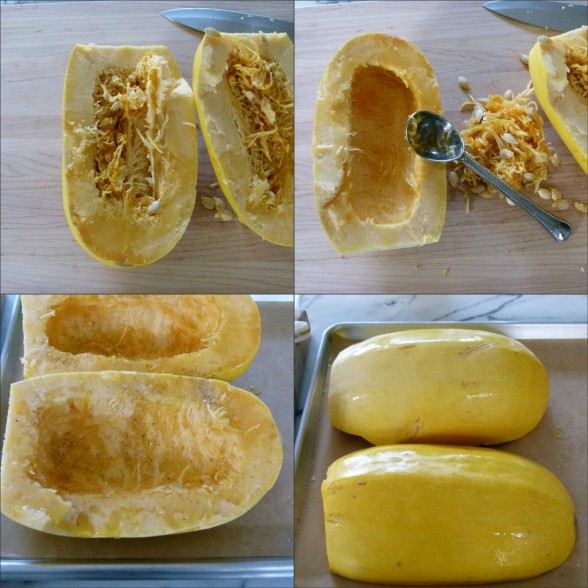 Funny enough, the trickiest part about cooking spaghetti squash is actually cutting it open.  I have tried numerous methods and the one that is hands-down the best is what I call the slot machine method.  You can see from the photos that I insert the tip of my big, sturdy chef's knife into the flesh of the squash a few inches from the bottom and pull down.  Then I inch my way up the squash towards the middle and keep inserting and pulling down the knife.  This is the safest and easiest way to do it.  If you don't want to try cutting it open and you have extra time, you can pierce the squash a few times with the tip of your knife so it doesn't explode in the oven (ask me how I know this) and roast it whole.  This way it will soften up and be much easier to cut open, but you're adding an extra 15-20 minutes to the cook time.  I prefer to roast the squash halves, which takes about 45 minutes.  You can also plunge the halves into a pot of boiling water for about 13 minutes if you're in a rush, but I think you lose nutrients when you boil vegetables for a long time like that.  Also, it's easier to overcook it and then the subtle flavor becomes even more subtle (as in, it tastes like water.)  I'm well aware that people also microwave spaghetti squash halves, but this is a site about NOT microwaving food, so you'll have to figure that one out on your own.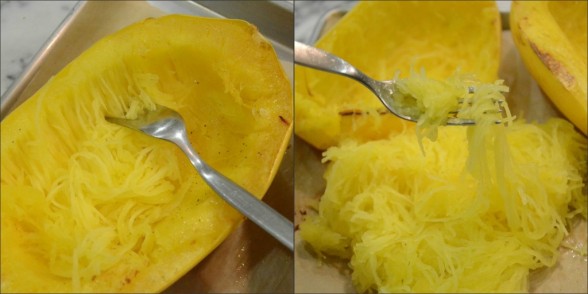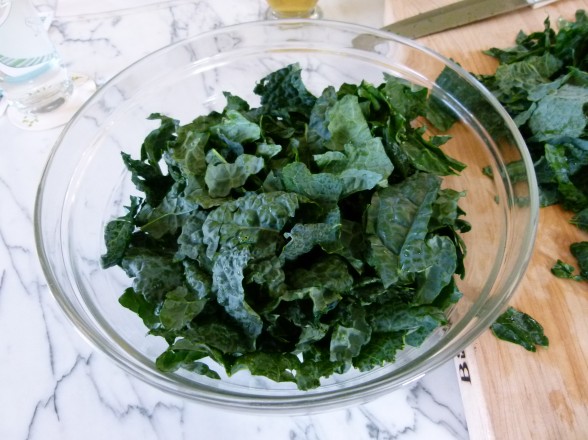 Here I sauteed my BFF kale with garlic and a pinch of chili flakes to toss with the cooked squash strands and then I add cooked chickpeas.  But we've hung out enough that by now you know that you can substitute Swiss chard or spinach for the kale and white beans for the chickpeas.  Really the sky's the limit with how you complement the squash.  Just make sure you add lots of flavor and don't be stingy with the salt.  I added vegetable chili on top of it one day. Another time I tossed it with chunky braised root vegetables in a spicy tomato sauce.  Daughter #2 found some cooked spaghetti squash in the refrigerator and warmed it up and added olive oil, feta, olives and some leftover broccoli.  It was so darn good and I never had to convince anyone to try it because it was "just like pasta!"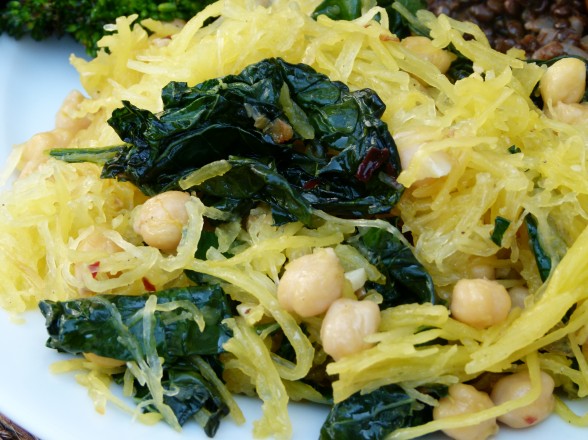 Spaghetti Squash with Kale and Chickpeas
Author:
Pamela, adapted from My New Roots
Serves:
4-6 (or just me and my intern, both starving, standing over the stove)
Ingredients
1 spaghetti squash, about 3½ pounds
3 Tablespoons unrefined olive oil + more for drizzling the squash or unrefined coconut oil or ghee
Sea salt and freshly ground black pepper
1 bunch kale, center rib removed, leaves chopped
1 ½ cups cooked chickpeas (rinsed and drained, if canned)
3 cloves garlic, finely chopped
¼ teaspoon crushed red chili flakes or more to taste
Parmesan or Pecorino-Romano cheese shaved on top (optional)
Instructions
Preheat oven to 400 degrees. Cut the spaghetti squash in half lengthwise and remove the seeds. Rub the inside of each half with a drizzle of olive oil and season with salt and freshly ground black pepper. Arrange cut-side down on a parchment-lined baking sheet and bake for 45 minutes until tender.
Heat oil in a large skillet over medium. Add garlic and cook until fragrant, about 1 minute or less. Add chili flakes, stir for a few seconds and add chopped kale with a few pinches of sea salt. Sauté kale until the leaves are bright green, about 5 minutes. Add the chickpeas and cook until warmed through. Remove from heat.
Remove squash from oven when it is cooked through and tender. Using a fork, pull the strands of squash from the peel so that it resembles…spaghetti! Place the strands into a serving bowl and add the kale-chickpea mixture. If you do the spaghetti squash in advance and it is no longer hot, add to the kale and chickpeas and sauté over medium heat until warmed through. Toss to combine and taste for seasoning. Since spaghetti squash is rather bland, you will need to add plenty of salt and pepper. Garnish with cheese if desired.