This is the ultimate fall/winter chopped salad! I am obsessed with chopped salads, as you know.  I love not working too hard to eat my food and getting multiple flavors and textures in every bite.  And if you break out your food processor, this is a snap to prepare.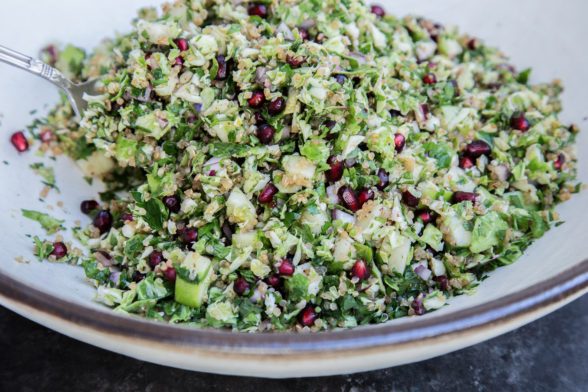 So what is this, exactly?  It's not tabbouleh of course, because that is a parsley salad with a little bulgur, tomato, mint and cucumber.  It's a summer staple for me, although I make it with quinoa instead of bulgur.  You can find that recipe here.  So all I did was make a few seasonal swaps here – green apple instead of cucumber, pomegranate instead of tomato, and then I used minced Brussels sprouts instead of most (not all) of the parsley.  I kept the mint and lemon-based dressing and I swear it still tastes like a classic tabbouleh.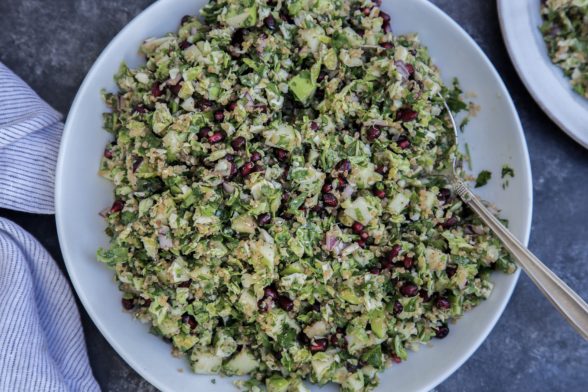 There's so much nutrition packed it this bowl, which will please vegans and Paleo-followers alike.  Plus you can serve this salad with practically any meal.  I taught this recipe in my October cooking classes and many of my students made this for Thanksgiving.  But it's really easy enough to make for any weeknight meal, as well.  Almost everything can be done in advance (except the apple) and assembled at the last minute.  "Assemble" is my favorite word for holiday dinners!  For a quick review on how to use your food processor, watch my YouTube video here.

Fall/Winter Tabbouleh Recipe
Ingredients
¼ cup uncooked quinoa*
½ pound brussels sprouts, trimmed and finely chopped (use the food processor shredding disc or pulse with the metal S blade)
1 cup pomegranate seeds
¼ cup diced red onion
1 tart apple (e.g. Granny Smith), diced
¾ cup finely chopped flat-leaf parsley
¼ cup finely chopped fresh mint leaves
2 Tablespoons fresh lemon juice
2 Tablespoons apple cider vinegar, preferably raw
⅓ cup unrefined, extra-virgin olive oil
1 teaspoon sumac (if you don't have it, don't worry about it)
½ teaspoon sea salt
Freshly ground black pepper
Pinch of cayenne
Instructions
Rinse quinoa in a bowl with water or place quinoa in a fine mesh sieve and rinse under cold water until water runs clear. Transfer to a small saucepan and add ½ cup water. Bring to a boil and simmer until water is absorbed, about 15 minutes. Turn off the heat and allow to sit covered for 10 minutes.
Transfer quinoa to a serving bowl and allow to cool. Fluff with a fork periodically.
Combine cooled quinoa and remaining ingredients. Toss to mix well. Taste for seasoning.
Notes
*Or skip Step 1 and use ¾ cup cooked quinoa.