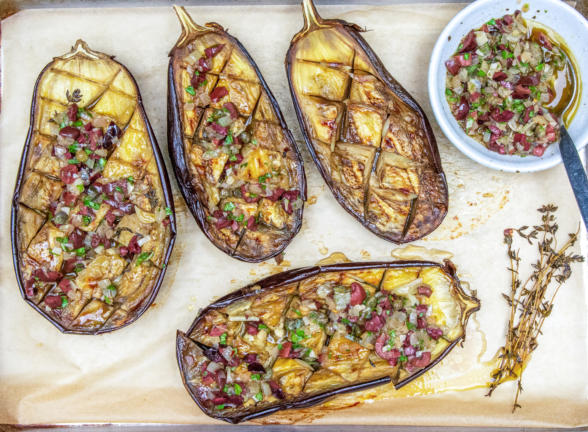 Thanks for waiting for me, friends.  I'm back and taking it all one day at a time.  Nothing else I can say at this point.  I appreciate this beautiful community I have built here and the outpouring of love and support you have given me.  No words can truly express my gratitude for your friendship this past week.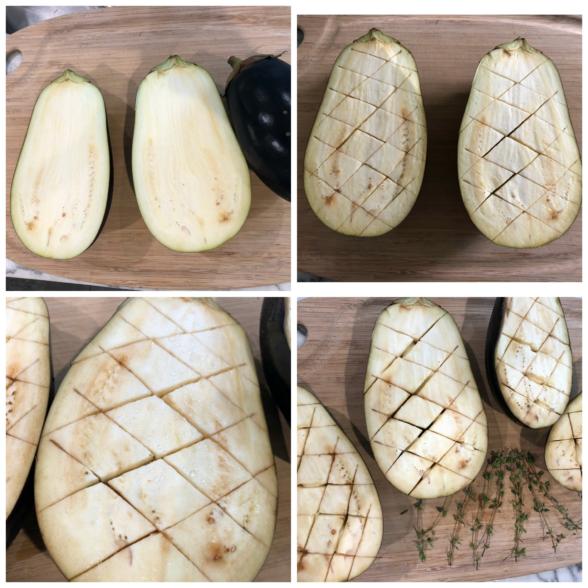 On a positive note, I have a backlog of healthy recipes I have been waiting to share with you; one of which is this divine eggplant recipe.  Eggplants are still in season for another month or so, so try to make this soon!  This is pretty much my favorite technique for making eggplant.  It isn't the quickest method, but the result is soft and silky eggplant.  (I forgot where I saw this technique first.  If you know, shoot me a comment and I'll give credit.)  I am super particular when it comes to eggplant.  If it's cooked and too firm – I can't eat it.  Too oily- can't eat it.  Too bitter — you guessed it — can't eat it.  This method includes salting the eggplant before cooking it which takes out some of the bitterness and helps to soften the flesh a little as well.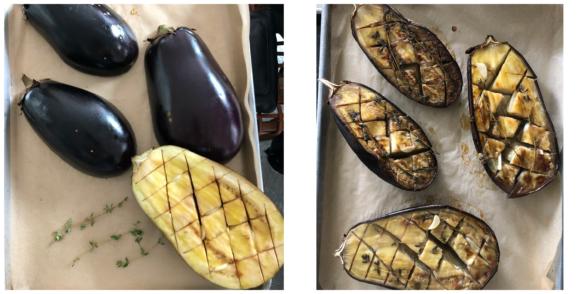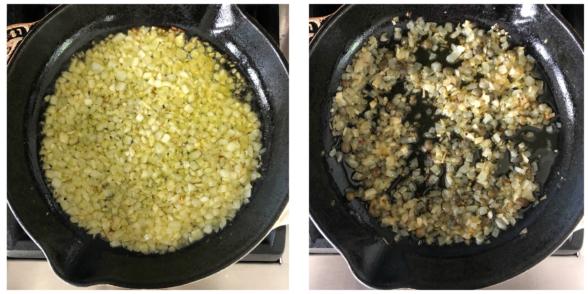 When I taught this recipe in class, I served the eggplant as is with no condiments and it was simple and delicous.  I also suggested scooping out the flesh and smashing it a little, a la baba ganoush.  Here I thought I would also share a little olive and caper relish, but you can also spoon some 5-minute Cherry Tomato sauce on top after the eggplant is out of the oven.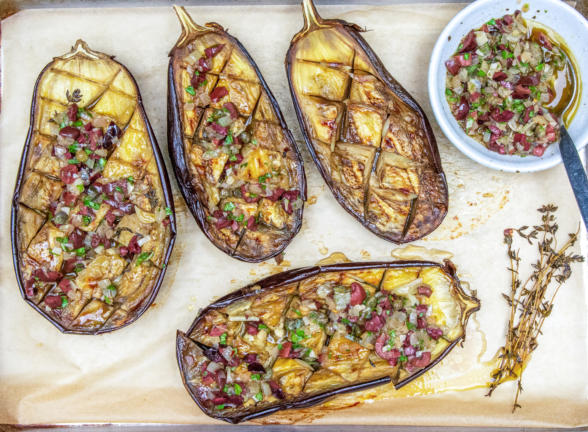 My running joke about choosing a good eggplant is that it should be the way I was 10 years ago – firm, smooth, without any wrinkles on the surface LOL. Look for a green top and not a brown top which indicates an old eggplant.  Eggplants are not high in any one nutrient, but they are known for containing high levels of phenols. Phenols are known to be one of the most powerful free radical scavengers, which can inhibit tumor growth, and fight cancer metastasis and angiogenesis.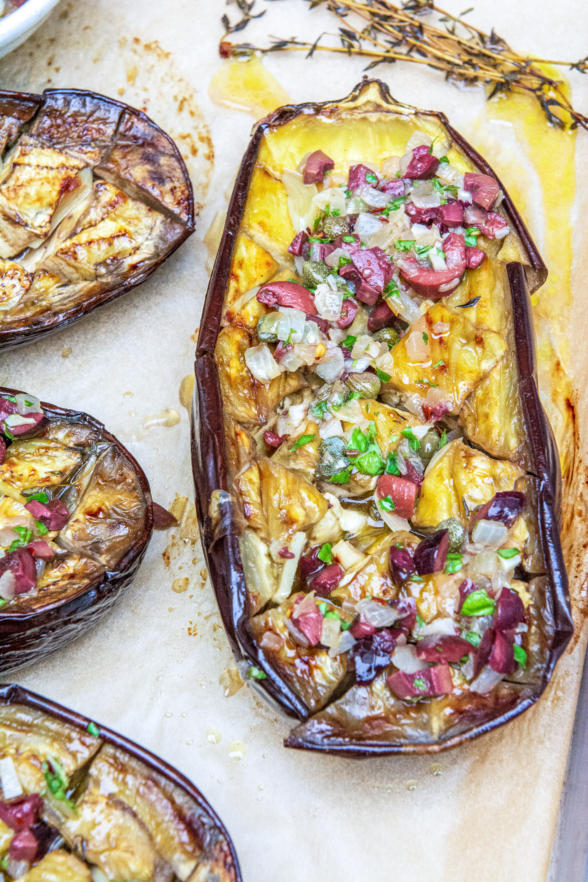 This can potentially be a great side dish for Rosh Hashana to balance out the sweet stuff and the old school dishes.  You can top the eggplant with a drizzle of pomegranate molasses and pomegranate seeds or tahini sauce and pomegranate seeds + some parsley- that's super seasonal and perfect for the holiday!
If you make this recipe or any of my recipes, I would LOVE to see your creations, so please tag me @pamelasalzman #pamelasalzman on Instagram!  If I haven't told you lately 😉 I am so grateful for you.
Shop the tools for this recipe by clicking on the images below:

Oven Baked Eggplant with Olives, Capers and Basil
Author:
Olive relish adapted from The Modern Vegetarian Kitchen by Peter Berley
Ingredients
2 1-pound eggplants
Sea salt
3 large garlic cloves, thinly sliced
2-3 Tablespoons unrefined, cold-pressed, extra-virgin olive oil
8 fresh thyme sprigs
⅓ cup unrefined, cold-pressed, extra-virgin olive oil
1 cup finely diced onion
3 garlic cloves, finely chopped
1 Tablespoon capers, drained from brine
¼ teaspoon crushed red pepper
½ cup black olives, pitted and finely chopped
¼ cup freshly squeezed lemon juice
8 to 10 basil leaves, chopped
Freshly ground black pepper, to taste
Instructions
Slice the eggplants in half lengthwise. With the tip of a knife, score the flesh deeply in a diamond cross-hatch pattern by making two or three long cuts, cutting at a steep angle, and then rotating the eggplant to make another set of similar cuts. Press on the edges of the halves to open the cuts and sprinkle salt (1 to 1-1/2 tsp. total for all the halves) over the surface and into the cuts. Set aside, cut side up, for 30 minutes.
Heat the oven to 400°F. Line a baking sheet with unbleached parchment paper.
Over the sink, gently squeeze the eggplant to extract the salty juice and pat them dry with a paper towel.
Insert the slices of garlic into the cuts of the eggplant. Brush each half thoroughly with olive oil (about 2 teaspoons per half.)
Arrange each half, cut side down, on top of a sprig or two of thyme on the prepared baking sheet. Roast for 35-45 minutes until super tender and almost collapsing. Allow to cool slightly before serving.
In a pan over medium heat, warm the oil. Add the onion and sauté for 5 minutes, stirring occasionally to prevent browning. Add the garlic, capers, and crushed red pepper and sauté for 5 more minutes.
Transfer the onion mixture to a mixing bowl and stir in the olives, lemon juice and basil. Season with pepper to taste and serve on top of the eggplant.
Notes
Other options for topping the eggplant are 5-minute cherry tomato sauce, a drizzle of pomegranate molasses, or tahini sauce with pomegranate seeds.