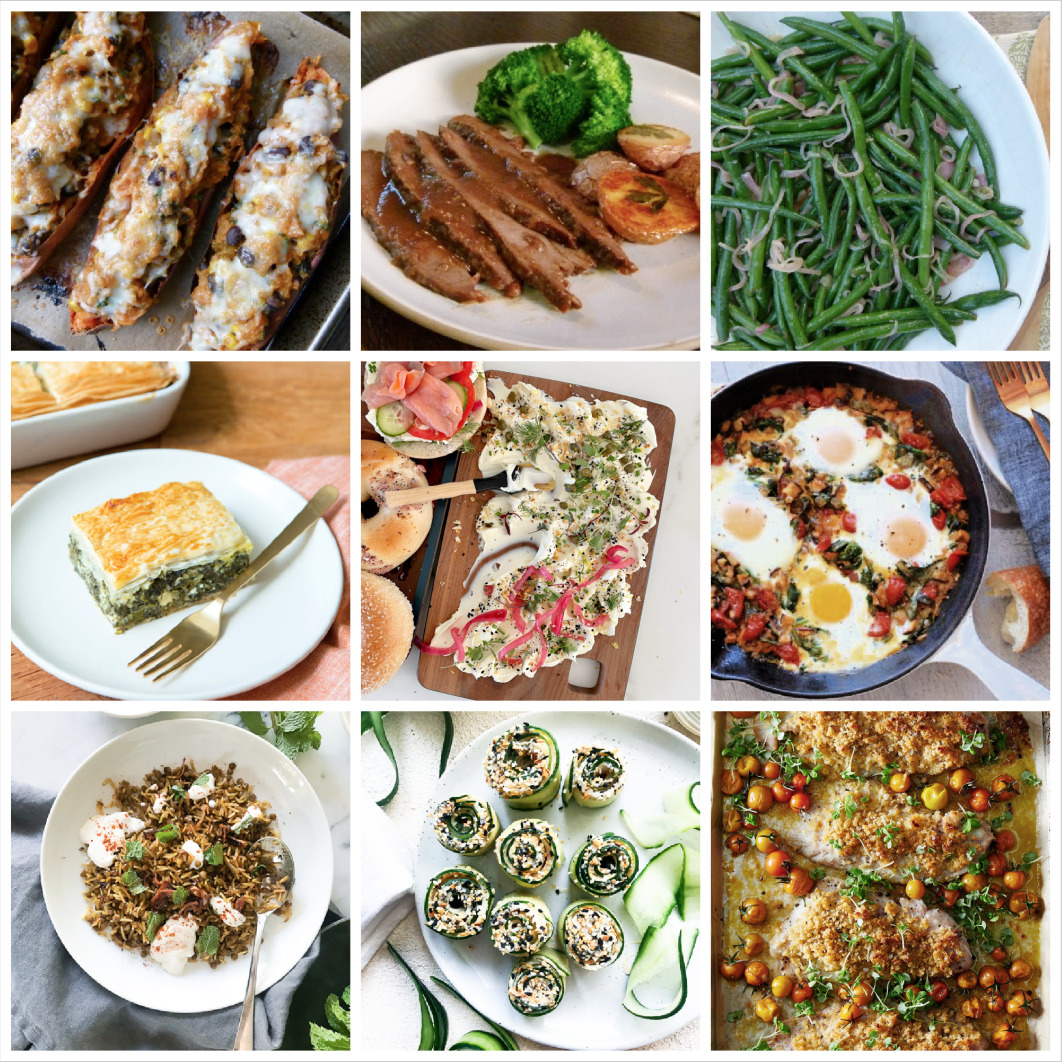 I know we are knocking on October's door, but I am already excited for Thanksgiving! You know this is my favorite holiday and it's also the most intense to prep for. I am here for you! Let's do the Thanksgiving Bootcamp together so we are confident and ready to host the biggest holiday of the year! We are starting the course the week of October 10th. And for my community, I am offering $100 off with the code TDAY100. Click here to learn more and to sign up! Here's your dinner planner for the week:
Meatless Monday: tex-mex stuffed sweet potato skins, some sort of green salad
Tuesday Kol Nidre (Day Before Yom Kippur): (My sister-in-law hosts, but here are some ideas – we try to not overeat or eat too much salt) Brisket, easy no-fail whole roast chicken with onions, fennel and potatoes, shredded sweet potatoes and apple, smashed potatoes, honey lemon green beans, green salad with everyday salad dressing #2, challah, grain-free apple tarte tatin
Wednesday (Yom Kippur Break fast): We do part deli (because it's traditional for Hubs's family) and part homemade (because I like to cook good stuff!) Spanakopita, frittata, spinach and quinoa salad with feta, salads (like this Delicata Squash and Apple Salad, Roasted Vegetable Salad, Mejadra, Farro with Roasted Tomato Dressing, tuna salad, chicken soup, noodle kugel (my mother-in-law's recipe – not healthy LOL). I am also doing a cream cheese board to go with bagels and lox. I posted this on IG!
Thursday: Leftovers from the day before like a scramble with leftover veggies and lox. If I have nothing leftover, I'll plan on Baked Eggs and Greens. Serve with grilled bread drizzled with unrefined extra-virgin olive oil and sea salt.
Friday: mejadra with rice, lentils, greek yogurt and shallots, sauteed greens
Saturday brunch: Cucumber Hummus Turkey Rolls + apples with almond butter and raw cacao nibs and flaky salt
Sunday: Parmesan baked rockfish with cherry tomatoes p. 250 from QTQ , roasted broccolini
Here's what you can do in advance if it helps you:
Sunday:
Roast sweet potatoes
Wash greens
Blanch green beans
Make salad dressings
Monday:
Make challah
Tuesday:
Assemble spanakopita
I have LOVED seeing all your creations of my recipes on Instagram. If you make any of my recipes, please tag me @pamelasalzman #pamelasalzman so I can check them out! I have a free Monday newsletter with my thoughts, new recipes, and things I'm loving lately. Subscribe here!
Order my cookbook, Quicker Than Quick! If you have 1 minute, would you mind leaving a review on amazon? I would be so grateful, thank you! Take a peek at my first cookbook "Kitchen Matters"!