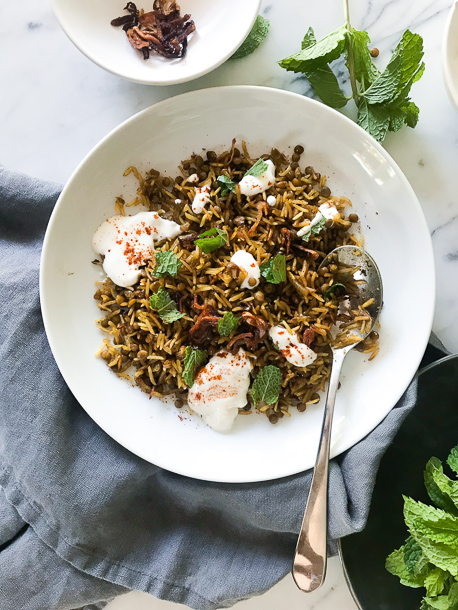 Rice and lentils are two of my favorite foods, but I love them even more when they're paired together.  I was on a Mejadra kick the last few weeks and loved every bite. Mejadra is a Middle Eastern-Mediterranean dish of rice and lentils cooked with warming spices (not spicy) and topped with fried onions. I tried two recipes recently, one by Ottolenghi and one in the new Staub cookbook.  The Staub recipe was by far my favorite.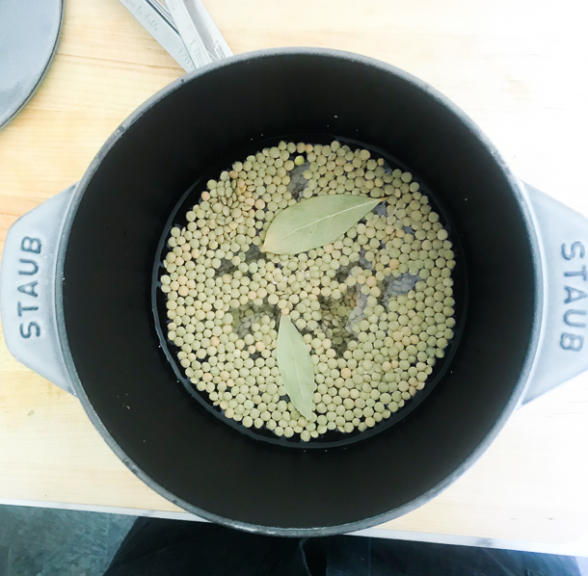 I made Mejadra for Rosh Hashana lunch and to break the fast on Yom Kippur. Both times I was trying to accommodate the vegans in the group (I served the yogurt on the side), but everyone dug into it and enjoyed it so much.  I was worried there wasn't going to be leftovers for me, so I snuck some into a container so I could eat it a few days later.  Mejadra is one of those easy, flavorful, hearty dishes that should be in every rice-and-legume-eater's back pocket.  It goes with anything and everything and the leftovers reheat beautifully on their own, with a fried egg on top, with avocado, with a basic salad, or with some stock and turned into a soup.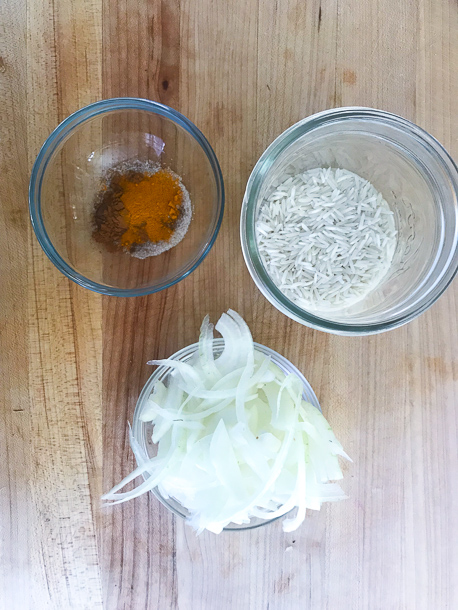 I didn't follow this recipe exactly – I used mint instead of chervil leaves and I pan-fried my own shallots, as opposed to buying them already fried in a can.  Or just saute onions and stir those in. Plus, I do have a Staub cast iron cocotte, which I LOVE, but you can use a regular old pot and I am sure it will taste just as delish.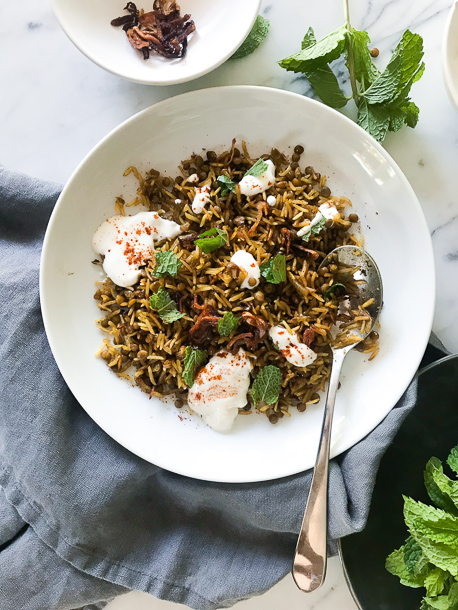 Speaking of Staub, their cookbook authored by my friend Amanda Frederickson, is gorgeous with a capital G. It's not a book focused on uber healthful foods, mind you.  The dessert section doesn't stay away from sugar, for example.  But let me tell you, I want to make and eat everything in this book! Chicken meatballs in red coconut curry sauce; toasty honey corn loaf; pumpkin, bacon and kale gratin; spiced chocolate fondue!
Let me know if you have a favorite way to make Mejadra since I am obsessed at the moment.  And if you make this or any of my recipes, please tag me so I can see your creations! @pamelasalzman #pamelasalzman
You can shop the tools I used in this recipe by clicking on the images below!

Mejadra Rice
Author:
The Staub Cookbook, recipe by Stuart Cameron of Byblos and Patria
Ingredients
½ cup green lentils (or brown, but NOT duPuy or Beluga)
2 bay leaves
1 teaspoon sea salt
2 Tablespoons unrefined olive oil
½ onion, thinly sliced
¼ teaspoon ground turmeric
½ teaspoon ground allspice
½ teaspoon ground cinnamon
½ teaspoon cane sugar
⅔ cup white basmati rice
For Serving:
Plain Greek yogurt (optional, but I was surprised how much I liked it)
Fresh herbs, I used mint
Crispy shallots (I sauteed some in a skillet with olive oil)
Ground Cayenne (it's really hot!)
Instructions
Put the lentils in a cast-iron petite French oven, add water to cover, then add the bay leaves and salt. Place over medium heat, bring to a low boil and boil for 12 to 15 minutes, until the lentils have softened but still have a little bite. Drain reserving ¾ cup of the cooking water.
Heat the oil in a 4-quart cast-iron cocotte and add the onion. Cook over medium heat, stirring occasionally, until the onion takes on a golden brown color.
Add the turmeric, allspice, cinnamon, and sugar and cook for 30 seconds. Add the rice and stir to coat. Add the cooked lentils and reserved lentil stock and bring to a boil. Reduce the heat to very low, cover, and simmer for 11 minutes.
Remove from the heat and cover the pot with a clean, dry tea towel. Seal tightly with the lid and set aside for 10 minutes to let the rice rest and absorb all the flavors.
Serve the rice topped with yogurt, crispy shallots, a sprinkle of cayenne, and herbs.