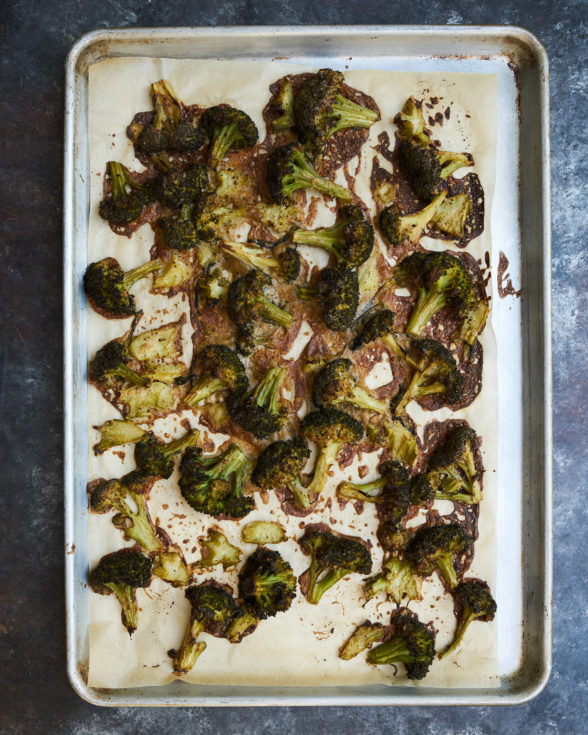 Before my husband went plant-based, he used to go crazy for the chicken shawarma recipe from Kitchen Matters.  We both love Middle Eastern and Mediterranean flavors, and it's really the spices and flavor boosts that make chicken shawarma what it is.  So why not take those spices to season broccoli, one of our favorite vegetables?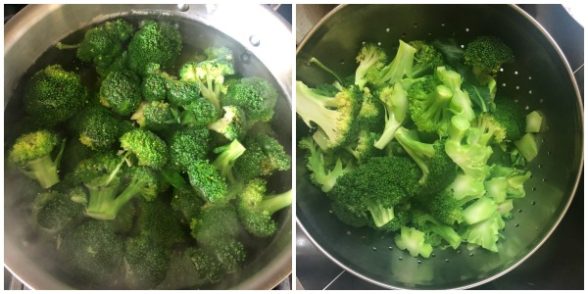 My whole family declared shawarma broccoli a "winner!"  What makes this different from just roasting a veg with a spice blend is the yogurt-coating that gets baked on and into the nooks and crannies of the broccoli florets.  It's not at all thick and creamy.  The yogurt dries up in the oven and it's almost like a spiced batter.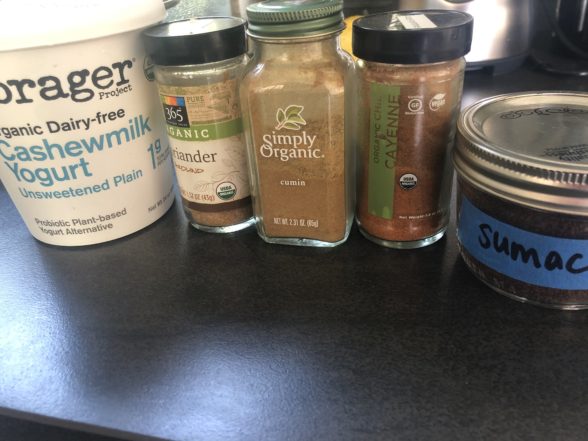 As you can see from the above photo, you can use a dairy-free yogurt if you wish.  Cashew yogurt worked really well for me, but I have a feeling (haven't tried it yet), unsweetened coconut yogurt would be great, too.  Once you make this recipe as is, try this same mixture and method on cauliflower and carrots!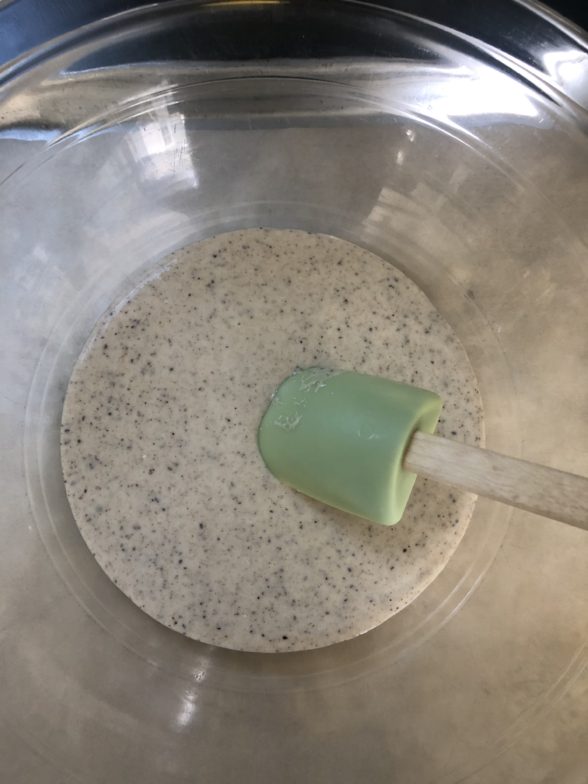 We love this shawarma broccoli as a side dish to lentils and eggplant, basic proteins like chicken and fish (lamb would be great too), and as the star of a grain bowl.  It would be delicious with the lemon and cumin-scented quinoa recipe from years ago or Fattoush or falafel.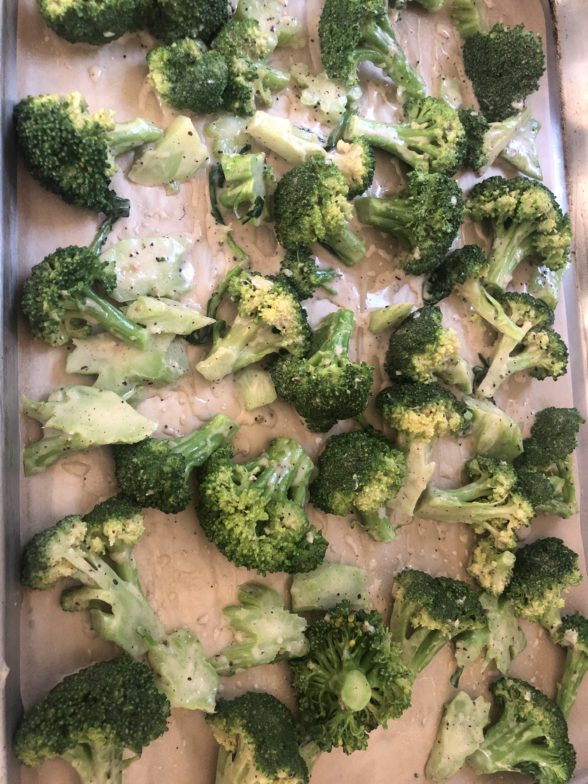 The key to remember when roasting vegetables is to cut them into uniform pieces and spread them out in one layer.  Keep an eye on this dish when making for the first time so that you avoid burning the broccoli.  This is why I suggest blanching the broccoli super fast before roasting – to give the broccoli a head start before roasting with the yogurt mixture.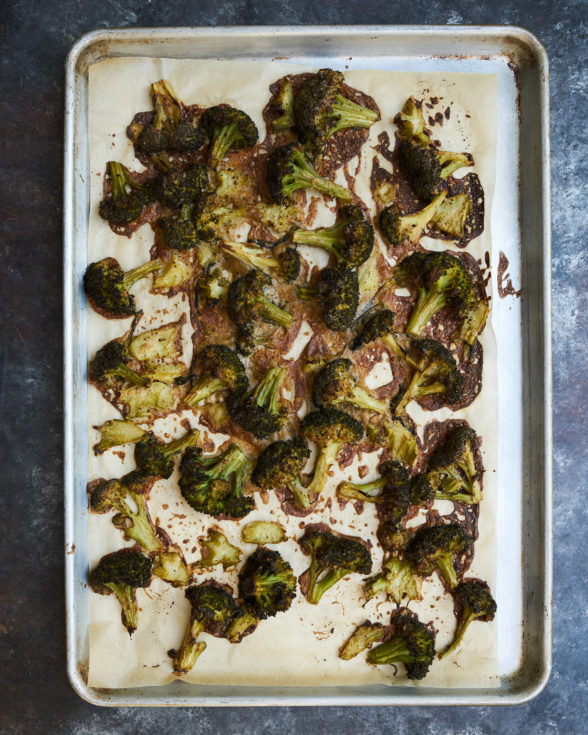 I am not going to say, "how delicious does this look?" because I don't actually think it looks as good as it tastes!  Trust me though – when I taught this in my classes last year, I never, ever had any left.  People would come back for seconds and thirds until every floret was gone!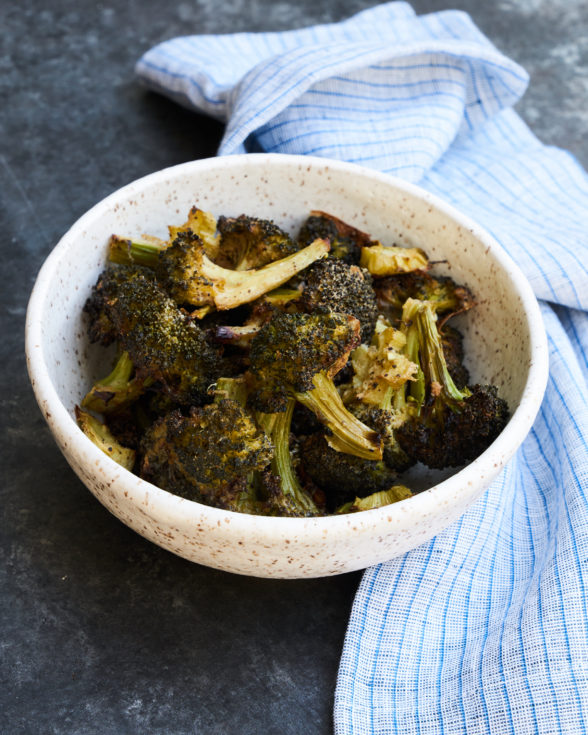 I'm not big on presentation for a weeknight, but if you want to pretty this up for guests, you can add minced parsley, toasted sesame seeds, and/or pomegranate seeds in the fall.  Are you going to trust me on this one and try it???  If you do, please tag me on Instagram @pamelasalzman #pamelasalzman so I can see your creations. Sending love to you all!

Shawarma Roasted Broccoli
Ingredients
1 cup plain whole milk yogurt, Greek yogurt or non-dairy yogurt
2 Tablespoons unrefined, cold-pressed extra-virgin olive oil
1½ teaspoons ground cumin
1½ teaspoons coriander
1 teaspoon ground sumac or paprika
2 pinches of cayenne pepper or dash of harissa
2 small garlic cloves, minced
2 Big pinches of sea salt
Freshly ground black pepper to taste
Kosher salt
2 pounds broccoli, tough stems trimmed, stalks peeled, cut into 2 to 3-inch florets and pieces
Lemon wedges for serving, if desired
Instructions
Preheat oven to 425 degrees. Line a large rimmed baking sheet with unbleached parchment paper.
In a large bowl, mix yogurt, oil, spices, garlic, salt, and black pepper.
Bring a large pot of water and a handful of kosher salt to a boil. Add the broccoli to the boiling water for 30 seconds and drain well.
Add broccoli to the yogurt mixture and toss to coat. Arrange in one layer on the prepared baking sheet and roast until browned and the stalks are tender and the yogurt has dried, 20-30 minutes.