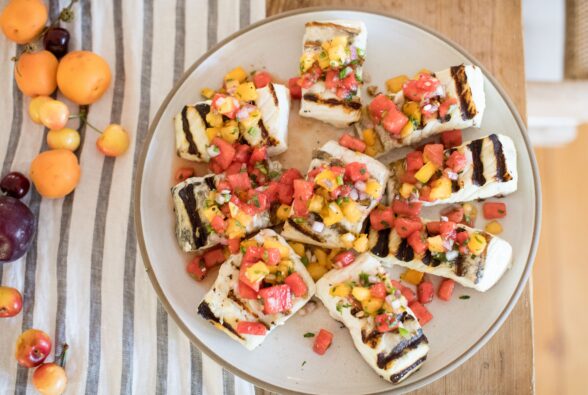 I'm on a bit of a watermelon kick lately.  It's likely because wherever I seem to go, it's hot and muggy and I just keep craving watermelon!  It is one of the most hydrating and cooling foods out there. Watermelon is actually more than 90% water.  But it's also high in vitamin C, beta-carotene and lycopene (which gives it its red color.) I don't usually wax poetic about all the nutrients in plant foods because I think they're all good for you, but I think sometimes we think that if a food is mostly water, it's not overly beneficial.  Not the case!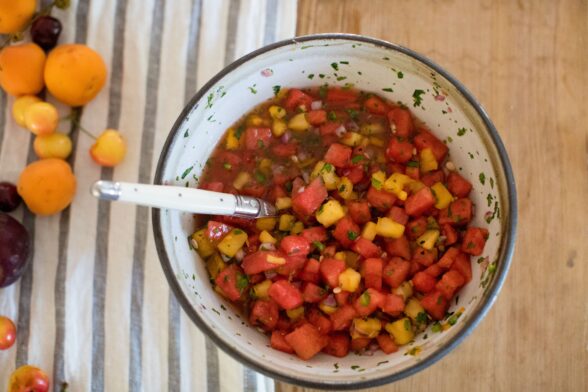 I love a good salsa or fresh sauce to put on basic proteins or vegetables.  I've made mango salsa, peach salsa, strawberry salsa, kiwi salsa, pineapple salsa, avocado salsa, so why not watermelon salsa??  The fact is, it's totally delicious, easy, light and fresh.  So perfect for grilled fish or as a dip with chips or jicama. In the summertime, tomatoes are sweet and watermelon is not much sweeter, so they really are a great match for a savory salsa.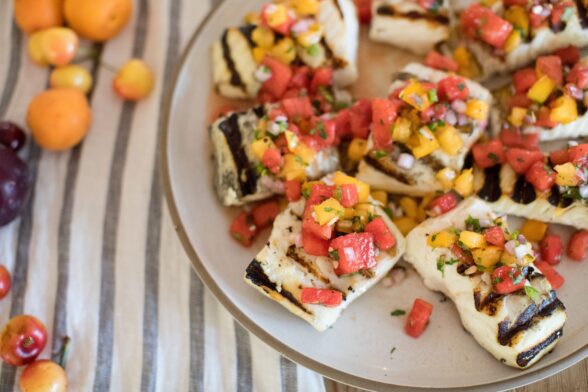 Pico de Gallo is a fresh, chunky salsa.  You should be able to see all the ingredients distinctly, whereas "salsa" is more liquidy. I used red watermelon and yellow tomatoes here for a contrast, but you can use all the same color.  You can also use more jalapeño or a hotter chili pepper to make it spicier.  For those of you who do not eat seafood, you can pair this pico de gallo with your favorite plant-based taco filling, such as jackfruit, chipotle cauliflower or lentils! All I know is that this is recipe might be your new summertime favorite!
If you make this recipe or any of my recipes, please tag me on Instagram so I can see your beautiful creations @pamelasalzman #pamelasalzman!

Grilled Halibut with Watermelon Pico de Gallo
Ingredients
For the Pico De Gallo:
2 cups diced, seedless watermelon
1 cup diced tomato
¼ cup diced red onion, shallot or scallions
¼ cup cilantro leaves and tender stems, chopped
¼ of a jalapeño, seeds and ribs removed, finely diced
2 big pinches of sea salt + additional for the fish
freshly ground black pepper, to taste
Juice of 1 lime
6 pieces of wild-caught halibut fillets, about 4-6 ounces each
Unrefined, cold pressed extra-virgin olive oil (for brushing fish and grill)
Instructions
To make the pico de gallo: place all of the ingredients in a medium bowl and toss to combine. Allow to sit at room temperature while you prepare the fish.
Heat a grill over medium-high heat. Make sure the grill is super clean so the fish won't stick.
Pat the halibut filets dry and brush both sides with olive oil. Season with salt and pepper (one side is fine.)
Brush the grill with olive oil and grill the halibut for approximately 4 minutes, then flip and cook until the flesh flakes easily with a fork, about another 3-4 minutes. Take care not to overcook the fish. Figure about 8 minutes total for fish that is 1-inch thick.
Taste the pico de gallo and adjust for seasoning if necessary. Serve the fish with the pico de gallo on the side.
Notes
it's nice if the watermelon and the tomato can be different colors, but use what is the tastiest.
This pico is also great with shrimp or fish for tacos. Even though I wrote the recipe with grilled fish, you can cook it however you like!