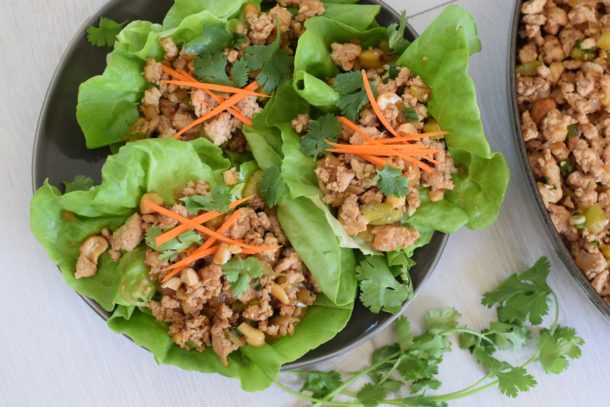 Thank you to Foster Farms for sponsoring this post.  All opinions are 100% my own.
Few things make me more excited than when Mr. Picky loves something I cook.  I mean, the kid has challenged me in the kitchen for 13 years and still going!  These Asian Turkey Lettuce Cups were such a huge hit with my son (and the rest of my family), that I changed my next cooking class menu so that I could teach this recipe pronto!  We don't go out to eat too often, but lettuce cups are something my son loves to order.  I enjoy them as well because they are generally light and flavorful.   But it is pretty difficult to find a restaurant which uses mostly organic ingredients, so I enjoy lettuce cups much more when I can make them at home with the ingredients I prefer.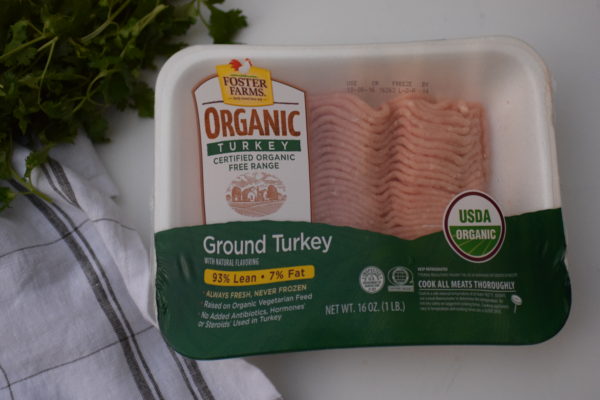 So, what else gets me excited?  Products that meet my picky (i.e. high) standards.  I am especially particular about animal products in that I only buy organic.  I don't always have great luck finding organic ground turkey though, and it's one of the animal proteins I like more than others.  But I was thrilled to be introduced to a new product, Foster Farms Organic Ground Turkey.  Not only is it organic, but it's antibiotic-free, free-range, fed an organic vegetarian diet, and is hormone- and steroid-free.  Check, check and check! That would be good enough for me.  But the bonus is that Foster Farms Organic Ground Turkey is also locally grown in California's Central Valley!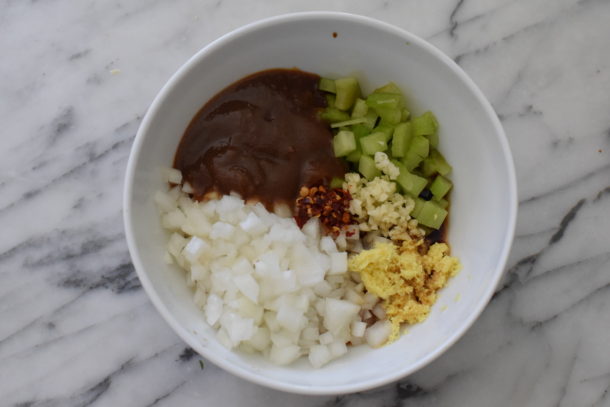 Turkey is a lean and nutritious protein and I much prefer the flavor over beef.  Turkey also works really well with Asian flavors and I had great success using Foster Farms organic turkey in this recipe.  Don't be put off by the long list of ingredients here.  Most of the items are pantry staples which you likely have on hand.  Although I do keep hoisin sauce in the fridge for this recipe.  It's easy to find and adds a real umami punch to the turkey.  I usually find that Asian lettuce cups contain water chestnuts, which I don't keep on hand because they're always canned.  So I subbed chopped cashews for a satisfying, more nutritious crunch.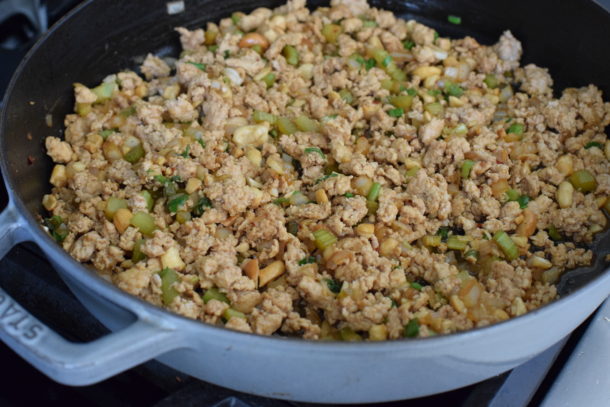 These Asian turkey lettuce cups are the perfect healthful dinner for me without anything else.  I am really into toppings so I will add in lots of fresh cilantro and julienned carrots (as shown in these images), or sliced avocado, shredded cabbage or a squirt of sriracha.  Basically, I treat these like TACOS!  If my kids are super hungry, I might make a quick vegetable fried rice with rice I have stashed in the freezer and whatever vegetables I have on hand.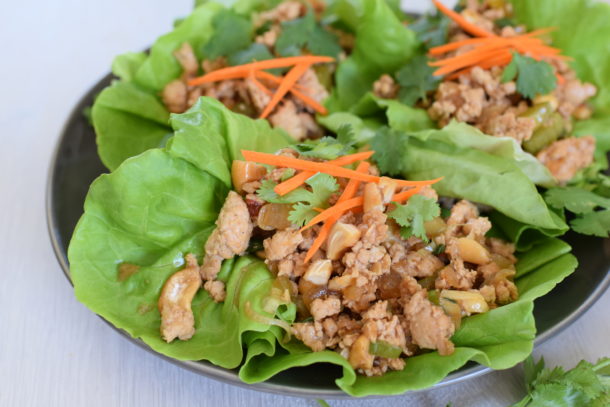 This turkey mixture would also make a great bowl meal with brown rice or cauli-rice, roasted veggies and avocado.  My husband prefers white meat turkey and I prefer brown, so we're a match made in heaven, of course.  You can use either in this recipe or even combine the two to make everyone happy.  And happy is what I am when I watch everyone devour these!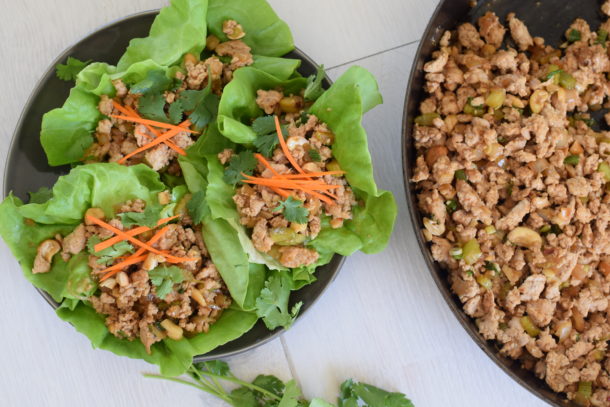 Asian Turkey Lettuce Cups
Ingredients
1 Tablespoon unrefined, cold-pressed extra-virgin olive oil
1 pound ground turkey (white meat, dark meat or a combination), I prefer Foster Farms Organic
2 cloves garlic, minced
1 onion, finely diced
2 stalks celery, diced
¼ cup hoisin sauce
2 Tablespoons good quality shoyu or GF tamari (use coconut aminos for a soy-free option)
1 Tablespoon unseasoned rice wine vinegar
1 Tablespoon finely grated fresh ginger
¼ teaspoon crushed red pepper flakes
2 green onions, thinly sliced
⅓ cup toasted and salted chopped cashews (optional)
Sea salt and freshly ground black pepper to taste
1 head butter lettuce
fresh cilantro leaves and/or julienned carrots for garnish, if desired
Instructions
Heat olive oil in a large skillet over medium high heat. Add ground turkey and cook until browned, about 3-5 minutes, making sure to break up the turkey as it cooks; drain excess fat.
Stir in garlic, onion, celery, hoisin sauce, soy sauce, rice wine vinegar, ginger, and crushed red pepper until onions have become translucent, about 1-2 minutes. Stir in cashews and green onions and cook until onions are tender, about 1-2 minutes; season with salt and pepper to taste.
To serve, spoon several tablespoons of the turkey mixture into the center of a lettuce leaf, taco-style. Garnish with cilantro leaves and/or carrots if desired.