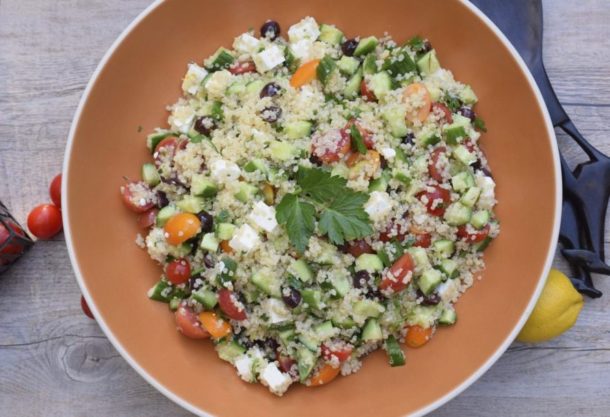 I'm in the home stretch, friends.  Manuscript is due on Monday which means that, although I love hanging out with you, we're going to have to make this visit quick today because I have a boatload of writing to finish.  Although if my editor is reading this post, have no fear, I am totally on schedule! 😉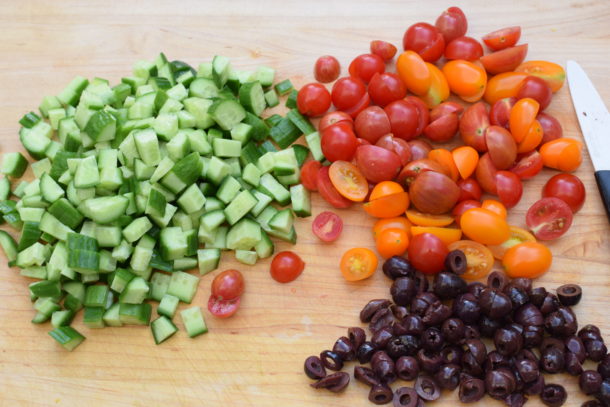 Listen, even though I am swamped right now, we still have to eat and so do you.  Lately, I am focusing on really easy, but obviously healthy recipes that I can throw together at the end of the day.  You may have noticed on Instagram that we're eating a lot of grain bowls, which basically means everyone is making their own dinner and they don't know it! Ha!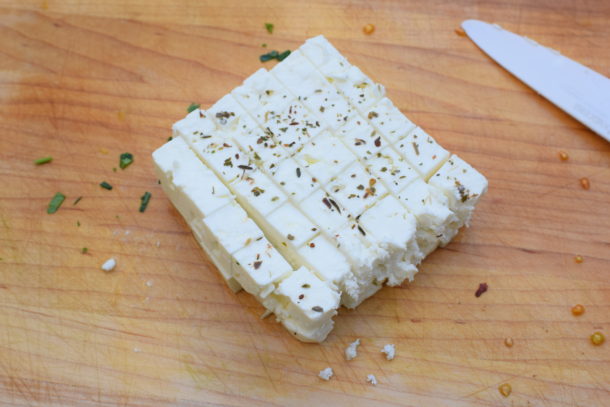 One way you can accomplish grain bowls easily is always having cooked grains or legumes on hand in the fridge.  I make a big batch of quinoa every Sunday and love it sprinkled in salads, as a breakfast porridge, or as a base for a grain bowl or salad. I do not love eating quinoa plain.  The texture is great, but I prefer adding other flavors to it.  Mediterranean flavors are especially wonderful with quinoa and this recipe is one of my summer staples.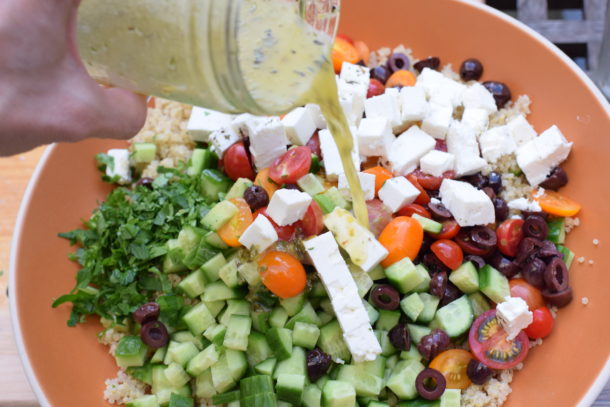 Take a Greek salad with all its punch and freshness and toss it with quinoa and that's what you have right here.  Packed with protein and lots of crisp veggies, it's a meal unto itself or the perfect side with a piece of fish.  If you don't do dairy, sub avocado and an extra pinch of salt and you'll be just as happy.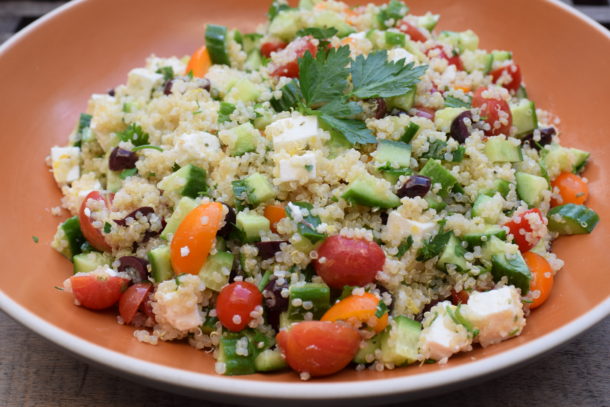 This salad is even delicious the next day, so you can take some to work or eat it for breakfast, because did you know in the Middle East and some parts of the Mediterranean they eat salad for breakfast?  Yep they do.  I wish I was eating salad for breakfast anywhere in the Mediterranean right now.  Like maybe waking up on hot day on a boat sailing around some islands, while eating this refreshing salad and slathered with sunscreen.  Ok, I need to snap out of it and get back to work.  Love you all and I'll be back with another great summer recipe on Friday!!  Hugs!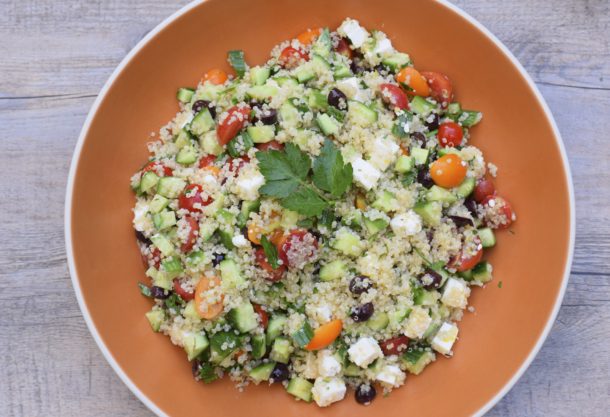 Mediterranean Quinoa Salad
Ingredients
1 cup uncooked quinoa
5 Tablespoons freshly squeezed lemon juice + zest of 1 lemon
¼ cup unrefined, cold-pressed extra-virgin olive oil
¾ teaspoon sea salt
¾ teaspoon dried oregano
1 pint (2 cups) cherry tomatoes, halved
2 ¼ cups chopped unpeeled cucumber, about 4 or 5 Persian or 1 English
1 cup pitted olives, sliced
6 ounces feta cheese, diced (preferably sheep or goat)
handful of fresh flat-leaf parsley leaves, chopped
Instructions
Rinse quinoa in a bowl with water or place quinoa in a fine mesh sieve and rinse under cold water until water runs clear. Transfer to a saucepan and add a healthy pinch of sea salt and 1 ¾ cups water. Bring to a boil, cover, and lower to a simmer. Cook until water is absorbed, about 15 minutes. Turn off the heat and allow to sit covered for 10 minutes.
Transfer quinoa to a serving bowl and allow to cool. Fluff with a fork periodically.
Whisk the olive oil, lemon juice, lemon zest, salt and oregano together in a jar or small bowl.
Combine cooled quinoa, dressing and remaining ingredients and toss to mix well. Taste for seasoning.