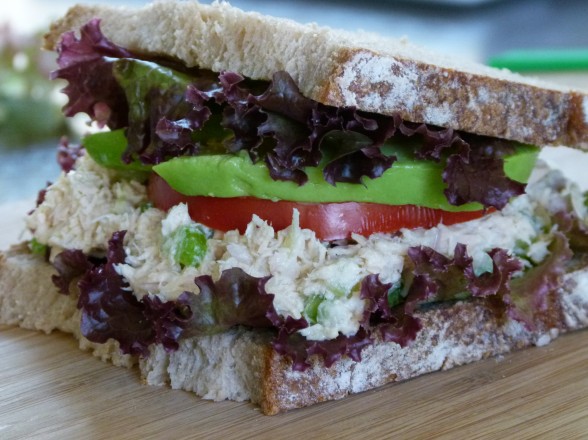 Well people, sandwich season is upon us and I'm proposing that we branch out and see if we can avoid making peanut butter and jelly everyday.  In fact, I know many of you are in nut-free schools and can't rely on the old standby at all.  On the other hand, luncheon meats freak me out a bit — and not for any scientific reason.  I just can't get past the idea that this turkey was cooked who knows when and squished and reformed into this new product with lots of "natural flavors."  I'd rather poach or grill organic chicken breasts and give the kids chicken sandwiches, which is exactly what I do and I save a little money while I'm at it.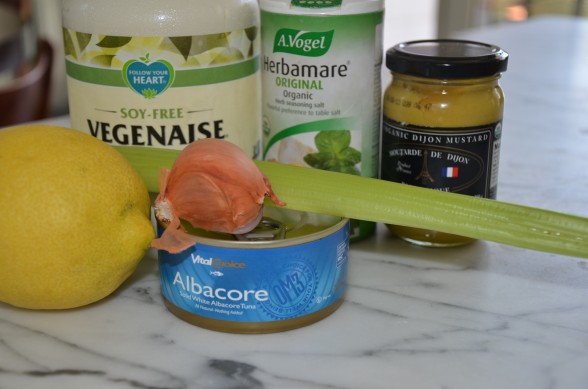 As for me, I'm not much of a sandwich eater, mostly because I prefer to eat quinoa over bread.  But if I had to pick a sandwich for my last supper, it would be tuna salad with lettuce, tomato and avocado on whole grain bread.  If there happen to be some grilled onions lying around, I would add those in, too.  But this wouldn't be just any tuna salad, it would be this one right here, which my kids also love — hooray!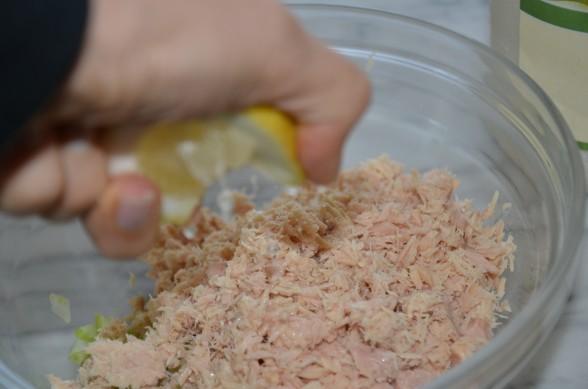 I found the canned tuna of my dreams at Vital Choice — cooked once, BPA-free cans, minimal mercury and absolutely the best tasting tuna ever.   (It's also one of the most expensive tunas out there.  Drat!)  Tuna is high in Omega-3 fatty acids (very anti-inflammatory and you're probably not getting enough of them) and high in protein (so important when the kids are at school).  I mix it with some of the expected like a little mayo (I like soy-free Vegenaise), celery, diced shallot (I hate cutting 2 tablespoons of onion and then wrapping the cut onion in the fridge), a little lemon juice to brighten everything up and a touch of Dijon mustard to give it some zing.  But don't get mad when I tell you I have a random secret ingredient.  My friend Daisy introduced me to Herbamare, an organic herb and salt seasoning, several years ago and my tuna salad peaked.  It just adds the perfect flavor to complement the tuna.  I buy it at Whole Foods, but you can also find it on amazon.com.  Otherwise, just use some sea salt to taste.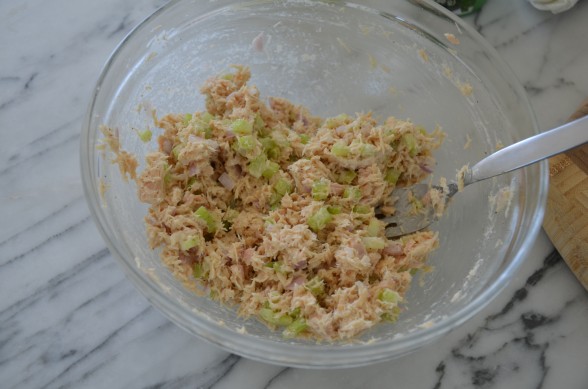 You can make your tuna salad the night before to make your morning easier.  Mr. Picky doesn't like sandwiches (hard to believe, right?), so he takes his tuna in a (BPA-free) container with a spoon.  My teenage girls would please like a breath freshener in their lunch bags on tuna day, and that does NOT mean a sprig of parsley.  Got it.  Look out for more lunch ideas in a future post!
My Favorite Tuna Salad
Ingredients
1 6-ounce can water-packed tuna, drained
¼ of a lemon
1 stalk celery, diced, about ½ cup
1 small shallot, diced, about 2 Tablespoons
2-3 Tablespoons mayonnaise (I like soy-free Vegenaise) or half Greek yogurt and half mayo
1 teaspoon Dijon mustard (optional)
⅜ teaspoon Herbamare or sea salt
Freshly ground black pepper to taste
Instructions
Right in the can, flake the tuna with a fork over a medium bowl, at the same time allowing the tuna to fall into the bowl. Squeeze the lemon over the tuna.
Add the remaining ingredients to the bowl and mix well. Taste for seasoning.
Notes
Notes: other additions can include diced apple, diced sweet bell pepper, sliced manzanilla olives (the ones stuffed with pimentos), chopped nuts, chopped water chestnuts, fresh dill