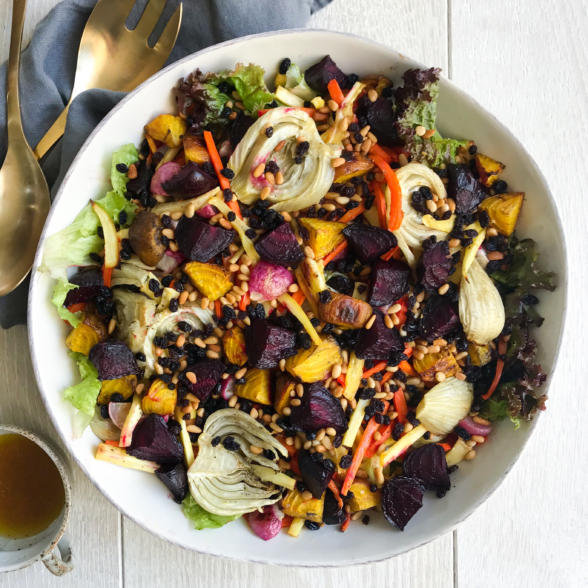 I have been holding onto this recipe for sooooo long!  It is one of my absolute favorite fall/winter salads and I have made it countless times over the last 2 years.  I originally ate a similar salad at a cafe called Clementine in Century City (LA) and I knew that I would have to duplicate it at home.  I proceeded to make it once a week for many weeks on end and then subsequently teach it in my classes.  Everyone flipped for it, and even though I taught it in a February cooking class, this salad is made for Thanksgiving!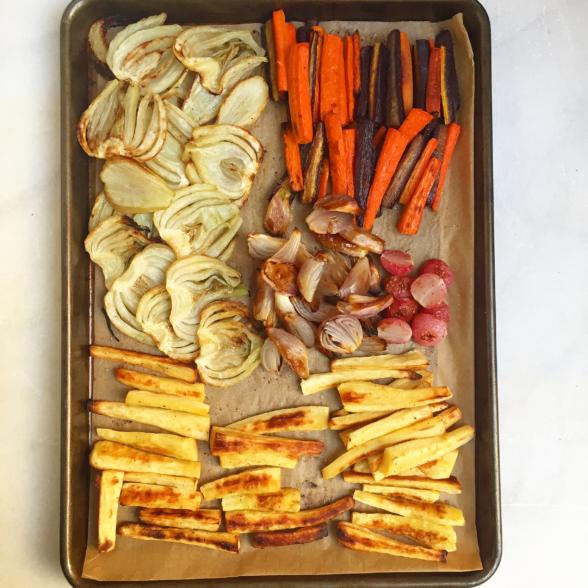 Yes, I realize there are a lot of ingredients that need prepping, but you can do all of that on Tuesday (washing, chopping) and Wednesday (roasting.)  Then bring the roasted veggies to room temp and pull your salad together in minutes.  I consistently made a double and sometimes triple batch of this salad in my classes and I did not feel as though it was too difficult or too much work.  And I ate the vegetables from this salad as leftovers many times and enjoyed them so much.
This salad really solves many problems/questions that have been coming up lately in my Instagram lives and in my classes:
what is a hearty dish for vegetarians and vegans?
what are some side dishes that are gluten-free and dairy-free?
what dish can I bring to someone's house who is hosting Thanksgiving?
what side dish can be made ahead and doesn't need to be served hot?
I also get the question very often, "what are some of your favorite dishes to eat on Thanksgiving?"  Super tough question!  I have actually never made this for Thanksgiving, but I might this year.  I really need to commit to a menu, don't you think?  The salad choice gets me every time.  Too many amazing options!  Which is why I've made two salads for Thanksgiving the last couple of years!  How I determine which salad to make is based on two things:  not repeating an ingredient (i.e. if I make roasted brussels sprouts, I won't do a brussels sprout salad) and if the salad has had a long run and I need to mix it up a little, which means the Delicata Squash and Apple Salad might need to get the boot this year.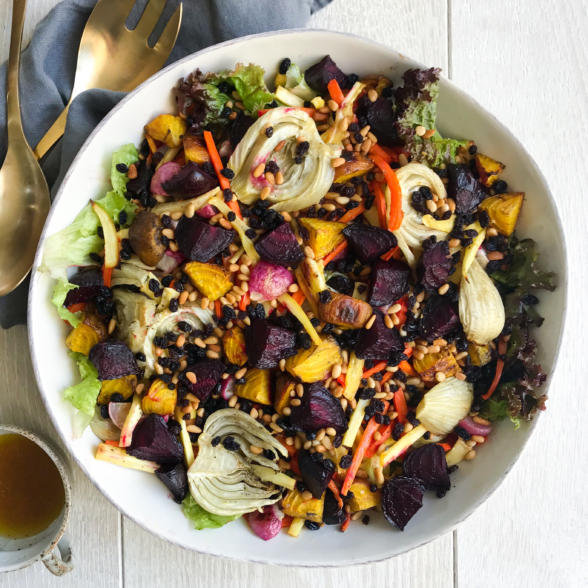 This is the last recipe I am posting for Thanksgiving, so it's high time we all decide on our menus.  Once we do that, photocopy all the recipes and get grocery shopping!  You can also order my Thanksgiving ebook for a mere $15 and you will have ALL my Thanksgiving recipes except for this month's online Thanksgiving class menu.  If you are interested in how to cook a spatchcocked turkey, consider watching my online cooking class!
Upcoming Instagram and Facebook Lives:
Instagram LIVE Thursday, November 15th at 2:30 pm PST with Candace Nelson, founder of Sprinkles Cupcakes.  We're talking pie-making and baking!
Private Facebook LIVE Saturday, November 17 at 9:45 am PST for my private online cooking class subscribers
Instagram LIVE Monday, November 19th at 5:00 pm PST at Thrive Market Headquarters.  I'm making pumpkin cake and sweet potato casserole.
I will continue to set up more Instagram Lives next week leading up to Thanksgiving.  They all get posted on my Facebook page if you can't join live.
Shop the tools I used for this recipe by clicking on the images below!

Roasted Fall Vegetable Salad
Ingredients
1 fennel bulb, trimmed and sliced lengthwise (through the core) into ¼-inch slices
2 bunches baby beets, scrubbed, trimmed and halved
6 medium shallots, peeled and halved
1 bunch small radishes, trimmed and halved
3 large parsnips, peeled if desired and cut into 3-inch sticks
3 large carrots, any color, peeled if desired and cut into 3-inch sticks
4-6 Tablespoons melted unrefined olive oil, avocado oil or coconut oil
Sea salt and freshly ground black pepper to taste
Dressing:
1 Tablespoon freshly squeezed lemon juice
1 Tablespoon red wine vinegar
½ teaspoon sea salt
A few twists of freshly ground black pepper
1-2 teaspoons raw honey or pure Grade A maple syrup
3 Tablespoons unrefined, cold-pressed extra-virgin olive oil
8 cups mixed greens, butter lettuce, and/or arugula
¼ cup currants or green raisins, rehydrated in warm water if necessary
¼ cup toasted pine nuts, if desired
Instructions
Preheat the oven to 400 degrees. Line 3-4 baking sheets with unbleached parchment paper.
Grease the parchment paper with oil. Arrange the vegetables (preferably likes with likes) on the parchment paper in one layer. Drizzle with a little more oil. Season with salt and pepper.
Roast in the oven until tender and slightly caramelized, about 20-30 minutes. If you need to crowd the vegetables in one oven, consider roasting at 375 degrees on the convection setting.
While the vegetables are roasting, make the dressing: in a jar with a screw-top lid, shake all the dressing ingredients until combined.
Allow the vegetables to cool slightly or completely before assembling the salad. Place the lettuce in a large bowl or on a large platter. Toss with a small amount of dressing (just enough to coat the leaves lightly.) Arrange the vegetables on top and drizzle with a little more dressing. Sprinkle with currants and pine nuts.
Notes
Vegetables can be washed and cut 1 day prior to roasting.
Vegetables can be roasted 1 day ahead and brought to room temperature before assembling salad.
Greens can be washed 2-3 days in advance.
Dressing can be made 2-3 days in advance and refrigerated. If it solidifies, remove from the fridge at least 30 m minutes prior to assembling salad.
Nuts can be purchased toasted or can be toasted a week in advance.