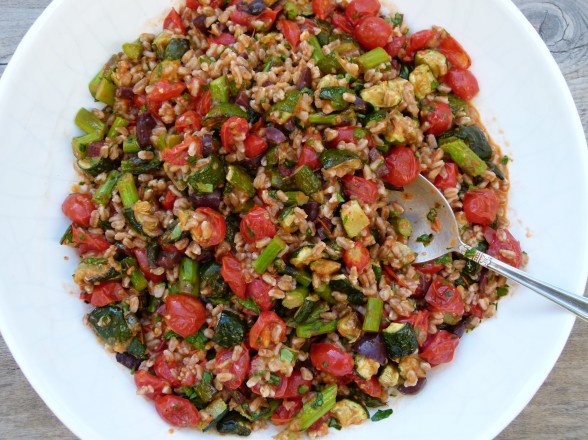 We had such a nice Labor Day weekend.  I hope you did, too.  We were able to squeeze in some beach time, family time, yoga (for me) and our annual block party, which was great fun.  The combination of the balmy weather and refrain from "labor" made me wish that summer would last just a little longer.  Although, as I mentioned in my gazpacho post, I am riding the summer tomato train for as long as possible.  Since this may very well be my last recipe of the year with tomatoes, I am sharing a goodie.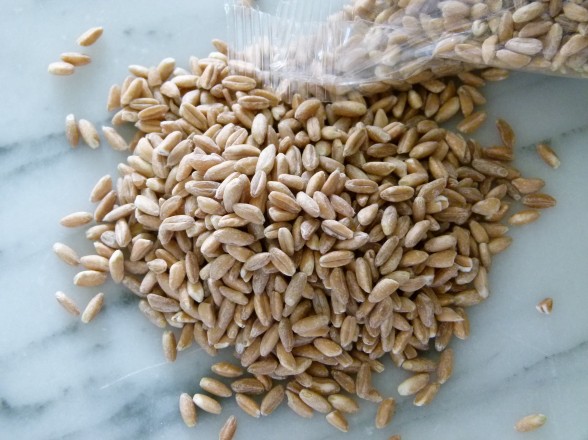 The inspiration for this recipe came from Deb at Smitten Kitchen who adapted it from Gourmet magazine.  The original recipe called for Israeli couscous, which I couldn't help but substitute out for a more whole (and tastier) grain like farro.  But what makes this dish special is the incredible dressing which uses slow-roasted tomatoes as it's base.  What could be better, tomatoes and grains with a tomato dressing?  It's the perfect recipe for a tomato-fanatic like me!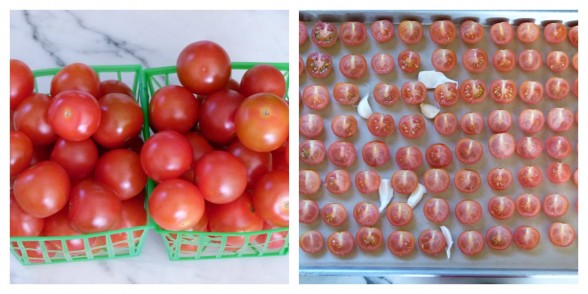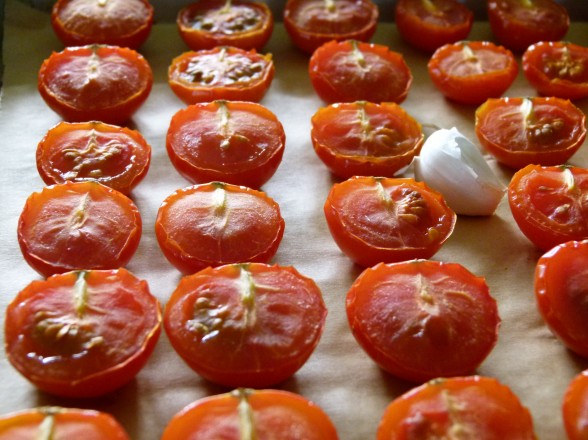 Ok, I can read your mind.  It's not the fastest recipe on the planet.  The cherry tomatoes have to be washed, dried, halved, arranged on a baking sheet and roasted for an hour.  Although you don't have to arrange the tomato halves like soldiers in the photo here.  I thought it would look nice that way, but now I realize it just makes me look obsessive compulsive.  Anyway, I was making this on Friday afternoon to bring to the beach for a potluck, and I tried timing the tomato prework. Excluding the roasting bit, I think it only took me about 15 minutes which I did while watching an episode of "Barefoot Contessa."  Can I just say I wish Ina Garten would invite me over to cook, play bridge and drink cocktails with her and her friends, especially TR.  Sigh.  Speaking of Ina, do you remember her Orzo with Roasted Vegetables from 2001?  Gasp, was that really 11 years ago?  You know, the one that we all made a gajillion times for every backyard barbeque and potluck for years.  Loved it, but OD'ed on it for sure.  Ina's salad was easy, but definitely involved some labor, and yet we all thought it was worth it.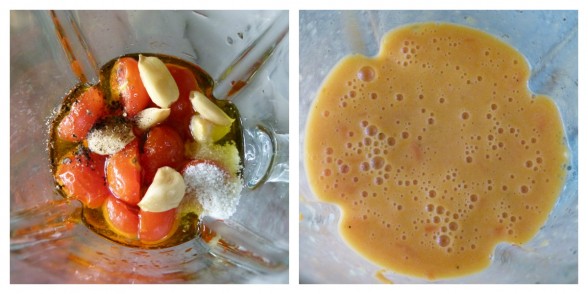 Ok, this recipe is like that for me!  A little extra work, but worth it, worth it, worth it!  I taught this last September and again to a group this past July, all the while thinking how divine it is and how much I love it.  And then, while watching Ina on Friday afternoon, that orzo salad popped into my head and I changed this recipe on the spot by cutting the amount of farro in half and adding a bunch of roasted vegetables in its place.  The good news — it was A-MAZING, so much better than the original!  The bad news – it was A-MAZING, so much better than … the way I had taught it to A LOT of students.  Guilty face.  Well, I guess that's what blogs are for!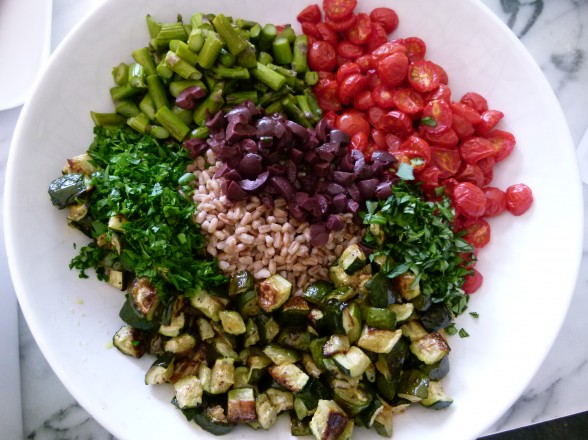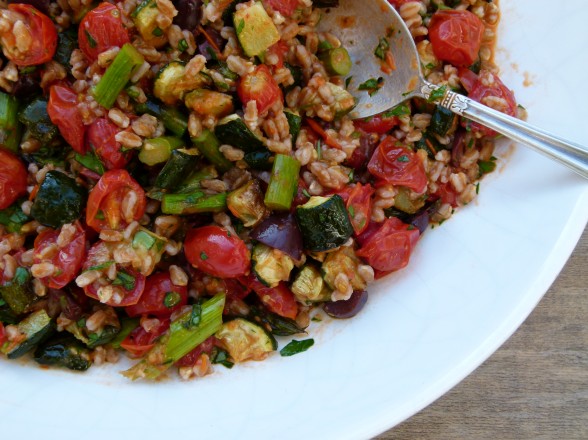 View this post on Instagram

 

 
Farro with Roasted Vegetables and Roasted Tomato Dressing
Author:
Pamela, inspired by Gourmet via Smitten Kitchen
Ingredients
2 pints cherry tomatoes, about 1 ½ pounds
6 small-medium garlic cloves, UNpeeled
¼ cup unrefined cold-pressed extra-virgin olive oil + additional for vegetables
¼ cup warm water
1 teaspoon fresh lemon juice
1 teaspoon sea salt + additional for vegetables
¼ teaspoon freshly ground black pepper + additional for vegetables
1 bunch asparagus, trimmed
5-6 medium zucchini
1 cup farro
Kosher salt
½ cup Kalamata olives, pitted and chopped
⅓ cup chopped fresh flat-leaf parsley
¼ cup chopped fresh basil
1 teaspoon chopped fresh thyme (only if you've got it)
Instructions
Preheat oven to 250 degrees. Halve tomatoes through stem end and arrange cut-side up in one layer on a large baking sheet. Add garlic to pan and roast about 1 hour, or until tomatoes are slightly shriveled around the edges. Cool in the pan for 30 minutes.
Peel the garlic and put in a blender with oil, water, lemon juice, salt, pepper and ½ cup roasted tomatoes. Blend until very smooth.
Turn the oven to 400 degrees. Arrange the asparagus on a large baking sheet and drizzle with oil plus a sprinkle of salt and pepper to taste. Chop the zucchini into 1-inch cubes. Toss with olive oil and arrange in one layer on a baking sheet. Sprinkle with salt and pepper to taste. Roast asparagus for 12 minutes or until tender. Roast zucchini 35 minutes or until caramelized. Chop asparagus into 1-inch pieces.
Bring a large pot of water to a boil. Add a few substantial pinches of kosher salt and the farro. Cook until farro is tender, but still al dente, about 20-25 minutes. Drain very well and transfer to a serving bowl.
Add olives, remaining tomatoes, asparagus, zucchini, herbs and dressing to farro. Toss to combine and taste for seasoning. Serve warm or at room temperature.