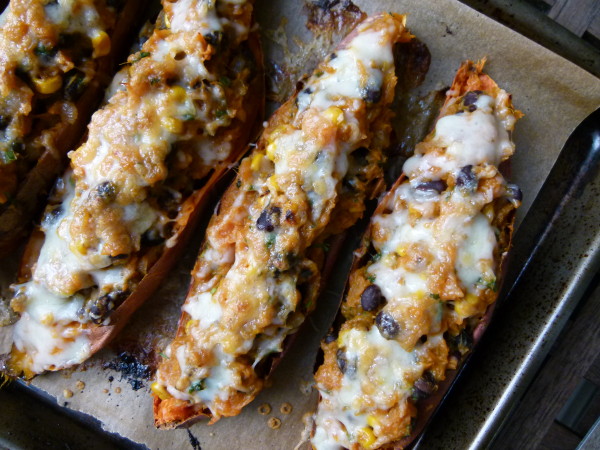 I know time flies when you're having fun, but these days I think it flies because everything moves at warp speed, whether you're having fun or not.  And sometimes I think it's not very fun when life happens so quickly, especially when you're eating good food!  Eating is one of my greatest pleasures in life.  Thankfully I get to do it several times a day, every day.  But very few things annoy me more than having to rush through a very delicious meal.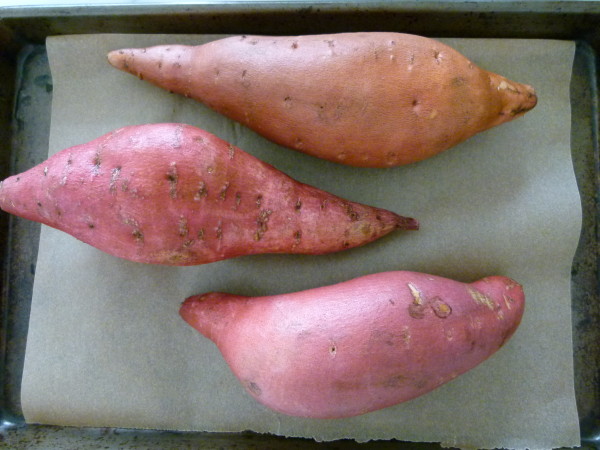 That's what I was thinking the other day when I made these stuffed sweet potato skins.  I enjoyed them so much that I didn't want them to end.  Need help with your math homework?  No problem!  Come back in 20 minutes.  Ooops.  Forgot to call my mom back.  She can wait.  I have a sweet potato party on my plate and I'm not ready to leave.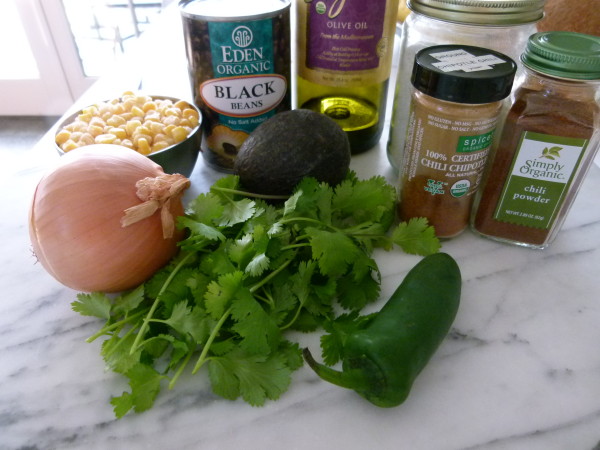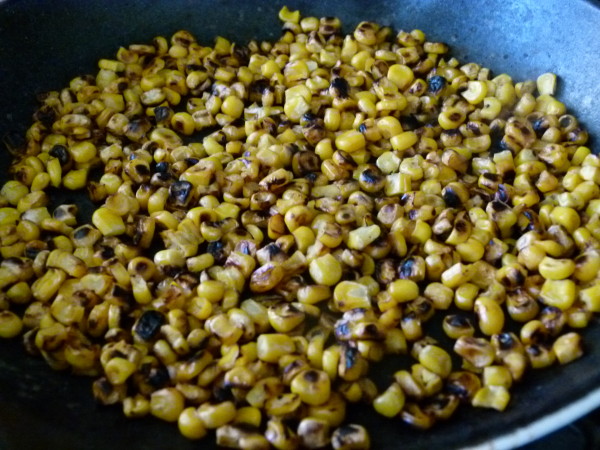 Cinco de Mayo, one of my favorite food holidays, is just around the corner.  I know.  It's MAY in like 5 days!  I had no plans to include this recipe on the blog but I made it on a whim last week and I knew I had to share it with you.  Although I can say with 99% confidence that you will never find this recipe on the menu of any Mexican restaurant, so maybe it's not Cinco de Mayo fiesta fare if you are having people over.  BUT, the flavors here are totally South of the border and it's such a healthful and satisfying meatless meal, you should make it no matter what day it is.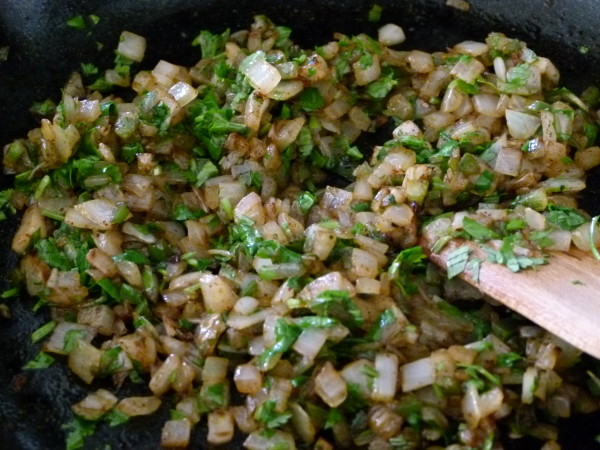 If you are not a sweet potato fan (stop it!  really?), then maybe substitute a baked potato.  But sweet potatoes are sooooooo nutritious and I never feel like I need dessert afterwards.  They're the perfect natural antidote to my sweet tooth.  The best part of this recipe is the contrast between the creamy sweet potato and the smoky corn and a hint of spice.  I made these about as spicy as my family would like them, but you can go as hot as you want.  Serve with a green salad or some grilled asparagus and you're all set.  My girls and I loved them, and Mr. Picky ate half of one and said they were "okay."  I think if I had let him eat it with corn tortilla chips, he would have finished the whole thing.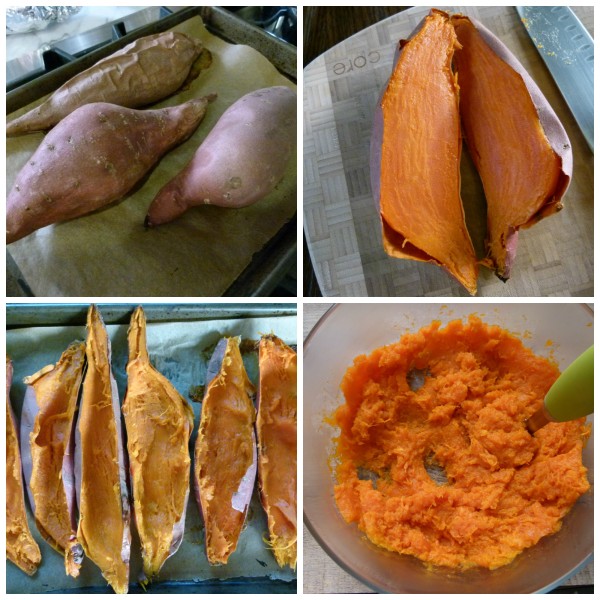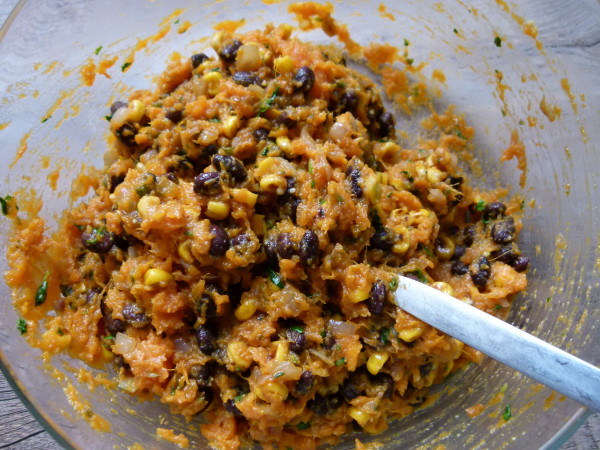 For those of you like me, who very much like to either prep some or all of your meals in advance, it's your lucky day.  You can make this entire thing ahead and bake it just before dinner until it's nice and hot.  Or assemble different parts of this ahead, like baking the sweet potatoes or sauteing the onions.  The cheese on top is very optional.  I had mine without, as did Mr. Picky, and still loved it.  My daughters added extra on top of theirs and asked me to tell you that they don't think the cheese is optional and that if they were writing the recipe, they would double the cheese.  Okay, girls.  Have it however way you want.  Just don't rush me.
Tex-Mex Stuffed Sweet Potato Skins
Author:
Pamela, adapted from Pinch of Yum
Ingredients
3 medium sweet potatoes, scrubbed clean
1 ½ cups fresh or frozen corn kernels, defrosted
1 ½ cups cooked black beans or 1 15-ounce can, drained and rinsed
1 Tablespoon unrefined olive oil, coconut oil or unsalted butter
½ of an onion, chopped
1 jalapeno, seeds removed and diced
½ teaspoon chili powder
¼ teaspoon chipotle powder (more if you like it spicy)
1 ½ teaspoons sea salt
½ cup cilantro leaves and tender stems, chopped
½ ripe avocado, flesh scooped out
6 Tablespoons shredded cheese, such as Cheddar or Monterey Jack or dairy-free Daiya (optional)
Instructions
Preheat oven to 400 degrees. On a parchment-lined baking sheet, bake sweet potatoes until tender, about 45-60 minutes.
While sweet potatoes are baking, place corn in a medium heavy cast-iron skillet over medium-high heat. Do not add anything else to the pan and do not stir so that the corn gets a little charred. Then toss a little and cook corn until browned and toasted on the outside. Transfer to a medium bowl. Add the black beans to the corn.
You can use the same skillet to sauté the onion and jalapeno. Warm the oil in the skillet and sauté the onion and jalapeno until tender and translucent. Stir in the spices and salt and cook for 1 minute more. Add the cilantro to the pan and turn off the heat. Toss to combine the mixture and transfer to the bowl with the corn and beans.
Remove the sweet potatoes from the oven. Allow to cool slightly so you can cut them easily or use rubber gloves if you're in a rush and you don't want to burn your fingers. Slice the sweet potatoes in half lengthwise. Scoop most of the flesh out and leave the skins intact. I like to leave a thin layer of sweet potato to help these stay together better. Transfer the scooped out sweet potato to a large bowl and leave the skins on the parchment-lined baking sheet.
Add avocado to the sweet potato in the bowl and coarsely mash together, but don't make a puree. Add the corn, bean and onion mixture to the mashed sweet potatoes and stir gently to combine.
Preheat the broiler in your oven and arrange the oven rack to the second level from the top. Scoop the filling into the skins. It might seem like you have too much, but you should use it all and make them nice and full. Sprinkle each with cheese if desired and broil for a couple minutes or until cheese is melted.
Notes
*If making this in advance, remove prepared sweet potato skins from the refrigerator and bake in a 350 degree oven until heated through, about 15-20 minutes.