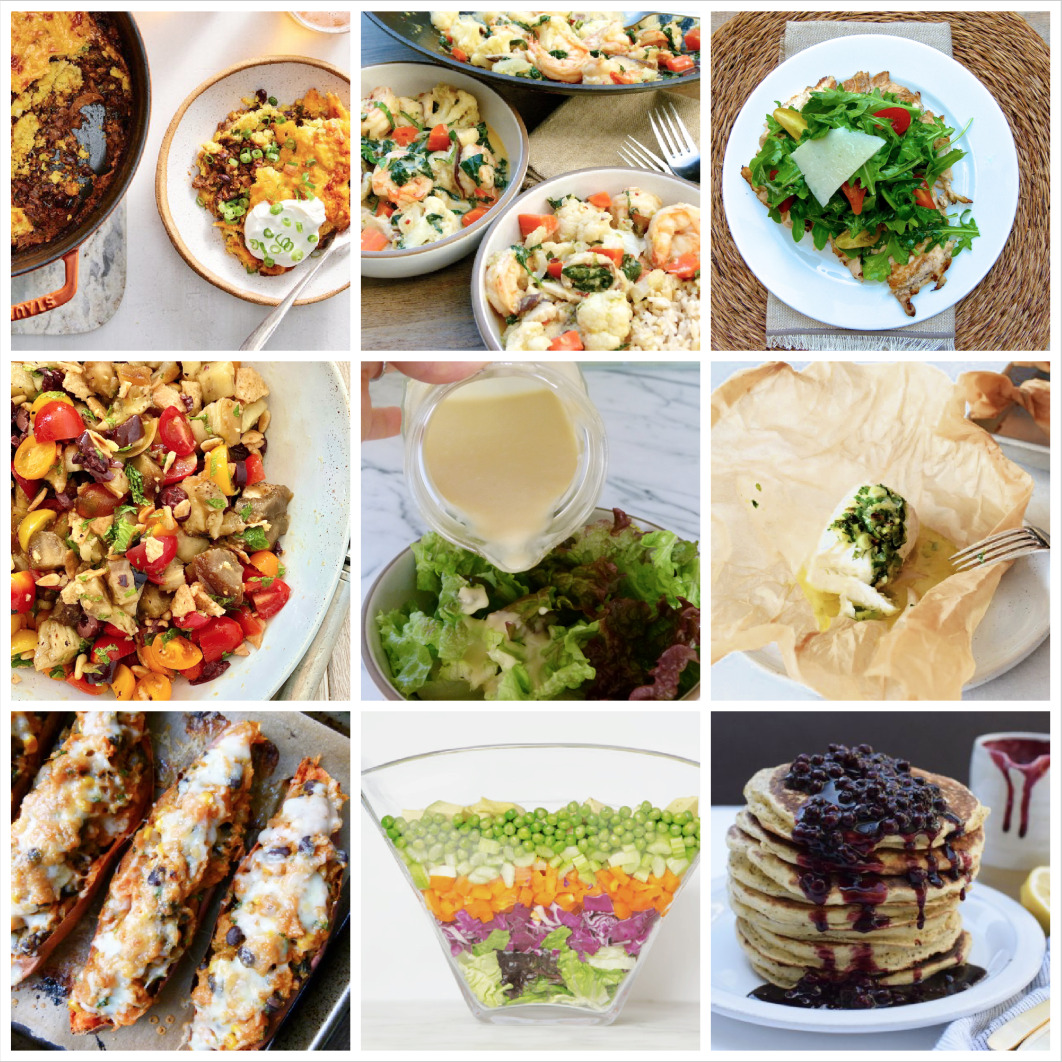 Mother's Day is next weekend, so it's time to buy the cards and pick out something nice for your mom. Or drop hints to your partner, spouse, and/or kids/grandkids! I selected a few ideas in last Monday's newsletter.
Just a reminder that I have been teaching a monthly cooking class online since well before the pandemic! Yes, I know. I have also started to teach in person again, but very, very limited. My online classes are the same as my in-person classes in terms of content and recipes. My May class is uploaded and ready! Click here to see the menu and to purchase! A subscription to my cooking class is a great Mother's Day gift! Here's your dinner planner for the week:
Meatless Monday: I've always wanted to make tamale pie. This meatless one from NYT looks good.
Tuesday: Shrimp and mixed vegetables with coconut-basil sauce, brown rice or cauliflower rice (you can rice lots of different vegetables – see Quicker Than Quick for tips!)
Wednesday: charred eggplant salad, chicken paillard with arugula
Thursday: salad with miso-ginger dressing, parchment baked halibut with cilantro and ginger
Friday: Tex-Mex stuffed sweet potato skins, green salad and/or grilled asparagus
Saturday brunch: 7 layer salad with blue cheese dressing (this is such a fun entertaining salad, but even if you don't do a layered salad, the dressing is fabulous!!)
Sunday (Mother's Day): Here are some great options that would be perfect for breakfast-in-bed to all of those deserving moms!
Honestly, there are too many good brunch-y recipes to mention including ones from my cookbooks like Grain-Free Apple-Blackberry Crisp (KM), Meyer Lemon-Olive Oil Cake (QTQ), Quinoa and Strawberry Tabbouleh (QTQ), and I just taught a brunch class for May!
Here's what you can do ahead if it helps you:
Sunday:
Make salad dressing
Wash greens
Make chili part of tamale pie
Wednesday:
Roast sweet potatoes
Friday:
Make blue cheese dressing
Saturday:
Muffins, breads, granola, chia pudding, and pancake batter can be made today
I have LOVED seeing all your creations of my recipes on Instagram. If you make any of my recipes, please tag me @pamelasalzman #pamelasalzman so I can check them out! I have a free Monday newsletter with my thoughts, new recipes, and things I'm loving lately. Subscribe here!
Order my cookbook, Quicker Than Quick! If you have 1 minute, would you mind leaving a review on amazon? I would be so grateful, thank you! Take a peek at my first cookbook "Kitchen Matters"!