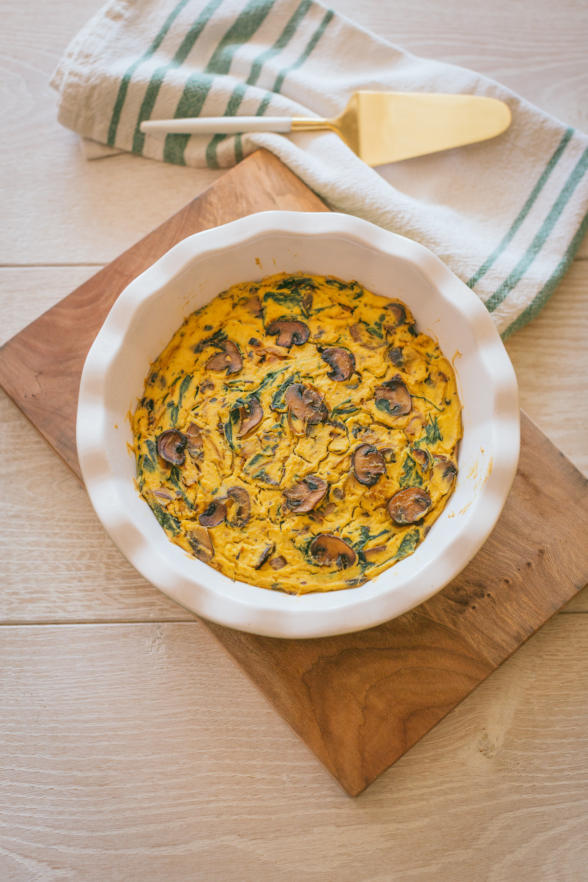 One of the most common substitutions I am asked about is eggs.  Many people are plant-based/vegan; others are avoiding eggs because their doctors told them to; and eggs are one of the most common food allergens.  When I offer a sub for eggs, I consider how the eggs are used in a recipe.  Are they binding a batter together?  Are they adding lift?  Are they the bulk of a dish, like a scramble or a frittata?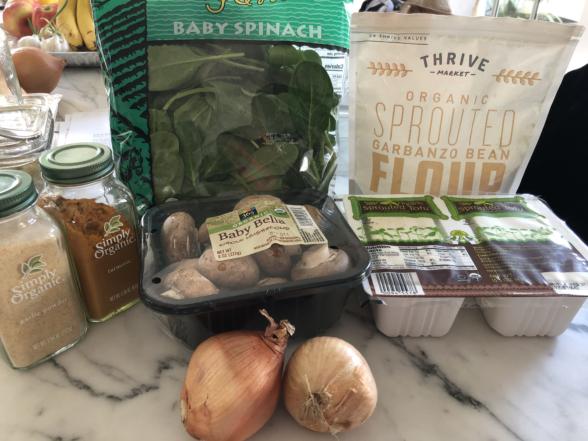 I think most people know you can swap a flax egg to help bind a muffin batter together or aquafaba to create a meringue, but you can use either of those egg substitutes to make a frittata.  And I have tried a few "egg replacement" products which were literally inedible.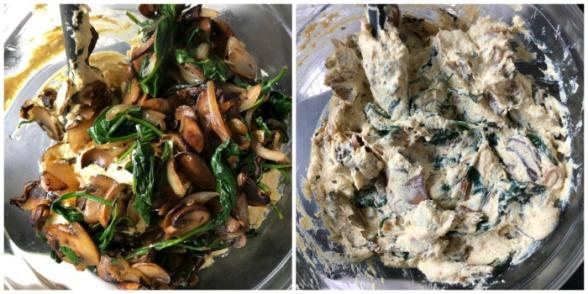 The most delicious swap I have found is tofu blended with some seasonings and preferably with some chickpea flour, which adds a nutty flavor and great binding properties.  I have used chickpea flour for socca (chickpea pancakes), mixed with other gluten-free flours for a good multipurpose flour, and as a binder in falafel.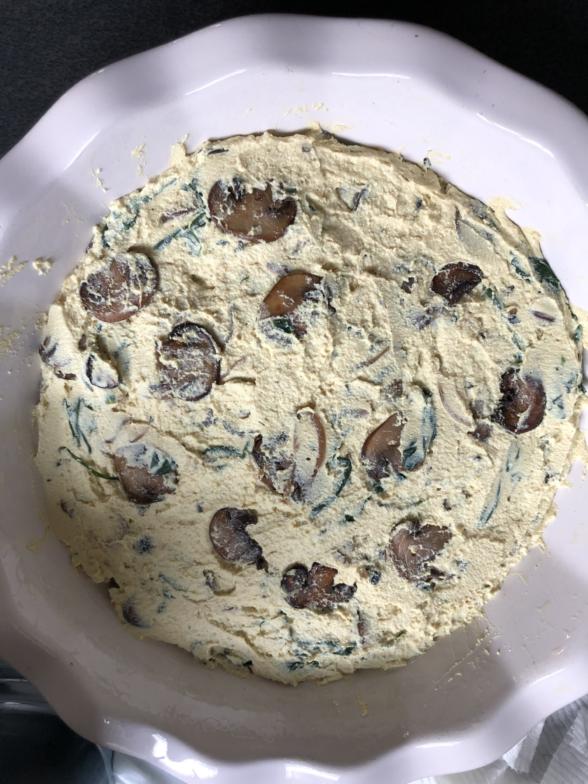 This recipe is very easy – just saute some vegetables; puree the tofu, chickpea flour and seasonings together; stir the veggies into the tofu mixture and bake in a pie plate.  Use whatever your favorite vegetables are with eggs or defrost and chop some frozen veggies (which have already been blanched before freezing.). The texture is similar enough to a frittata, although of course not exactly the same.  It's tender and soft, and studded with delicious vegetables.  It's definitely worth trying to mix it up a little at home or if you're craving a frittata and you can't get eggs.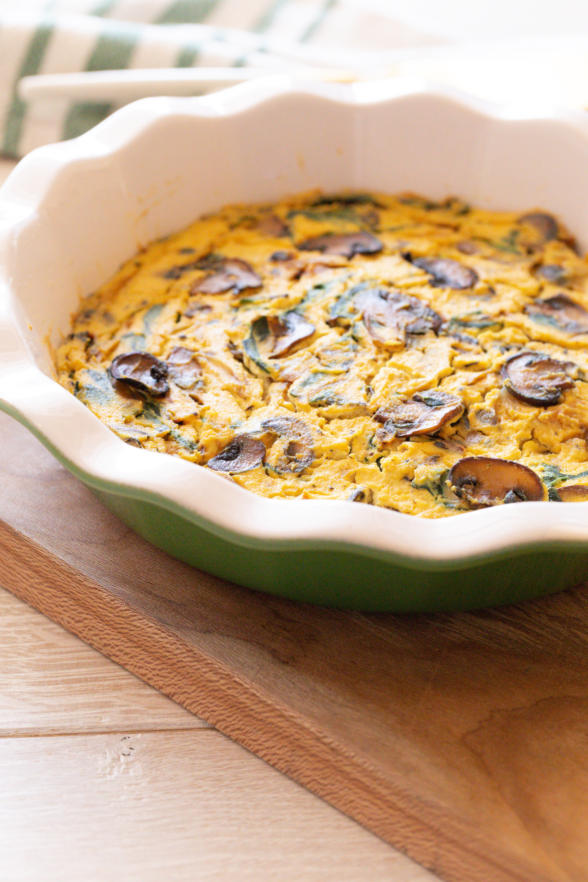 You can see the difference between serving the "frittata" right side up (above) or the flipping it upside down (below.) I actually think it's prettier served upside down!  I've made this with so many different vegetables, herbs, leftovers (you know me); and served it with fresh tomato sauce, the green sauce from Kitchen Matters, and so on.  And leftovers are delicious served reheated in a toaster oven or at room temp.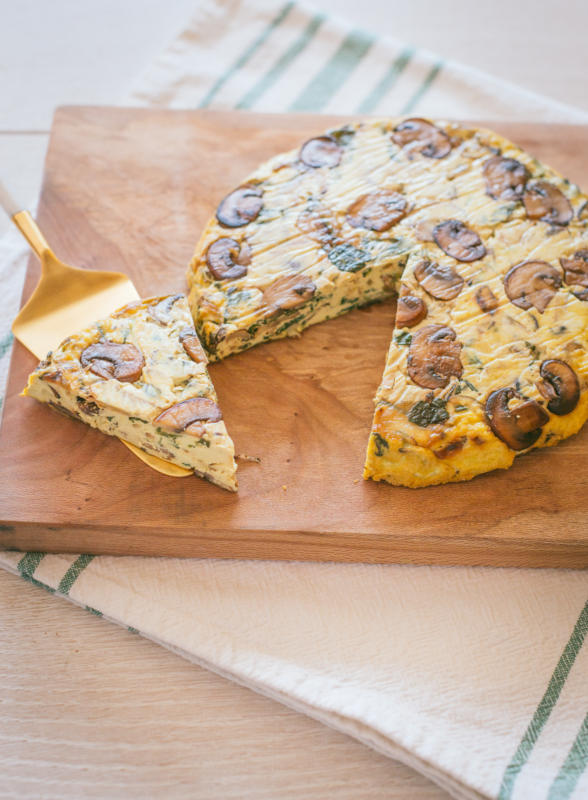 You can shop the tools I used for this recipe by clicking on the images below:

This would make for a great brunch, lunch or dinner, and a great way to try tofu, if you haven't yet.  Maybe I'll make this during one of my IG lives next week.  Thanks for continuing to join me every day on Instagram and thank you SO MUCH for tagging me @pamelasalzman when you make recipes from Quicker Than Quick.  I am loving all of your posts!!  Hang there, friends!!

Egg-less Spring Vegetable Frittata
Ingredients
14-15 ounces firm tofu, preferably organic and sprouted, drained and patted dry
2½ Tablespoons unrefined, cold-pressed olive oil, divided + additional for greasing the baking dish
¾ teaspoon sea salt + additional for seasoning
¼ teaspoon ground turmeric
¼teaspoon garlic powder
freshly ground black pepper to taste
2 Tablespoons chickpea flour
8 ounces fresh mushrooms, such as cremini and/or shitake, wiped clean and sliced
2 shallots, thinly sliced or 1 leek, white and light green parts cleaned and sliced
2 cups baby spinach leaves
Instructions
Preheat oven to 350 degrees. Lightly grease a 9 or 10-inch pie plate or oven-proof skillet.
In the bowl of a food processor, process the tofu, ½ Tablespoon of oil, salt, turmeric, garlic powder and black pepper until smooth. Scrape down the sides and add the chickpea flour. Process until well combined.
Warm a medium to large skillet over medium heat. Add the remaining 2 Tablespoons of oil. Add the mushrooms plus a big pinch of salt and sauté until tender, about 5-7 minutes. Add the shallots and sauté until mushrooms are golden brown.
Add the spinach and sauté until wilted, about 3 minutes.
Stir the cooked vegetables into the pureed tofu mixture and pour into the prepared pie plate, smoothing the top with a spatula.
Bake until frittata is set and surface is dry and slightly golden, about 30-40 minutes. Allow to sit for 5 minutes and then invert onto a serving platter, if desired. The underside looks a little prettier than the top. Can also be served at room temperature or cold.
Notes
I often add a pinch of cayenne pepper to the tofu mixture.
My favorite tofu is Wildwood Organic sprouted tofu or Trader Joe's organic sprouted tofu.