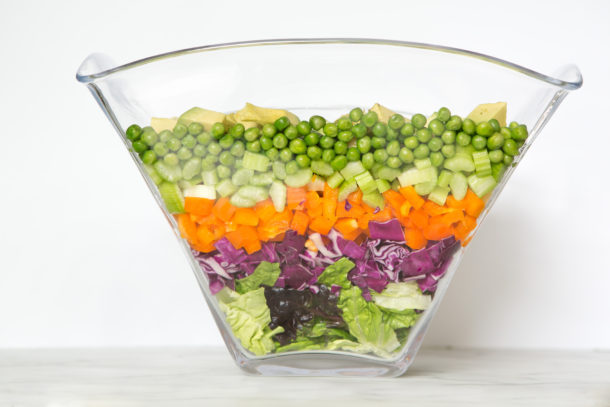 I eat salads all year, but I eat them much more often in the summer when my family finds it perfectly acceptable to eat a salad as a meal.  I have also trained my husband to no longer ask "where's the meat?" Or chicken.  He has really come around to a more plant-based way of eating.  At least at breakfast and dinnertime.  Wink, wink.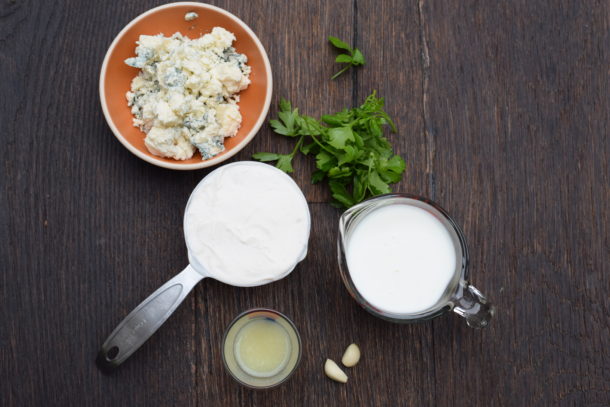 My cooking class assistant Elizabeth is from Missouri and she suggested to me one day that we should come up with a healthified 7-layer salad.  My first thought of a 7-layered salad was a version of a Mexican layered dip.  But that's not what she was talking about.  She started to describe a salad that was popular at church potlucks with iceberg lettuce, green bell pepper, peas, hard boiled egg, cheddar cheese, bacon and tomato.  Hmmmm….  And then it is covered in a dressing made from mayonnaise and sugar. Or half mayonnaise, half sour cream plus sugar.  I cannot. Is that even a dressing?  It's supposed to seal the vegetables and keep them fresh so that you can assemble and dress it all well in advance.  I accept the challenge!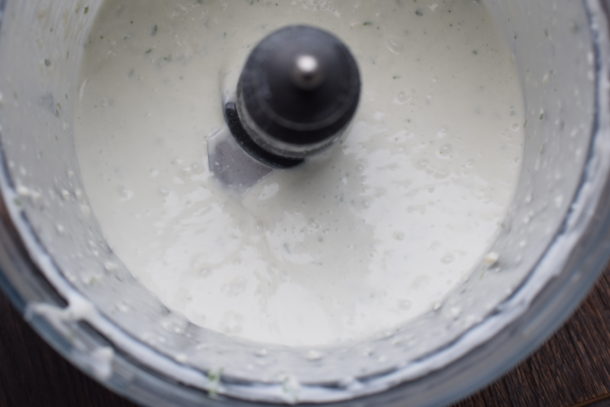 I am all for planning in advance, but Elizabeth was right.  This 7-layered salad needs help!  I started with the dressing.  A creamy dressing was definitely in order.  Ranch would be a natural fit and I think you can definitely use Ranch.  Here's my recipe for a delicious and healthified Ranch dressing.  But I decided to go with something a little different — blue cheese dressing!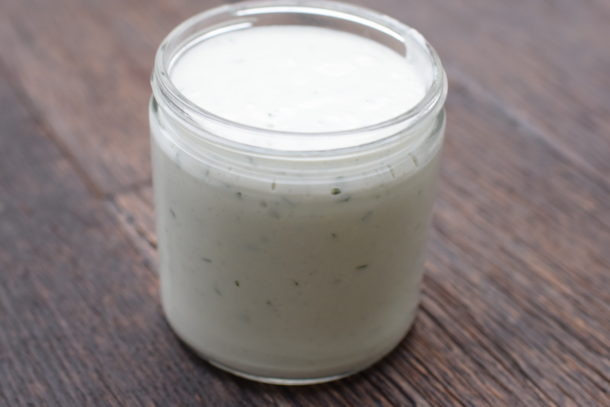 I happen to love blue cheese and because it is so flavorful, a little goes a long way.  I don't eat much dairy at all, but when I do I think about what makes dairy more digestible — raw, sheep/goat, and cultured.  Most blue cheese that you'll find is cow, but my Whole Foods Market sells a beautiful raw, sheep's milk blue cheese, which is obviously cultured.  (Blue cheese has been inoculated with a (good) bacteria.)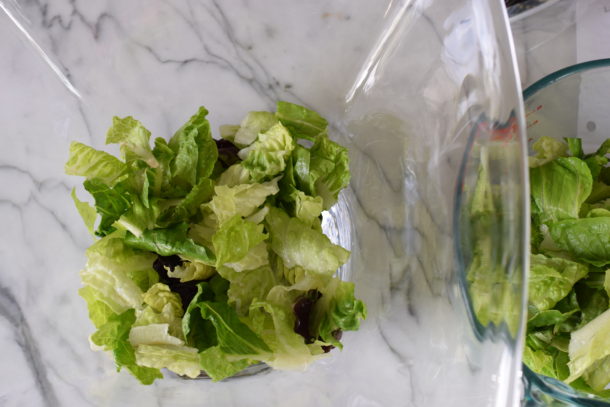 Tangy and fresh blue cheese dressing is a natural on all these crunchy vegetables.  The colors are gorgeous, too!  I took some of what Elizabeth described from what she knows as the classic 7-layer salad and I made it just a little more nutritious.  You can't go wrong with crunchy Romaine as the base as well as my absolute favorite salad ingredient, red cabbage (which looks purple.)  I always have part of a head of red cabbage in my crisper and I add it to most salads.  Cabbage is crazy good for you, beautiful and adds the best crunch!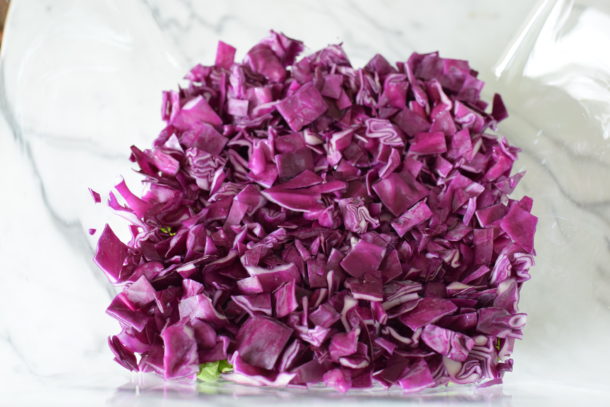 I'm not a fan of raw green bell peppers, so I went with sweet orange bell peppers.  Pretty and delicious + loads of Vitamin C!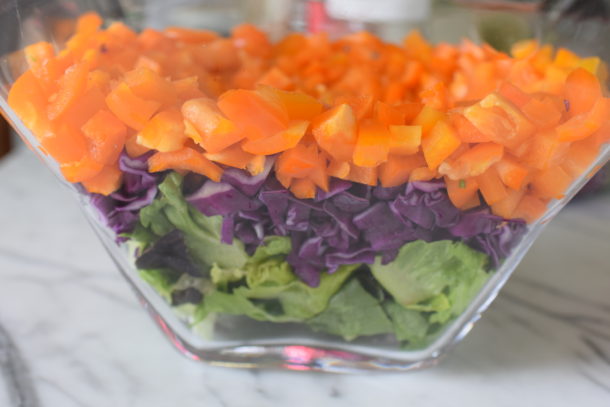 Next celery for crunch, then peas because it is classic in this salad and is a great source of protein (plus, how easy is it to open up a bag of defrosted peas?  Exactly!), and avocado, because what is a salad without avocado?  Not as good as it could be.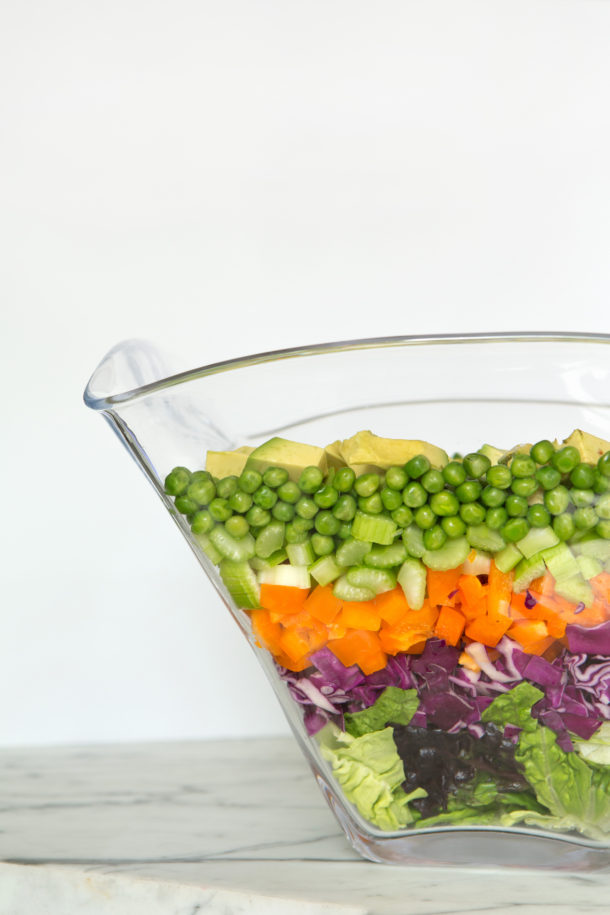 Lastly, I added some hard boiled eggs, which are amazing with blue cheese.  Of course, if you've been hanging out with me for a while, you have learned that you can change a salad according to your mood (or what you have in the fridge.)  Use cherry tomatoes, cucumbers or blanched green beans if you want.  I developed this recipe for Clean Eating Magazine and they wanted some animal protein in it.  Easy!  The photograph at the bottom of the page shows the version they used in the magazine which included turkey bacon.  Cold, poached chicken or roasted turkey would also be great here.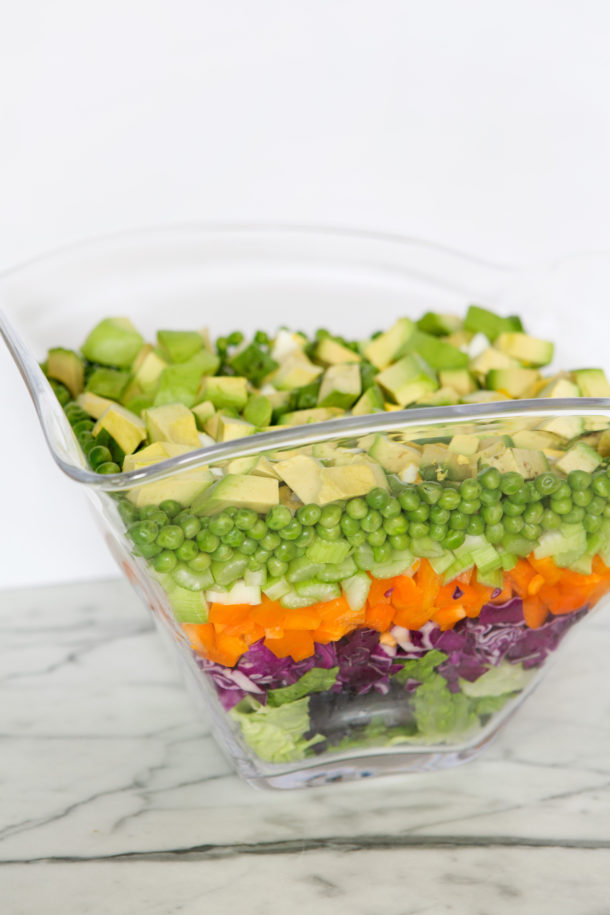 Keep in mind, this is a pretty big salad.  It serves 8 people if you're not serving much else.  If you are going to a potluck, this can easily serve 12.  And yes, you can assemble the whole thing in the morning, including pouring the dressing on top and refrigerating it until you leave for your party.  You don't even need to toss it since the dressing will have trickled down to the bottom layer.  This salad is quite healthful, while still feeling a little indulgent, and hearty without being heavy.   You can easily make a meal out of this and not ask, "where's the meat?"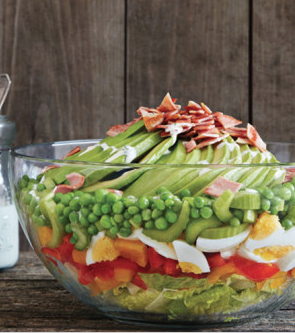 7-Layer Salad with Blue Cheese Dressing Recipe
Ingredients
Blue Cheese Dressing:
4 oz blue cheese, crumbled into small pieces
1 cup kefir or buttermilk
1 cup high-quality mayonnaise
1 small clove garlic, minced
2 Tablespoons freshly squeezed lemon juice
sea salt to taste
freshly ground black pepper to taste
2 Tablespoons parsley, chopped (optional)
1 large head of romaine, chopped (about 8 cups chopped)
2 cups chopped red cabbage
3 sweet bell peppers, diced
3-4 hardboiled eggs, sliced or chopped
6 stalks celery, diced
3 cups frozen peas, defrosted or partially defrosted
2 avocados, sliced (optional)
Instructions
To make your dressing, combine all ingredients in a medium bowl and whisk well or pulse in a food processor.
In a clear glass bowl, layer salad ingredients in the order they appear above. Concentrate the ingredients around the perimeter of the bowl, filling the center with romaine.
Pour enough dressing over the top layer of avocados to cover. Cover the salad and refrigerate for up to 8 hours. Toss before serving, if desired.