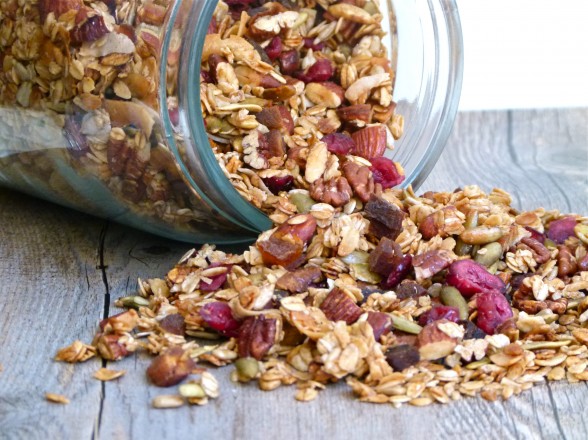 I started making my own granola when I realized how much money I was spending to buy it at my local natural foods store.  $8 for a little container?  Ouch!  But the price wasn't the only deterrent.  There's also the undesirable ingredients you find in many commercially prepared granolas — too much sugar and refined or hydrogenated oils, just for starters.  You wouldn't believe how easy it is to make from scratch and best of all, you can make it exactly the way you want it.  Although I wouldn't consider it to be "health food," homemade granola beats processed cereals any day and is as "instant" as breakfast can get.    This has come in handy when daughter #1 spends much too much time straightening her hair and is late for school.  I just put a hefty scoop of whole, unsweetened yogurt in a cup and layer granola with or without fresh fruit and that's a decent breakfast to go.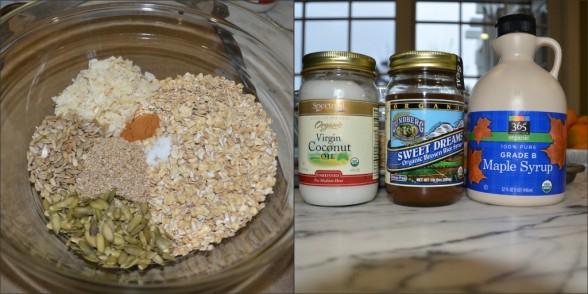 I make granola every two weeks and keep it in an airtight glass container in the pantry where it stays perfectly crispy.  We not only eat it with the obvious yogurt and fresh fruit, but we love it mixed into smoothies, on acai bowls, sprinkled on pancakes or creamy oatmeal, or as a crunchy dip for bananas rolled in nut butter.  As for me, sometimes I'm looking for something sweet without actually eating sweets and a handful of granola is a quick and satisfying snack.  I can't tell you how many times I have opted to bring a glass jar of this granola to a friend's house as a hostess gift instead of a candle.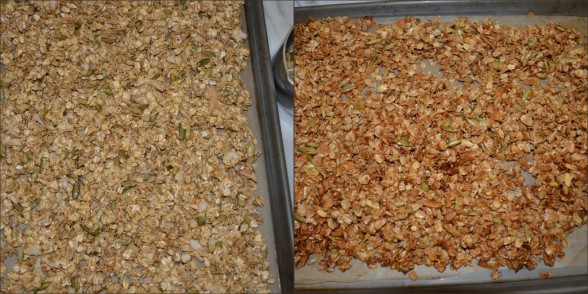 The first time I made granola I burned it because I kept expecting the oat mixture to get dry and crunchy in the oven.  No, no.  The oats remain soft until they are removed from the heat and are allowed to cool at room temperature.  Judge the granola by its color, which should change to be a nice toasty, golden brown.  The key here is to mix the syrups and oil until completely blended before combining it with the oat mixture.  If you don't, the syrups can burn.  Also note that the dried fruit is added after the oats come out of the oven.  If you bake them, they'll harden and taste burnt (ask me how I know this.)  The wonderful thing about granola is that you can use whatever nuts, seeds and dried fruit you like.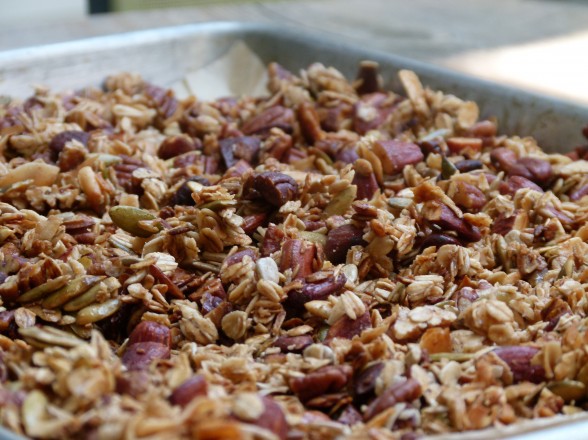 If my kids are reading this, what I would like is a little bowl of granola with fresh berries and sheep yogurt delivered to my bed on Sunday morning with a cup of Tulsi tea and absolutely, positively no bickering all day long.  Ahhhhhh…….  Happy Mother's Day to all my students, readers, friends and family, and of course, to my mother-in-law and my mother.

Granola
Serves:
makes about 6 cups
Ingredients
3 cups old fashioned rolled oats (not instant or quick-cooking)*
½ cup unsweetened, dried coconut flakes
⅓ cup raw pumpkin seeds
⅓ raw sunflower seeds
2 Tablespoons sesame seeds (optional; sometimes I use them, sometimes I don't)
1 teaspoon ground cinnamon
¼ teaspoon fine grain sea salt
¼ cup melted unrefined coconut oil
⅓ cup 100% pure maple syrup
¼ cup brown rice syrup (or honey)
1 teaspoon pure vanilla extract
1 cup raw almonds (in California, you can buy truly raw almonds if purchased directly from the farmer, in the stores it may say "raw," but they have likely been pasteurized or steamed) or walnuts or pecans or a combo
1 cup unsweetened, unsulphured dried fruit, chopped if necessary
Instructions
Preheat oven to 350 degrees. Line a rimmed baking sheet with unbleached parchment paper.
In a large bowl stir together the oats, coconut flakes, seeds, cinnamon and salt.
In a small bowl, whisk together the melted coconut oil, maple syrup, brown rice syrup and vanilla. It is really important to mix the oil and syrups so that everything is well blended otherwise the syrups may burn. Add the oil and syrup mixture to the oats and stir to coat well.
Transfer the oat mixture to the prepared pan. Bake for 25-35 minutes (ovens vary), stirring occasionally until golden brown. The mixture will not be crunchy yet. Add the chopped nuts and dried fruit to the pan and allow to cool. Transfer granola to an airtight container and store at room temperature or freeze.
Notes
*If you use gluten-free oats, you will have a gluten-free granola.