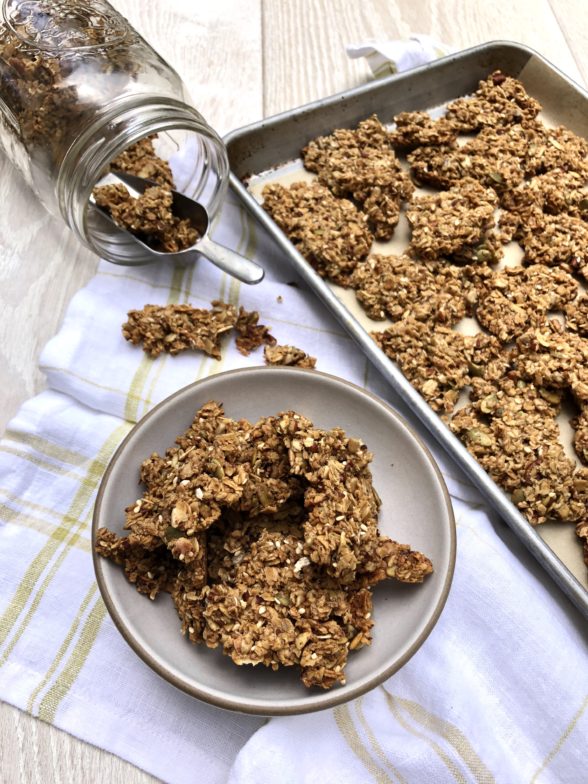 I had so many requests for this BIG CLUSTER GRANOLA that I created a blogpost for it.  It's so much easier to find recipes on my website than to try to find them on Instagram, trust me!  But since I was not prepared to post here, I have no prep shots.  Sorry!!!  This is very similar to my original granola of many moons ago, but there are a couple of differences.  Let's discuss.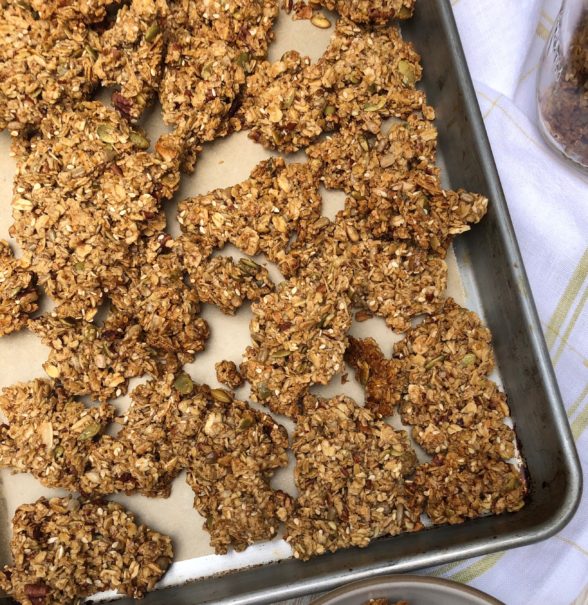 First off, I combine the nuts with the oat mixture and pulse most of it in a food processor to break it down into small pieces.
Second, I no longer add dried fruit to my granola.  It's sweet enough and we often eat in in smoothies (sweet), with yogurt and berries (sweet), and on oatmeal with fruit (sweet.)  If you want to add dried fruit, do so AFTER the granola comes out of the oven.
Third, I add flaky sea salt and quite a bit of it.  I'm into a saltier granola now.  There are options within the recipe so you can choose a "normal" level of salt.
Fourth and most important change, I bake it until it is just turning golden brown and then shut the heat off but still leave the granola to dry out in the oven.  Please read all my directions so you do not burn your granola.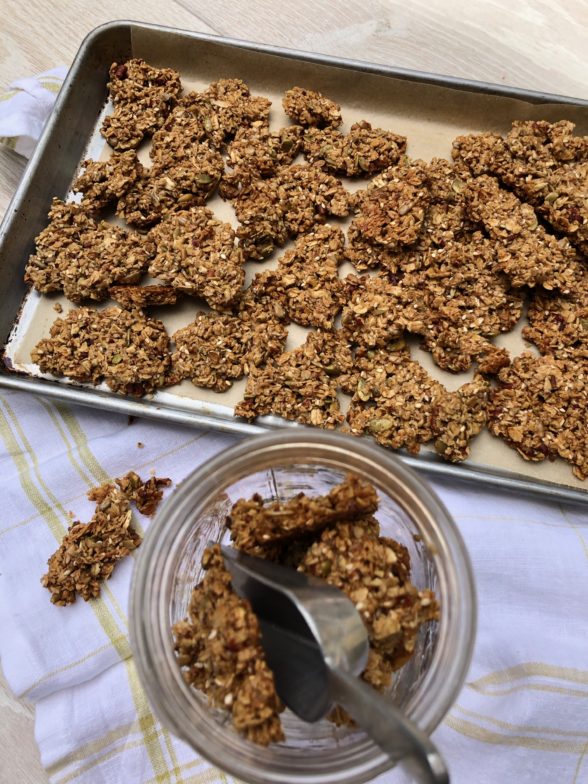 You will achieve an entire sheet of granola that you can break up into whatever size pieces you want.  As many of you know if you've been hanging out with me for a while, I store my granola in the freezer because we love eating it frozen.  It's lighter, crispier and all around more delicious.  But it can certainly be stored for a few weeks in the pantry at room temp.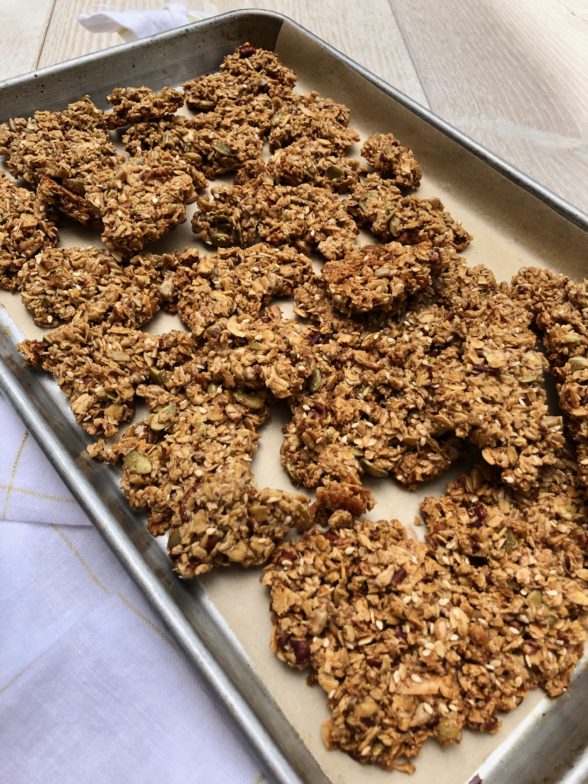 Thank you all so very much for your kind messages, emails, comments and DM's about "Quicker Than Quick."  I had a full-on cry session yesterday because I was so overcome with emotion and because I think the quarantine is getting to me LOL.  When I see pictures of you with your books, you making the recipes already, your kids dog-earing pages, my heart just swells with love and gratitude and a feeling of satisfaction that I am doing the thing I always set out to do – to help support people's health through home cooking. I love you all more than you know!!  You know the drill, if you make this recipe, I want to know about it!  Tag me on Instagram @pamelasalzman #pamelasalzman
If you make a recipe from Quicker Than Quick, I really want to know about it!  Tag me @pamelasalzman #quickerthanquick And if I may ask a giant favor, if you love my book, I would be so appreciative if you would leave a review on Amazon.  Even if you bought a signed copy at Pages Bookstore or your local bookstore, you can still leave a review.  I would appreciate it soooooo much!  Thank you!!  XOXO

Big Cluster Granola
Author:
Ingredients
3 cups old fashioned rolled oats* (not steel cut)
½ cup unsweetened, dried coconut flakes
1/3 cup raw pumpkin seeds
1/3 cup raw sunflower seeds
2 Tablespoons hemp seeds or sesame seeds
1 cup pecans or walnuts or your favorite nut, chopped
1 teaspoon ground cinnamon
½ teaspoon flaky sea salt, like Maldon (I personally like it a little salty, so I use 1 teaspoon)
¼ cup melted unrefined coconut oil or olive oil
1/3 cup pure maple syrup
¼ cup brown rice syrup or honey (brown rice syrup is stickier, though)
1 teaspoon pure vanilla extract
Instructions
Preheat oven to 325 degrees. Line a rimmed "half sheet" baking sheet pan ( I used an 18 x 13) with unbleached parchment paper.
In a large bowl, stir together the oats, coconut flakes, seeds, nuts, and cinnamon.
Take 3 cups of the oat mixture and pulse in a food processor until finely chopped. Transfer back to the bowl with the rest of the dry mixture. Stir in the flaky salt.
In a small bowl, whisk together the melted coconut oil, maple syrup, brown rice syrup and vanilla. It is really important to mix the oil and syrups so that everything is well blended otherwise the syrups may burn. Add the oil and syrup mixture to the oat mixture and stir to coat well.
Transfer the oat mixture to the prepared pan and spread out in an even layer. Try not to allow the edges to be too thin. Bake for 20-25 minutes or until just starting to turn golden brown. Try not to stir at all. The mixture will not be crunchy yet. Turn the heat off but leave the pan in the oven for an hour or even longer. If your oven is designed to hold heat even after the oven is turned off, open the oven door until the heat drops to 250 and then shut the door. Oven is turned off though. You have to know your oven, so make sure you don't burn the granola. Remove from the oven and allow to cool at room temperature before breaking into clusters.
Notes
*If you use gluten-free oats, you will have a gluten-free granola.