I had a great day in Minneapolis on Thursday speaking about health and wellness at the Beauty Counter Leadership Summit and then an equally wonderful time Friday speaking at the Galveston Chamber of Commerce annual women's conference.  Of course, it's always nice to be home and after speaking nonstop about the importance of cooking from scratch with whole, unprocessed foods, I got right to it and planned this week's dinners: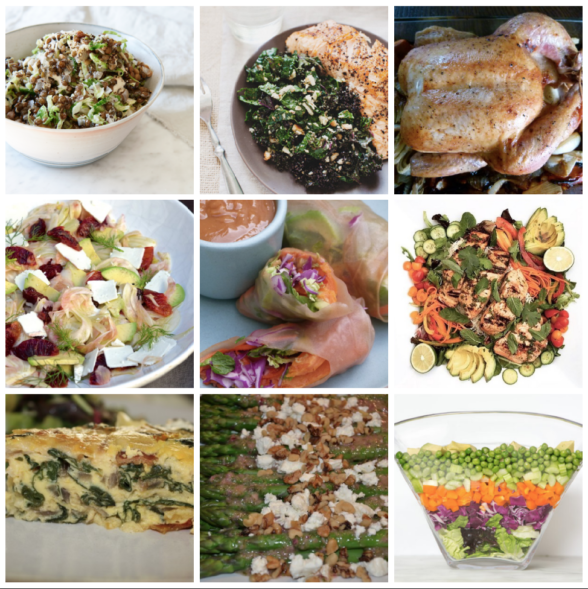 Here's your dinner planner for the week:
Meatless Monday: Braised lentils with brussels sprouts and creamy cashew drizzle from my cookbook
Tuesday: Lemon kale salad and seared salmon from The Sprouted Kitchen
Wednesday: No-fail roast chicken, fennel salad with citrus, avocado and ricotta salata(I'm going to skip the cheese)
Thursday: Summer rolls, Thai salad with roasted or grilled (depending on the weather) shrimp
Friday: Swiss chard fritatta, Asparagus salad with walnuts and mint vinaigrette
Saturday Lunch: 7-layer salad with blue cheese dressing (add in any extra salmon or roast chicken you have leftover)
Sunday: Mother's Day!  Here are some great options that would be perfect for breakfast-in-bed to all of those deserving moms!:
Yogurt and granola parfait (try basic granola, salted dark chocolate granola, peanut butter granola or the grain-free granola from my cookbook)
Mushroom and leek quiche with sweet potato crust
Chia pudding: try vanilla, chocolate, matcha or lemon-ginger
Grain-free lemon poppy seed muffins
Pancakes: Grain-free sweet potato pancakes, fluffy whole grain lemon poppy seed ricotta pancakes, buttermilk pancakes, multigrain pancakes from my cookbook
Whole grain buttermilk waffles
Here's what you can do ahead if you need to:
Sunday
Make the lentils and store in the fridge, or buy pre-cooked
Wash/dry greens/lettuce and herbs
Make salad dressings and peanut dipping sauce for summer rolls
Make chicken or vegetable stock
Trim tough ends of asparagus and place cut ends in a small amount of water in the fridge
Tuesday
Shave ricotta salata, store in airtight container in the fridge
Slice and prep veggies for summer rolls and store in the fridge (cut extra for the salad)
Wednesday
Blanch asparagus
Here's a link to my previous dinner planners.
I have LOVED seeing all your creations of my recipes on Instagram.  If you make any of my recipes, please tag me @pamelasalzman #pamelasalzman so I can check them out!
Click here to learn more about my online cooking classes!
If you like my recipes, you'll LOVE my cookbook!