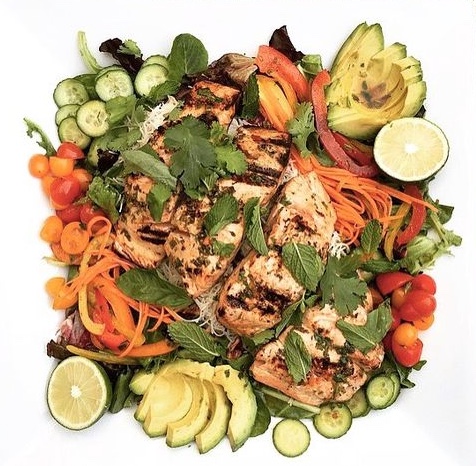 Oh people.  We are on the brink of my favorite time of year.  A time of backyard barbeques, picnics at the beach, sand between my toes, fresh tomatoes and basil, peach pie, and long nights under starry skies.  Ahhhh, summer.  Beyond better weather and my favorite produce, life is just easier when the kids are out of school.  No homework, tests or book reports.  Sure, two out of my three have a summer reading list, but they always wait until the last week of summer to crack those books open, so it's smooth sailing until then.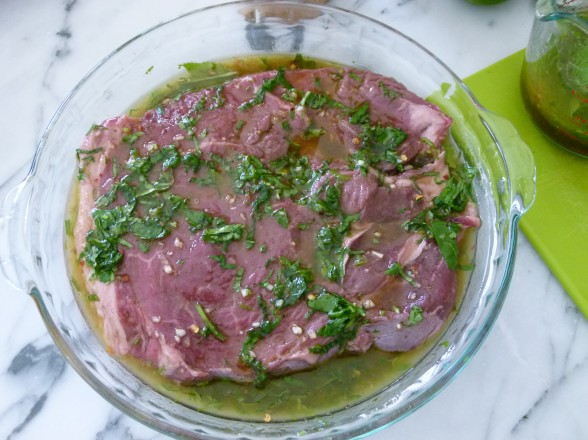 Because we live at the beach, we entertain most weekends in the summer, starting with Memorial Day which, being the East Coaster that I am, is the unofficial start of "the season."  One of my favorite things to do right about now is start planning a few menus that I can rotate during the summer.  Whenever I am thinking of the ideal food to prepare — make ahead, room temperature and easy all come to mind.  Very often, we'll go to the beach for the afternoon, come back to the house to freshen up before lingering over dinner in the backyard.  This doesn't give me too much time to cook for a crowd, so I look for recipes which allow me to prep in the morning or the night before so I can do more assembling than cooking.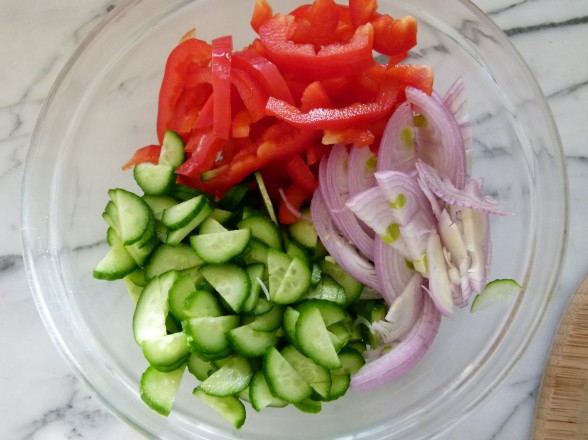 This Thai Steak Salad has never appeared on any of my summer menus since I just taught it a few months ago in my classes, but it will definitely be a regular this season.  There are so many reasons I love this salad — it's light, I can vary it with chicken or tofu (even shrimp) and change up the vegetables according to what looks good, and there's lots of prep in advance that I can do.  Oh, forgot to mention that my family loves it, too!  The first time I told my kids and husband they were eating "Thai" steak salad, I saw a bunch of sad faces.  "We don't like Thai food.  It's too spicy.  Or sour."  "Guess what?  You've never had Thai food in your life!"  I only call this a "Thai" Steak Salad because of the combination of sweet, sour and sort of spicy in the marinade/dressing, plus the addition of cilantro and/or mint.  I have a feeling I am taking a lot of liberties with the word "Thai."  I could probably get away with it if I added some fish sauce to the marinade.  Next time.  However, if I were to rename this recipe, I would call it Yummy, Fresh, Tangy, Gluten-free, Dairy-free, Vegan-adaptable, Paleo-friendly, Perfect for Summer Salad.  If you're debating whether or not to veer from the standard burger fare this holiday, I have two words for you:  Pink Slime.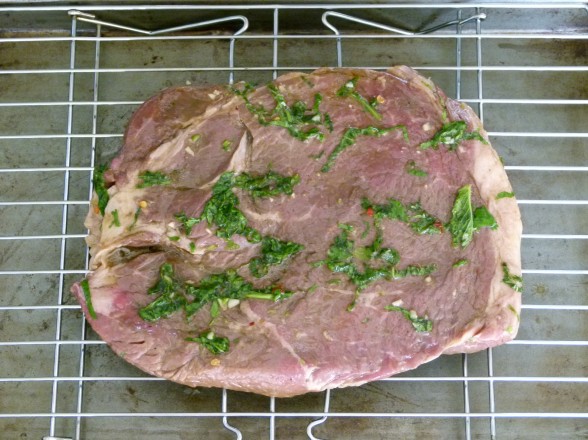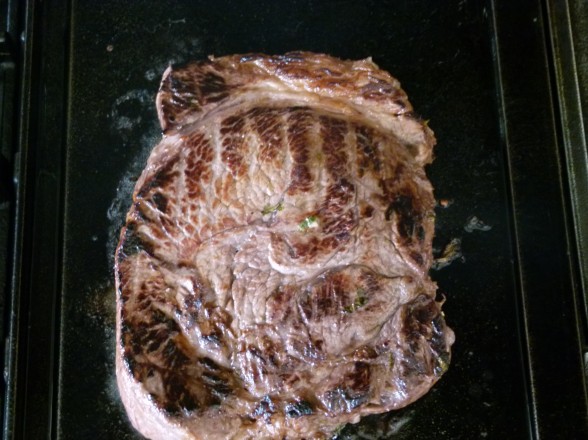 If you've been hanging out with me for the last year, you probably remember my post on how to reduce carcinogens when you grill.  Now's a good time for a refresher.  Whereas you can definitely grill the steak or chicken here (I did grill the chicken), I prefer a more healthful way to cook the steak.  It's a method I picked up from Cook's Illustrated and it's especially good for cooking grass-fed beef, which can get dried out if you're not careful.  The only downside is that it takes a few minutes longer than grilling, but it's a really tasty result and likely less carcinogenic.  No matter how you make this salad, it will surely be a delicious way to welcome in summer!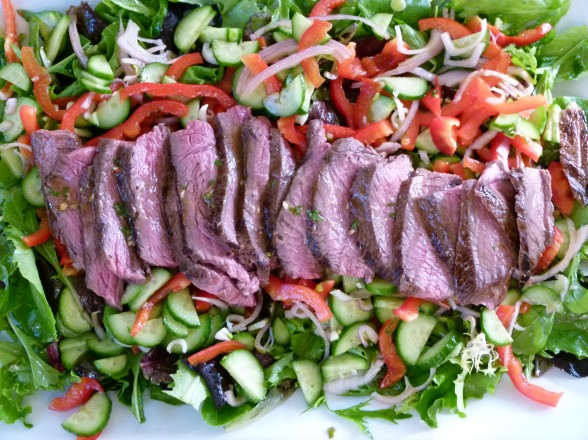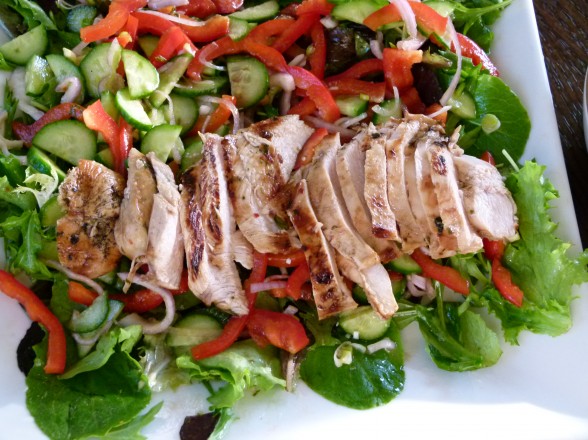 Thai Steak Salad Recipe
Ingredients
Marinade/Dressing:
½ cup freshly squeezed lime juice
½ cup unrefined olive oil, divided
2 Tablespoons shoyu (or gluten-free tamari)
6 Tablespoons packed fresh cilantro or mint leaves, chopped (or a combo)
1-2 small cloves garlic, minced
¼ teaspoon chili flakes or ½ teaspoon chili-garlic sauce
1 Tablespoon raw honey
freshly ground black pepper to taste
1 ½ pounds grass-fed top sirloin or flank steak, about 1-inch thick
sea salt to taste
1 Tablespoon unrefined coconut oil or olive oil
8 heaping cups salad greens, about 6-7 ounces
2 shallots, thinly sliced
a few handfuls of seasonal veggies*: thinly sliced cucumber or sweet bell pepper, sprouts, julienned carrots, fresh mint leaves, fresh Thai basil leaves
Instructions
Combine lime juice, 6 Tablespoons oil, shoyu, cilantro, garlic, hot pepper, honey, and pepper to taste in a small bowl. Whisk together and set aside.
If steak is thicker than 1 inch, place between two sheets of plastic wrap and pound on both sides. Remove wrap and place meat in a shallow nonreactive dish that is just small enough to hold the meat. Pour HALF the marinade (about ⅔ cup) over the meat. Cover and marinate in the refrigerator for at least 1 hour or up to 12 hours (longer is better). Take the reserved marinade in the bowl and add 2 Tablespoons olive oil. Set this aside as your salad dressing.
Pull the steak from the refrigerator about 30-60 minutes before cooking it. Preheat oven to 275 degrees or preheat a grill.
Insert a wire rack inside a baking sheet and place the meat on top of the rack and sprinkle with a pinch of salt. Bake for 20-30 minutes for medium to medium-well.
Heat the oil in a heavy skillet, preferably cast iron, over high heat. Transfer the steak to the skillet and sear for 2-3 minutes on each side for medium to medium-well. Alternatively, grill over medium heat for about 10 minutes for medium doneness.
Transfer meat to a carving board and allow to rest for 10 minutes, covered.
Assemble the salad greens on a platter and drizzle with half the dressing (about ⅓ cup), tossing to coat. Drizzle the shallots and vegetables with half the remaining dressing (about 2 ½ Tablespoons). Toss to coat and arrange on top of the salad. Taste for salt and add as needed.
Slice meat thinly against the grain on a diagonal. Arrange slices of meat on top of the greens and drizzle with remaining dressing.
Notes
* I used 1 whole red bell pepper and 2 Persian cucumbers.

To prep in advance, marinate steak or chicken the night before. Keep dressing refrigerated. Wash and cut all vegetables and keep refrigerated until ready to assemble.