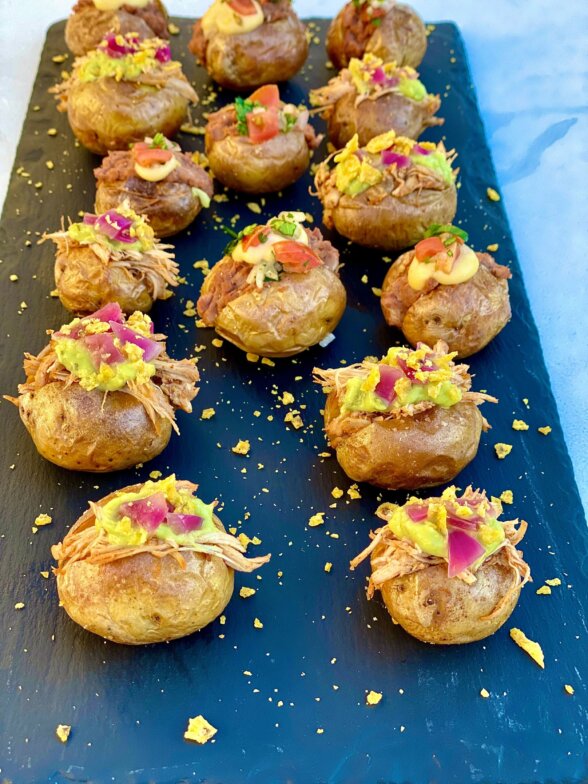 This recipe is not a recipe and more an idea that I hope you can take for inspiration without needing a recipe.  I hope that makes sense! We are not having a Super Bowl party inasmuch as a mini Super Bowl gathering with a few friends. The big news is that my daughter Emma will be visiting from Dallas and I could not be more excited!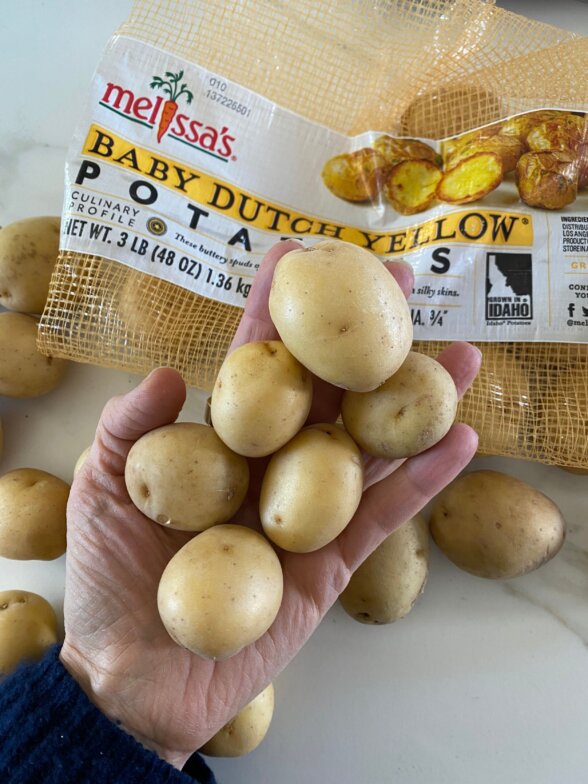 I was thinking about the menu for the day and I opted to go easy with vegan chili and chickpea tacos from QTQ or chipotle cauliflower tacos, and maybe some slow cooker chicken tacos too.  I'll round it all out with the mini carrot dogs in a blanket, lots of guacamole, salsa, OBVIOUSLY vegan queso, a chopped salad bar, and I've had requests for frozen chocolate covered bananas. Since it's going to be 80 degrees here on Super Bowl Sunday, I might even throw together some ice cream sandwiches with the vegan chocolate chip cookie recipe I am teaching exclusively in my Plant-based 2.0 course.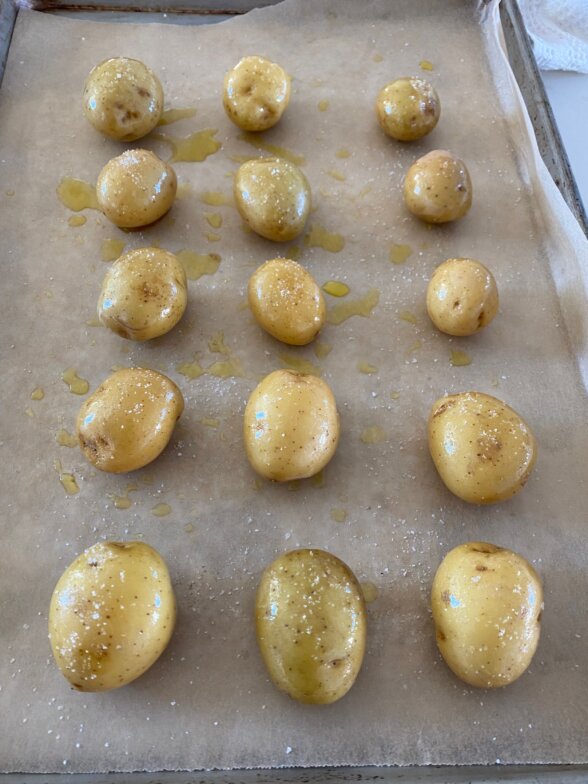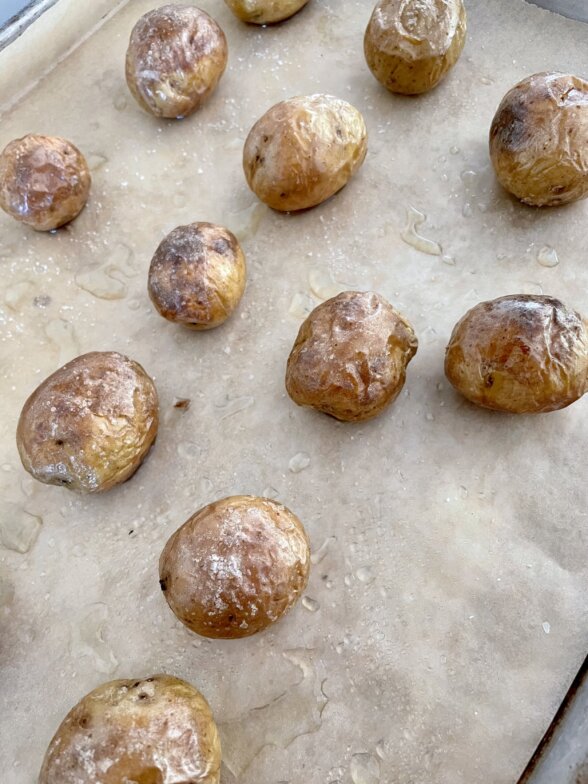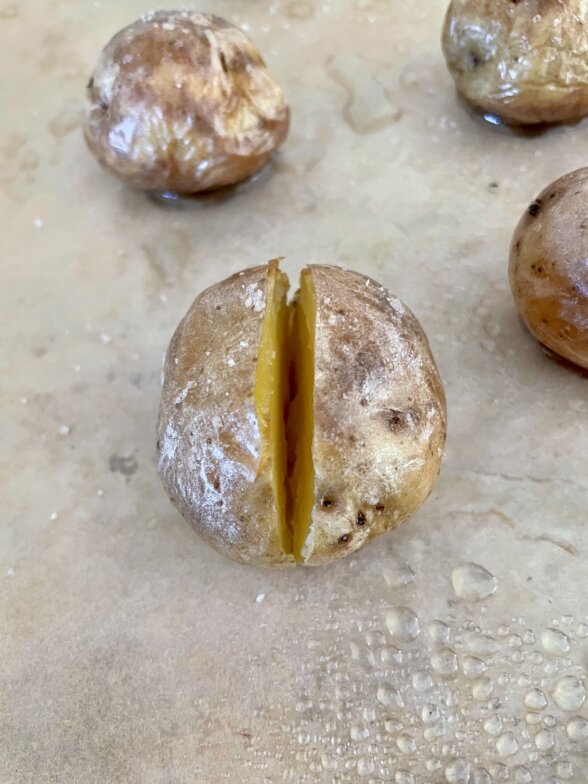 I used baby yukon gold potatoes which were small enough to be one or two bites.  I didn't even give you measurements for how much filling ingredients to use because you only need a teaspoon of this and a teaspoon of that.  This recipe is so much faster and easier if you don't have to follow measurements.  Like I always say, Don't overthink this!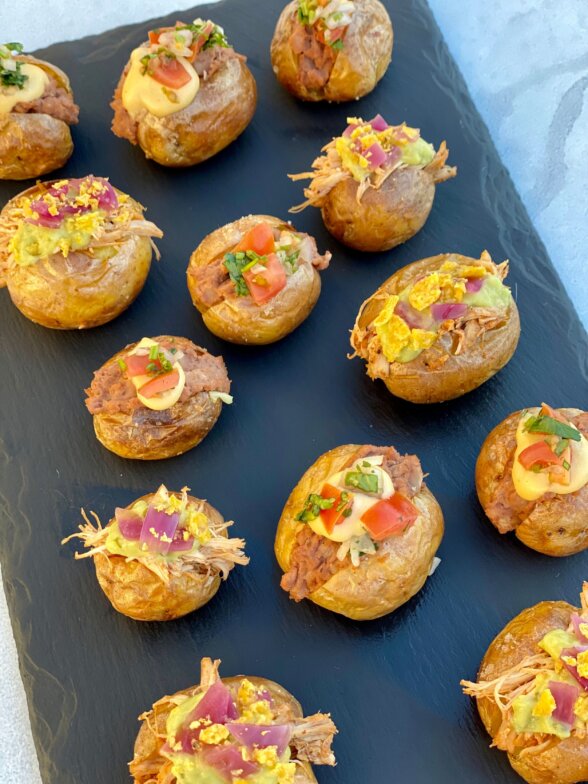 Even though I am quite fond of the taco fillings because I would normally have guacamole, pico de gallo and queso for my game day, you can do a BBQ pulled pork or chicken situation with coleslaw and diced pickles.  Whatever you add has to be in minute quantities for this to be easy to eat as finger food.  Like sushi and burritos, do not overstuff!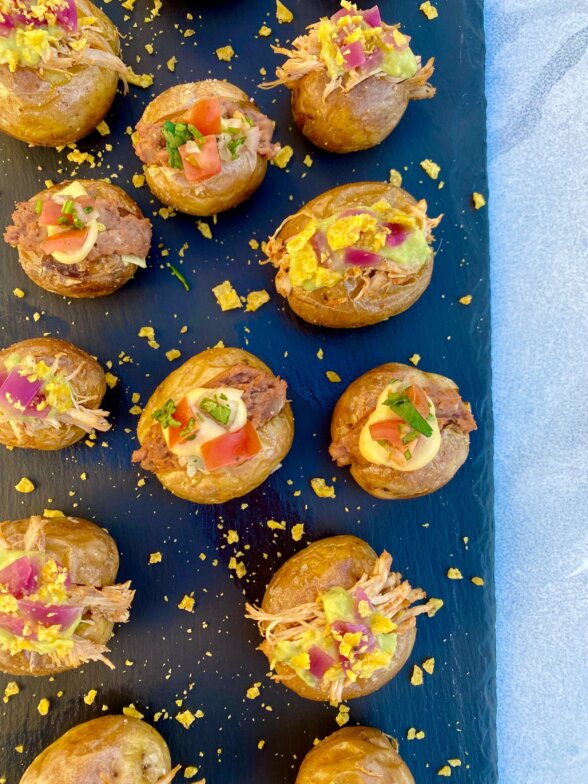 The filling ingredients can lean towards whatever you would put in a tortilla, but I would lean towards non-crumbly ingredients. I prefer the shredded chicken over ground chicken because the shredded will stay put in the potato better. Same goes for refried beans over loose beans. Have all your filling ingredients made a day in advance and reheat the ones that need to be warm.  This will make your life much easier!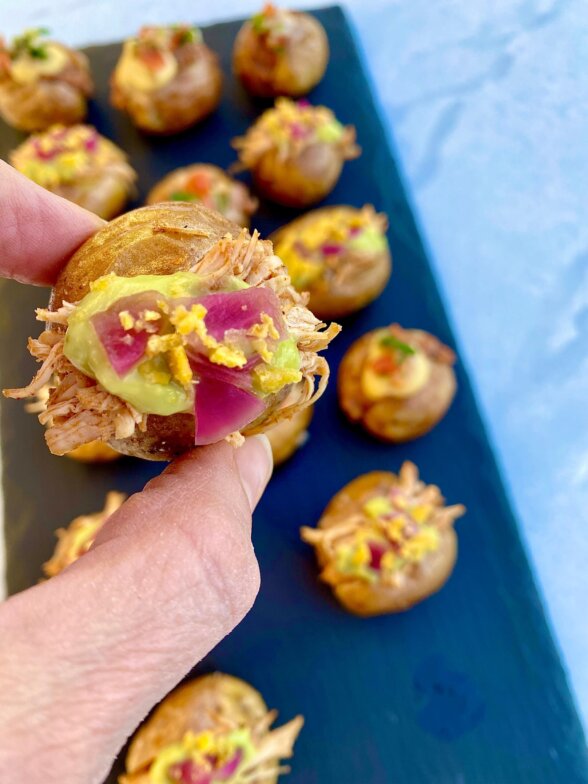 Apparently, the Super Bowl is second to Thanksgiving as the day people in the US eat the most.  Oy. I hope we are treated to a great game on Sunday!  For more game day ideas, refer to the most recent dinner planner.  
As always, if you make any of my recipes, please tag me @pamelasalzman #pamelasalzman so I can see them.  It makes my day to see your beautiful creations!

Mini Taco Stuffed Potatoes
Ingredients
whole baby potatoes, scrubbed clean, the smaller the better (I used Yukon Gold)
Unrefined olive oil or avocado oil
Sea salt
Filling ideas: shredded chicken, refried beans, pico de gallo, vegan queso, guacamole or store-bought avocado salsa, pickled onions
Topping: crushed tortilla chips, if desired
Instructions
Preheat the oven to 400 degrees F.
Line a large sheet pan with unbleached parchment paper.
In a large bowl, toss the potatoes with just enough oil to coat. Arrange them on the sheet pan in one layer. Season with salt (I like to sprinkle up high). Bake in the oven for 20-40 minutes, until potatoes are tender and can easily be pierced with a paring knife. The roasting time will depend on the size potatoes you use.
Make a slit cut in the center of each potato, not cutting all the way through and carefully open each potato just enough to fill with toppings, without actually breaking it in half. Top with desired toppings and serve. Do this like a taco - big stuff first like the proteins, then the condiments. Have fun!