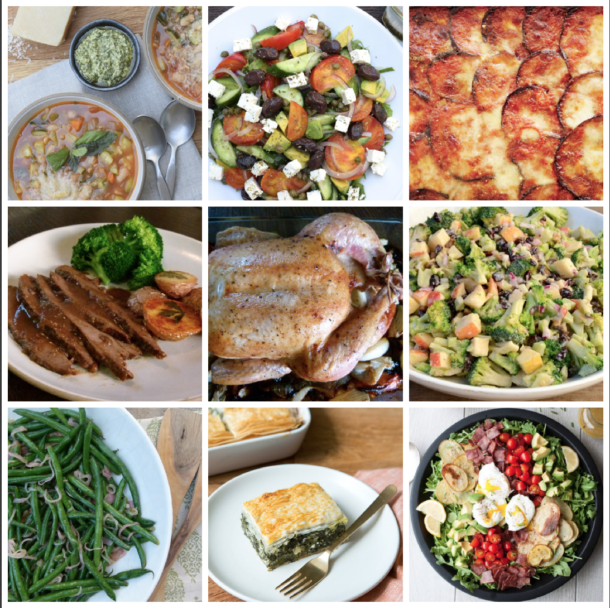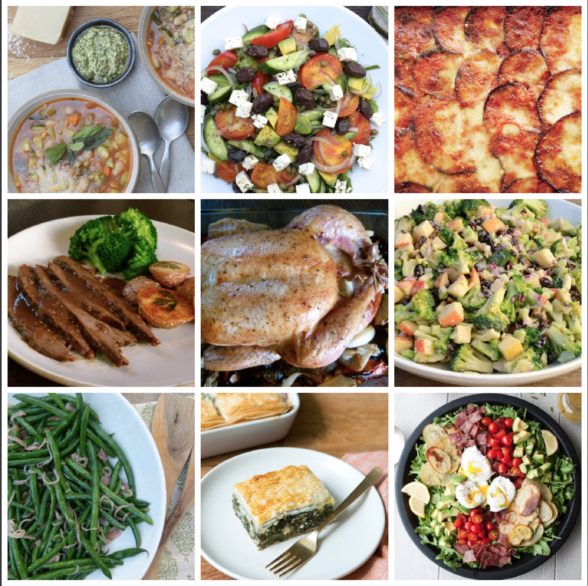 I'm in Dallas for the weekend for family weekend at the girls' school.  And it's my older daughter's birthday, so we'll be doing lots of celebrating!  I'm staying a few days extra to teach a private class at my friend Lisa's house, do a book signing at Interabang Books, and a cookign sgement on the FOX channel.  Busy, busy!
Here's your dinner planner for the week:
Meatless Monday: Late summer minestrone, salad or avocado toast if you need more
Tuesday: California greek salad, grilled or poached chicken or add rotisserie chicken if you want
Wednesday: Deconstructed fish taco bowls on rice, millet, quinoa or cauli-rice. I like these with avocado, salsa, and the ahi verde sauce from my cookbook, plus any veggies in the crisper like raw cucumbers or roasted carrots
Thursday: Eggplant, mozzarella and saffron rice bake from bon appetit (for dairy-free and vegans, use the cashew ricotta from this recipe) I will use a pinch of turmeric for the saffron, plus a green salad
Kol Nidre (day before Yom Kippur): brisket, easy no-fail whole roast chicken with onions, fennel and potatoes, shredded sweet potatoes and apple, honey-lemon green beans, green salad with everyday salad dressing #2
Yom Kippur Break Fast: I make so many different dishes, including Spanakopita, frittata, salads (like this delicata squash and apple salad, kale salad, and spinach and quiona salad with feta, broccoli crunch salad), tuna salad, chicken soup, noodle kugel (my mother-in-law's recipe)
Sunday: Breakfast salad for dinner(I'll sub leftover lox from last night for the turkey bacon)
Here's what you can do ahead if you need:
Sunday
Wash lettuce greens and herbs
Rice your cauliflower, if using
Cook white beans from scratch if you don't want to use canned, see this post for how to cook beans from scratch
Make chicken or vegetable stock
Make pesto, if you want to use it on the minestrone
poach chicken, if using
Tuesday
Make aji verde sauce, if using
Cook rice, millet or quinoa for taco bowls
If making roast chicken for the holiday, salt your chicken using this method
Thursday
Prep for Yom Kippur (make brisket, salad dressings, etc.)
Here's a link to my previous dinner planners.
If you like my recipes, you'll LOVE my new cookbook!