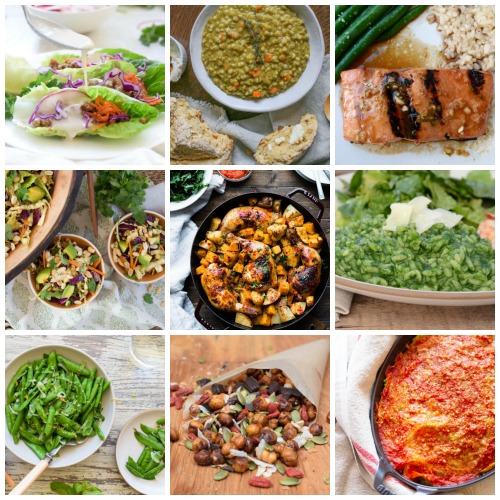 Oh, friends.  This too shall pass.  BUT, we all have to do our part so this passes quickly.  Doing our part means social distancing, trying to stay healthy, not hoarding resources at the stores and generally taking this seriously.  I am taking the position that if I don't need to go out, I'm not going out.  All my professional bookings have been canceled for the rest of the month, social functions, too.  We have enough food, but I'll have to get creative as many of you will need to do, too.  I did a combination of shopping in stores and online.  I focused on as much fresh produce as I could fit in the crisper drawers, and then bought frozen veggies like broccoli, cauliflower rice, mushrooms, mixed vegetables, peas, and spinach plus frozen fish.  I upped the quantities of the staples I always keep on hand: onions, garlic, olive oil, beans of all kinds (canned and dried), lentils, rices, pasta, barley and quinoa.  Plus jarred tomatoes, marinara sauce, canned fish, butternut squash, sweet potatoes, regular potatoes.  I always have nut butters, nuts and seeds, dried fruit.  If you have a recipe that calls for an ingredient you do not have, leave me a comment here!  I am happy to help you!  We are truly all in this together.
Here's your dinner planner for the week:
Meatless Monday: Raw Tacos, rice, refried beans and guacamole (recipe here).
Tuesday (St. Patrick's Day): You can make an array of yummy "green" things for St. Patrick's day without using food coloring. We will most likely make split pea soup and Irish soda bread.  Other green food you could try: green pancakes, green muffins, green matcha chia pudding, "leprechaun juice" smoothie, vegan mint chip smoothie, green spinach risotto, asparagus or broccoli soup, one pot barley with melted cabbage from my cookbook or any recipe using a green vegetable such as minted sugar snap peas, Brussels sprouts, broccoli, cabbage or spinach
Wednesday: Lime-soy fish, Thai crunch salad
Thursday: Harissa-style roast chicken with butternut squash and potatoes from Kitchen Confidante, sautéed cauliflower rice
Friday: Spinach Risotto and sautéed shrimp, sautéed sugar snap peas with mint (olive oil, garlic salt and pepper + mint at the end)
Saturday brunch: Full-fat or dairy-free yogurt topped with my Crunchy Chickpea Trail Mix and diced mango. Feel free to replace the yogurt base with oatmeal. Pair with a warming Spiced Chai and it's the perfect way to start your weekend!
Sunday: Deconstructed stuffed cabbage casserole
Here's what you can do ahead if you need to:
Sunday:
Wash and dry all greens and vegetables
Prepare taco bar toppings
Make fish marinade
Make harissa marinade
Make salad  dressing
Tuesday:
Marinate chicken
Friday:
Make trail mix
I have LOVED seeing all your creations of my recipes on Instagram. If you make any of my recipes, please tag me @pamelasalzman #pamelasalzman so I can check them out!
Click here to learn more about my online cooking classes! If you like my recipes, you'll LOVE my cookbook "Kitchen Matters"!  If you have 1 minute, would you mind leaving a review on amazon?  I would be so grateful, thank you!  My new cookbook, Quicker Than Quick, is available for pre-order!