I promise this is the last time I will complain about the weather.  But really, for LA, this rain and sub-60 degree temperatures are cramping my style.  I want my money back! I am drinking more hot water and tea than ever to stay warm and relying on more cooked food than raw.  I know that spices have a warming thermal nature, so I decided to flip through my friend Kanchan's (on Instagram she is @chiefspicemama) cookbook, "Spice Spice Baby:  100 Recipes with Healing Spices for Your Family Table."  I was instantly drawn to her recipe for "Anti-Microbial Spiced Chai" which not only looked cozy and delicious, but I happened to have all the ingredients on hand.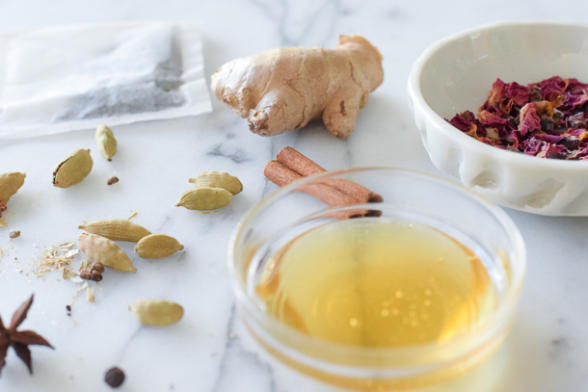 Soooooo delicious and a nice change of pace from my typical yerba mate or matcha lattes.  The Hindi term "chai" means a blend of spices steeped into a tea beverage. Recipes for chai vary from town to town and family to family. But the classic ingredients in chai usually include black tea mixed with spices like cinnamon, cardamom, cloves, ginger and black peppercorns. The spiced tea beverage is usually brewed on the strong side with buffalo milk and sweetened with sugar or honey. The chai that I've ordered at Starbucks is a far cry from "real chai."  Way too sweet and not spicy enough, in my opinion.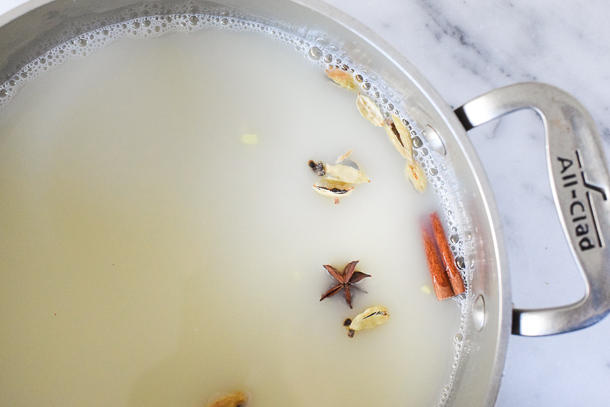 Not only do I really love a traditional chai, but the warming spices have health benefits!  Kanchan writes that gingerol from ginger reduces mucous production in the nasal passages and fights inflammation.  Cardamom has anti-bacterial powers and star anise contains shikimic acid, which is the active ingredient of the world's most successful anti-viral drug, Tamiflu!  How about that!  Cinnamon has both anti-viral and anti-bacterial benefits and is a potent anti-inflammatory agent, while black pepper kills nasty bacteria and lowers inflammation.  Finally, cloves contain eugenol, which reduces blood clotting, aiding in the relief of a sore throat.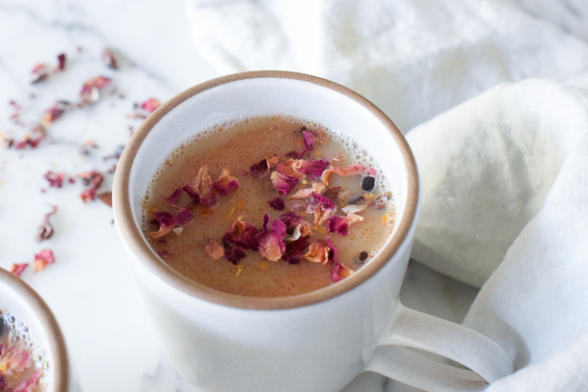 If you love chai, but you don't want to make this spice mixture every time, you can also consider a pre-made chai spice mixture from Countertop Foods.  I love this company which was founded by two LA moms.  Their spice blend is absolutely wonderful in a pinch.  You can find their website here.  I threw these dried rose petals and raw cacao nibs on for fun, but they were a great addition.  Treat yourself today with a special, healing tea.  You're worth it! If you make this or any of my recipes, I would love to see your creations!  Tag me on Instagram @pamelasalzman #pamelasalzman
Shop the tools I used for this recipe by clicking on the images below!

Anti-Microbial Chai Tea Latte
Author:
Spice Spice Baby Cookbook by Kanchan Koya PhD
Ingredients
1½ cups water
1½ cups milk of choice, I used unsweetened almond milk
1½ Tablespoon finely chopped ginger
8 cardamom pods, gently smashed to expose seeds
1 star anise pod
½ inch bark of cinnamon, preferably Ceylon
2 black peppercorns
1 whole clove
2-3 teaspoons loose, black tea leaves or English Breakfast tea bags depending on how strong you like your tea
sweeter of choice (optional), I used a small drop of honey
garnishes (optional): a pinch of ground cinnamon, fresh or dried organic rose petals, cacao nibs
Instructions
In a medium sized pot, bring the water, milk, ginger and whole spices to a boil. Reduce heat to a low simmer for 10 minutes.
Add the leaves or a tea bag and simmer for 3 minutes, For a stronger brew, rest the tea off the heat for another 2 minutes.
Strain into your favorite mug, sweeten if you like. Garnish with cinnamon, rose petals or cacao nibs, if desired.
Notes
For a quick, albeit less spiced version, place the whole spices and tea bag in a large mug. Pour boiling water and brew for 3 minutes. Remove the tea bag, add milk of choice, sweetener if using and enjoy! You're free to let the whole spices linger in the tea or remove them too.