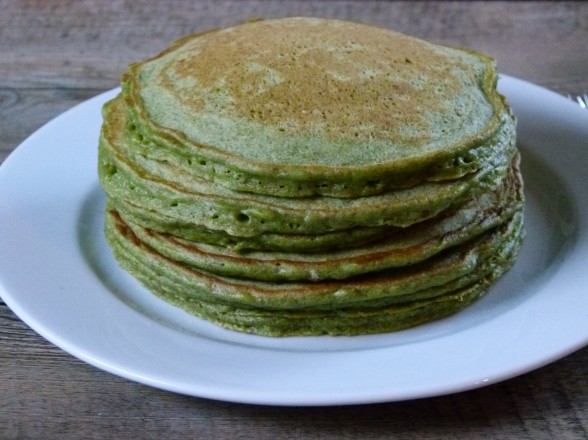 My favorite green holiday is coming up which is funny since I'm not one iota Irish, I don't drink booze nor do I eat beef.  But I look forward to St. Patrick's Day so I can take all the liberties in the world to play up the GREEN in what we eat.  Sure, you can make Irish soda bread, cabbage and corned beef which are all very expected, but I think any green food shows your spirit!  Last year I posted a spinach and avocado smoothie (sweet, not savory, Silly!) and spinach risotto (that's what this Italian girl eats on March 17th!) in honor of St. Patrick's Day.
Last weekend I was making a green smoothie for Mr. Picky and as I added the spinach I thought about blending spinach into the liquid mixture for pancakes.  Light bulb!  I know it's weird to think of spinach in a non-savory way, but I promise it totally works!  If you can't taste the spinach in a smoothie, you shouldn't be able to taste it in pancakes, right?  Right.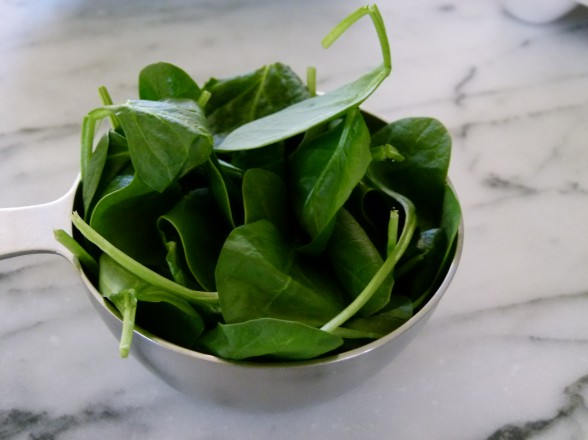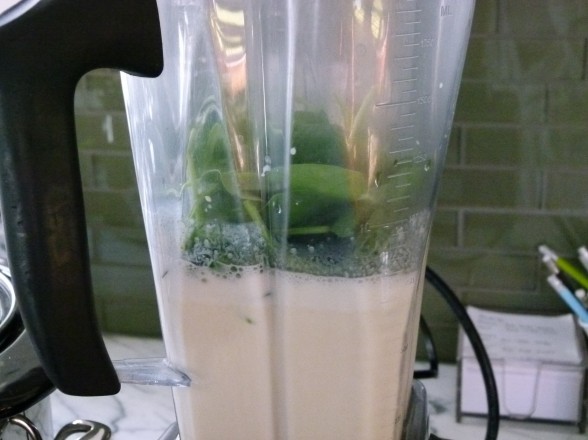 Soooo, I very enthusiastically started making some green pancakes for breakfast.  And very predictably, my daughters were like "Really Mom?  What are those?"  And before I could answer my darlings, Mr. Picky chimed in "Hey, are those for St. Patrick's Day?"  Yes, you fantastic child.  That's EXACTLY what they're for!"  Thanks for playing.  St. Patrick's Day pancakes for all!!  Everyone, including my mother who was visiting, enjoyed these pancakes as much as my traditional buttermilk pancakes, because they taste exactly the same!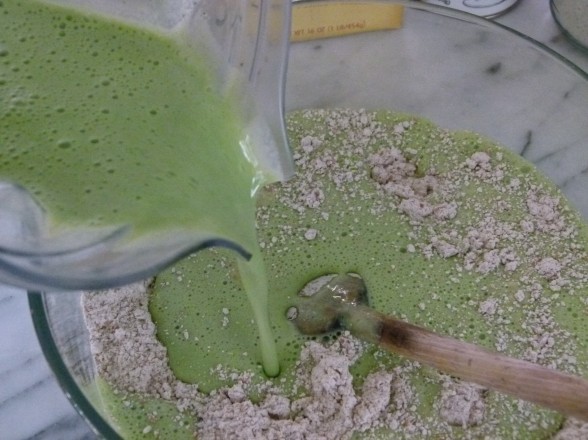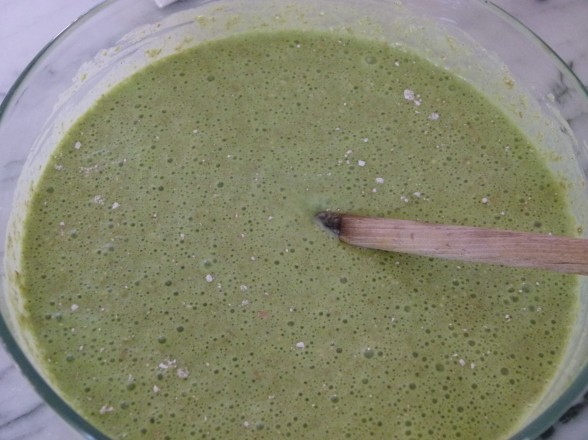 You know I don't do the sneaky food thing.  That's too much work and too stressful for me and it really doesn't upset me if my kids don't like everything.  I just do what my parents did which was to make one meal and if you ate it, you ate it and if you didn't, you didn't.  No one got mad or anxious or worried.  Eventually, we all ate like my parents.  Eventually.  My point is this isn't about being sneaky.  Sure spinach pancakes are an easy, tasty way to eat some greens without realizing you're eating greens.  I'm making these just for fun and they happen to be a bit more nutritious!  But if you have alterior motives, go for it.  There's no better time to serve green pancakes than St. Patrick's Day.  Of course, there's also Christmas, Earth Day, first day of Spring, Halloween, game day if you're an Eagles or Packers fan……

St. Patty's Day Green Pancakes
Ingredients
2 cups whole wheat pastry flour, white whole wheat flour or whole spelt flour* (I tested the recipe with sprouted spelt flour.)
1 teaspoon aluminum-free baking powder
1 teaspoon baking soda
1 teaspoon fine sea salt
2 cups buttermilk**
2 large eggs
1 teaspoon pure vanilla extract
1 Tablespoon 100% pure maple syrup
2 cups packed baby spinach leaves
3 Tablespoons unsalted butter, melted
Melted, unrefined coconut oil for brushing the griddle (or butter)
Instructions
Preheat a griddle to 400 degrees or medium heat. (I've noticed that many griddles cook differently even at the same temperature!)
Combine the flour, baking powder, baking soda and salt in a large mixing bowl.
In a blender combine the buttermilk, eggs, vanilla, maple syrup, spinach and melted butter until completely smooth.
Pour the wet mixture into the dry ingredients and stir until just combined.
Brush the griddle with coconut oil and spoon about ¼ cup of batter onto the griddle. When bubbles start to form on the surface of the pancake and the edges become slightly dry, flip it over and cook until down. Maintain the heat on medium-low or 400 degrees.
Notes
*Gluten-free:  substitute 1 cup buckwheat flour and 1 cup brown rice flour for the wheat flour.  Or you can use GF oat flour, too, such as ⅔ cup oat flour, ⅔ cup buckwheat flour and ⅔ cup brown rice flour.

**No buttermilk?  Sub half unsweetened yogurt and half whole milk.