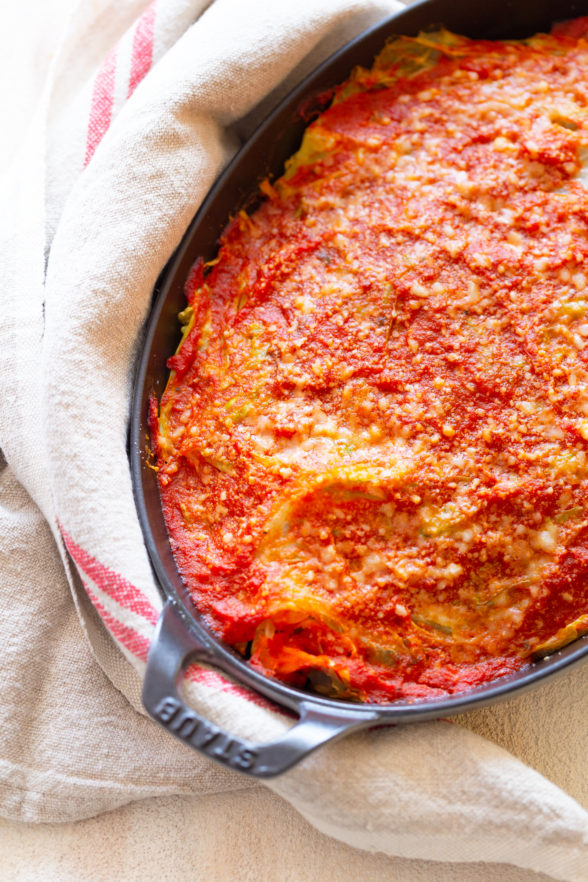 Ok, I'm going to come right out and say it – I'm not great at St. Patrick's Day.  I am not a corned beef girl.  Cabbage, yes.  Irish soda bread, ok (my recipe is great though!) Irish cream, not so much.  When my kids were wee ones, I took advantage of the holiday and made so much green food for a week in anticipation of the holiday.  Green muffins, green pancakes, green breakfast cookies, green smoothies, green risotto, you name it.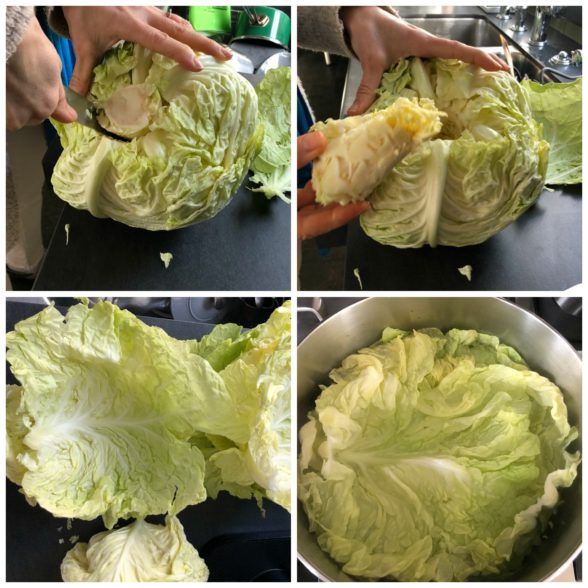 Since cabbage is in season and always on a major sale before St. Patrick's Day, I thought this deconstructed cabbage casserole would be a fun recipe to try.  I love stuffed cabbage rolls, but this is a little easier since you don't have to do individual rolls. Plus, each person can take the size (big or small) portion s/he desires.  You know I love efficiency!  So although this may not be an "Irish" dish to serve next week, I think it still fits the theme in some way.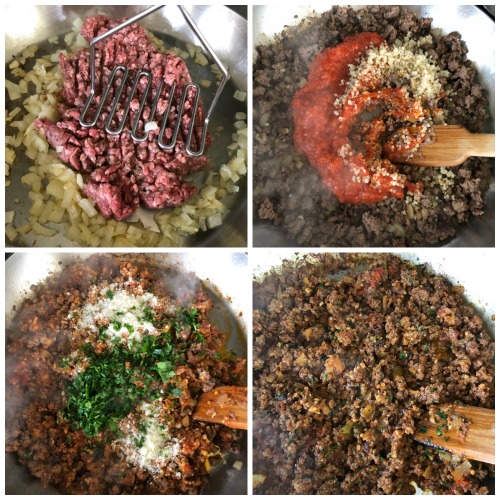 I hardly ever cook beef because I don't love the taste or texture and my husband doesn't eat it.  My kids still like meat and my students would still like a recipe every year with meat.  But I only buy grass-finished beef.  I have used the term grass-fed a little too loosely on my site, but there is a big difference between "grass-fed" and "grass-finished." We hear more about grass-fed beef  as the best choice for meat, but the term "grass-fed" is not well-regulated.  Unfortunately, the term grass-fed doesn't exactly mean the cow was fed a diet of grass their entire lives. It means they were started on a grass-fed diet, and may have been fed grains for the remainder of their lives, which is actually grass-fed, grain-finished beef.  To be clear, as long as the cow ate grass at one point in its life, it can be labelled as grass-fed beef.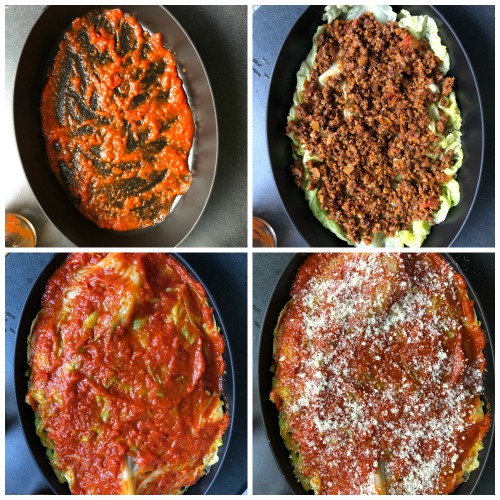 On the other hand, grass-finished beef means the cow ate only grass and plants for its whole life.  So look for grass-finished as your first choice since that meat will have the most nutrients such as Omega-3 fast and CLA, and grass-fed as you second choice.  "Regular" beef, aka grain-fed, is all sorts of not good.  I hate to be the bearer of bad news, but these cows eat food they're not supposed to and get fat and sick.  They need antibiotics and don't see the outdoors.  They don't develop anti-inflammatory fats, but instead develop more pro-inflammatory fats.  Yikes.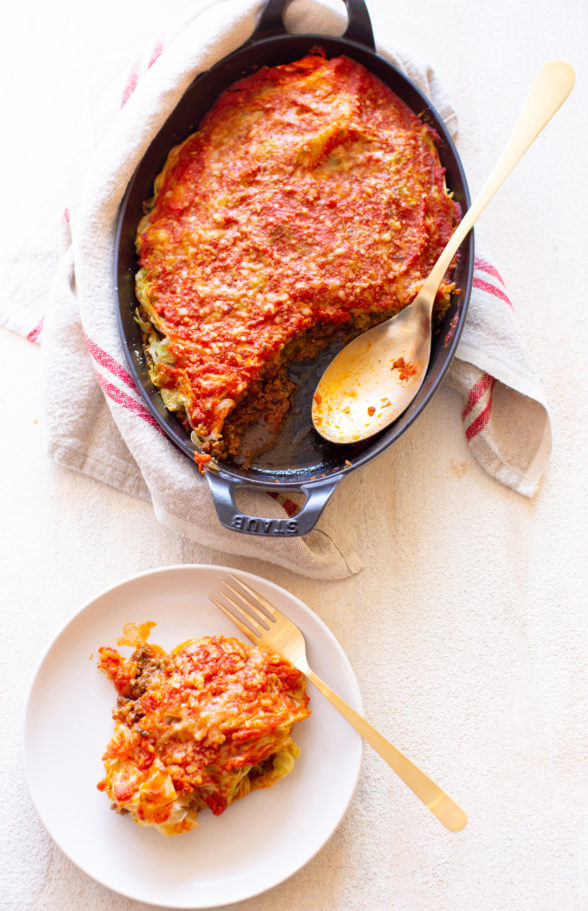 For those of you who don't eat beef, you can sub ground dark meat turkey.  If you're vegetarian, you can sub 1 pound of already cooked lentils or sauteed crumbled tempeh.  Another idea is to do half beef and half lentils.  Nothing wrong with that.  This is a very simple dish.  There aren't too many ingredients, but it packs a lot of flavor.  You can serve this on its own for dinner or with a side vegetable like asparagus or a fresh salad, or if you need something heartier, roasted potatoes like these crispy salt and vinegar ones.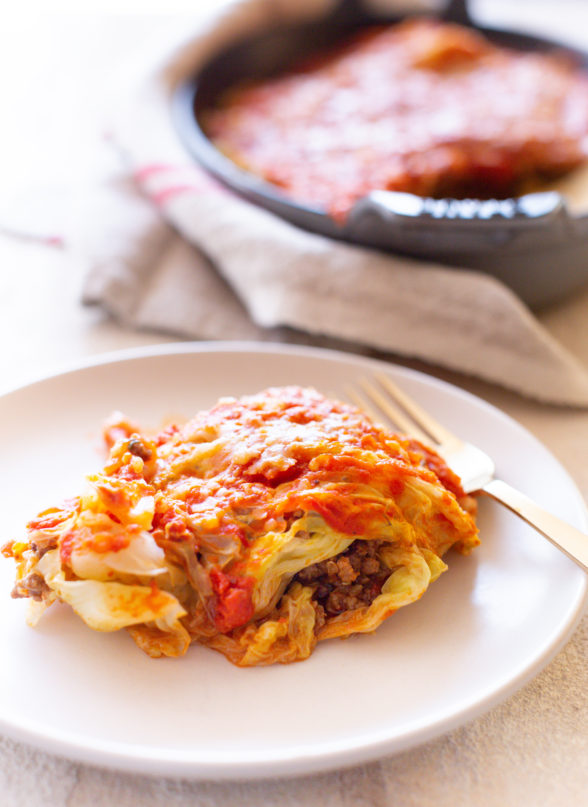 I have a feeling many of us will be staying home a bit more in the foreseeable future due to the coronavirus outbreak and uncertainty around it.  Chances are you'll be cooking more as well, which is a good thing.  If you have always wanted to take my online cooking classes, now would be a great time to start!  Click here for more information.  ALSO, my new book, "Quicker Than Quick" is available for pre-order!!!  Fast, healthy, delicious, road-tested and perfected recipes – this is a must-have!
If you make any of my recipes, please tag me on Instagram so I can see your beautiful creations!  @pamelasalzman #pamelasalzman Stay healthy, friends!
You can shop the tools I used for this recipe by clicking on the images below:

Deconstructed Stuffed Cabbage Casserole
Serves:
4, Makes 1 8 x 8-inch Casserole
Ingredients
Whole cabbage leaves, preferably Savoy*
1 Tablespoon unrefined, cold-pressed olive oil
½ a large onion, diced
1 pound grass-fed ground beef (look for one with a higher % of fat)
½ teaspoon sea salt
pinch freshly ground black pepper
2 medium garlic cloves, finely chopped
1¼ cups marinara sauce, divided + extra if desired
5 Tablespoons freshly grated Pecorino (sheep's milk cheese) or Parmesan cheese (cow's milk), divided
⅓ cup cooked rice, millet or quinoa (I'm sure cauliflower rice would be great, too)
¼ cup fresh flat-leaf parsley leaves and tender stems, finely chopped
Instructions
Preheat oven to 350 degrees.
Bring a large pot of water to a boil on high heat and add cabbage leaves. Leave cabbage in the pot for 2-3 minutes. Drain and set aside in one layer.
Heat a large skillet over medium heat. Add olive oil and heat until warm. Add onion and sauté until tender and translucent, about 5-7 minutes.
Add the meat, salt, and pepper to the skillet and stir, breaking up meat into smaller pieces with a wooden spoon or turner. Saute the meat until cooked through and sizzling, about 8-10 minutes.
Add the garlic and sauté until fragrant, about 60 seconds. Drain excess oil, if necessary. Add ¾ cup of marinara sauce, 3 Tablespoons grated cheese, rice and parsley and stir to combine well.
Spread ¼ cup marinara sauce on the bottom of the baking dish. Cover the bottom with cabbage leaves. Spread half the meat mixture evenly over the cabbage leaves.
Place another layer of cabbage leaves over the meat mixture. Spread remaining meat mixture over the second layer of cabbage leaves. Top with another layer of cabbage leaves. Cover the top layer of cabbage with remaining ¼ cup sauce, or more if desired. Sprinkle with 2 Tablespoons grated cheese. Bake uncovered for 25-30 minutes or until casserole is bubbling on the sides.
Notes
*The number of leaves you need for each layer depends on how large they are. You can probably get by with 6 total large leaves, 2 for each layer.
You can also top the casserole with grated mozzarella cheese and bake until cheese is melted and browned.