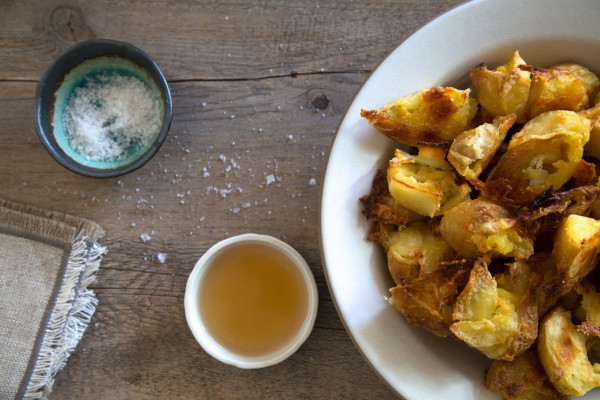 Roasted potatoes are a no-brainer side dish that I can confidently place on most of my dinner menus.  Whether they're cut into sticks, wedges or quarters, with rosemary or thyme or just with sea salt, everyone loves tender, crispy potatoes.  If I have an extra few minutes, I'll par boil, smoosh, and then roast them.  (Recipe here.)  And if I really want to wow everyone, I'll make them extra crispy and toss them with vinegar.  My son (who normally likes to keep his food as simple as possible) absolutely loves these because "it's kind of like eating salt and vinegar potato chips."  Only better!  Picture a warm and crusty potato potato with a little tang and salt and you have my dream spud.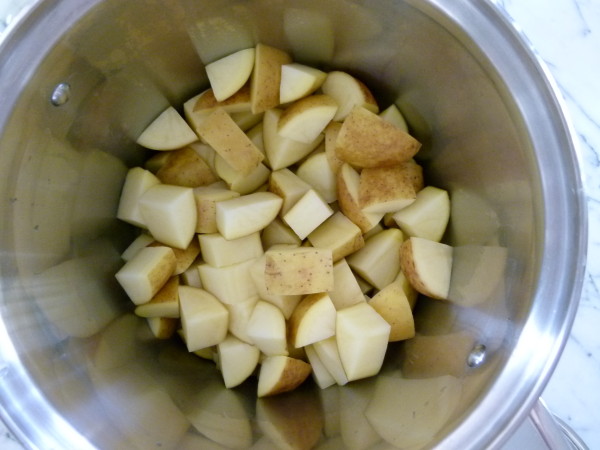 If you're in the never-ending SoCal heatwave, feel free to wait until the temperature dips below 90 degrees before you make these since you'll be cranking up the oven pretty high.  With high oven temps (i.e. 400 and above,) we need to be mindful of damaging the fat we use.  The best and most healthful way to go is with saturated fats which can withstand higher temperatures without oxidizing.   The reason we want to avoid oxidized fats is because they are pro-inflammatory and have developed free radicals.  The saturated fats I use regularly for high heat cooking are ghee, which is a clarified butter, and coconut oil.  I also use duck fat once in a blue moon and primarily on potatoes.  With this recipe, duck fat would be ideal, but I use a combination of ghee and olive oil.  The flavor of all ghee would be a little strong, so I prefer to temper it with some olive oil.  In addition, combining olive oil and a saturated fat will help protect the olive oil when cooking.  If you're not ready for ghee or you don't have any, you can use all olive oil.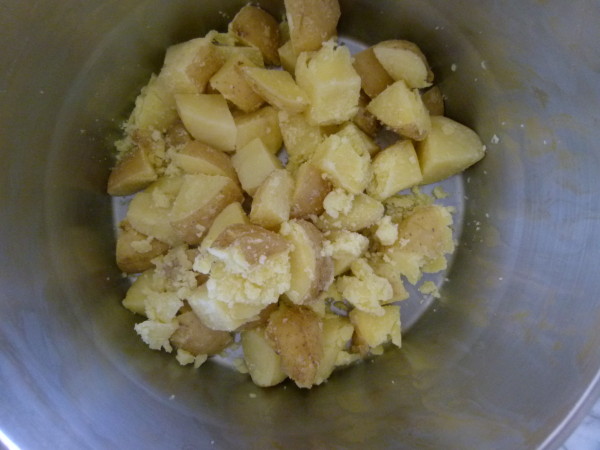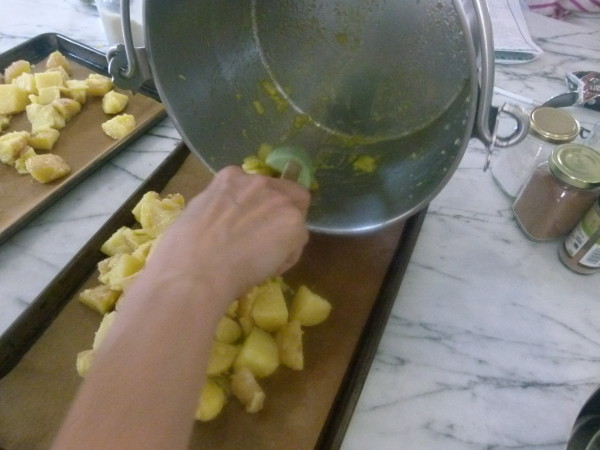 This method of roasting potatoes is my favorite, even without the vinegar.   It's definitely a little more work than cutting them and throwing them on a sheet pan, but the crispy bits can't be beat and we all fight over them.  The idea is to boil the potato pieces first and then beat them up or "chuff" them a little, thereby creating a rough exterior and more edges to get crispy.  It's a genius method I adapted from Jamie Oliver.  The idea for the vinegar and salt comes from this Bon Appetit recipe.  However you can definitely put your own spin on this, adding cheese on top of the potatoes in the last 5-10 minutes or serving them with a spicy mustard.  You are going to looooove these!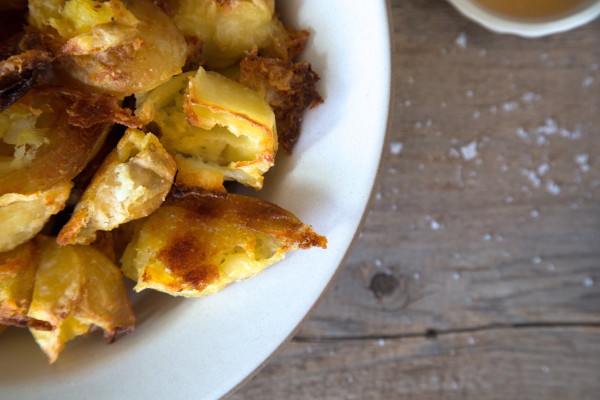 crispy salt and vinegar potatoes
Ingredients
2 pounds baby Yukon gold potatoes, halved, or cut into 2-inch pieces*
1 cup plus 2 Tablespoons distilled white vinegar, divided (or finish the potatoes with a malted vinegar like Aspall's)
1 Tablespoon kosher salt
1 Tablespoon ghee, melted
1 Tablespoon unrefined, cold-pressed, extra-virgin olive oil (or omit the ghee and use all olive oil)
Sea salt and freshly ground black pepper, to taste
2 Tablespoons chopped fresh chives, optional
Instructions
Preheat oven to 450 degrees and line a large rimmed baking sheet with parchment paper.
Combine the potatoes, 1 cup of vinegar and kosher salt in a medium saucepan with a lid; add water to cover by 1". Bring to a boil, reduce heat, and simmer until potatoes are almost tender, about 15-20 minutes or until a knife can be inserted easily into the potatoes but there's just a little resistance in the center.
Drain the potatoes in a colander and return them to the pot. Cover with the lid and give the pan a really good shake to fluff up the potatoes; these soft, loose edges will become really crispy during roasting. If you want, you can scrape the edges and tops of the potatoes with a fork to create even more fluffy bits.
Add the oil/ghee to the baking sheet and place in the oven for 10 minutes until very hot. (Or leave the ghee and oil in a bowl and place the bowl on the baking sheet in oven.) Carefully add the potatoes to the hot oil, then sprinkle with sea salt, to taste. Return to the oven and roast until potatoes are crispy and golden brown, about 50-60 minutes, turning once halfway through to ensure even browning.
Remove from pan and place in a serving bowl, add remaining 2 Tablespoons of vinegar and more sea salt, to taste. Sprinkle with chives, if using and serve hot.