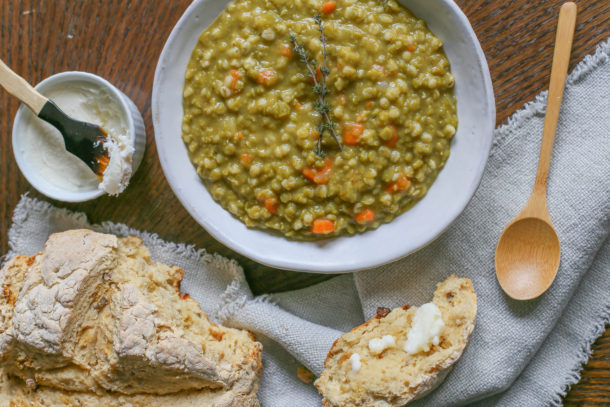 St. Patrick's Day is approaching and I am here to tell you that you do not need to make corned beef and cabbage to be in the spirit.  Make anything green — spinach risotto, kale salad, a mint chip smoothie — and you're good in my book.  I actually discovered recently that split pea soup can have Irish roots.  Who knew?  So this might be a nice way to have a healthy and delicious St. Patrick's Day dinner without a lot of fuss.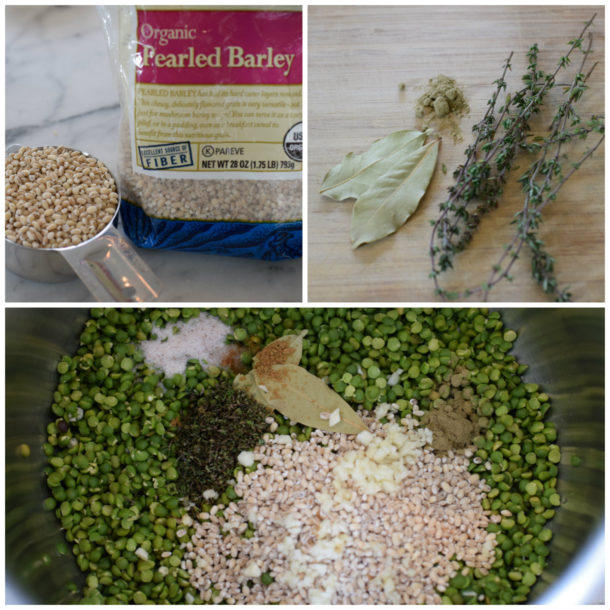 My husband loves soup of any kind and split pea is one of his favorites.  It's really hearty and earthy, a very peasant-y dish.  His grandmother used to make it often with potatoes, but he's come around to this recipe which is adapted from California Pizza Kitchen, the national chain of restaurants which is more famous for their pizzas than their soup.  Classic split pea soup is usually cooked with a hambone or a piece of pork. I don't eat pork and still think this tastes rich and flavorful.  What this soup has that I think is different and delicious is the addition of barley — a fiber-rich grain with a silky texture.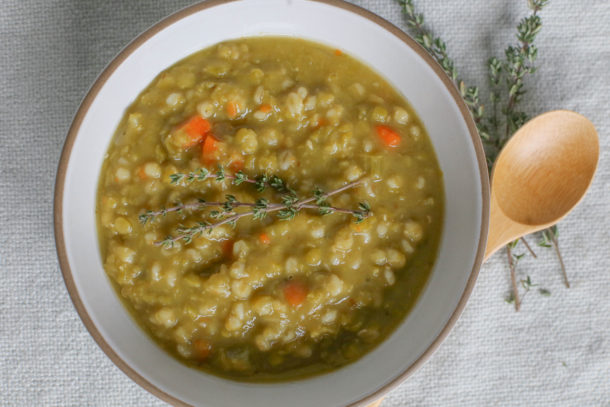 Split peas contain about 16 grams of protein per cup and a whopping 16 grams of fiber.  In addition, they are rich in B vitamins (especially folate and thiamin) and manganese. When I make this soup, it is a full meal which I might complement with a side salad.  If you really want to go all out, you can whip up a homemade Irish Soda bread and serve it warm out of the oven with this soup and I think you will be very popular.  At least I was when I served both together a few weeks ago!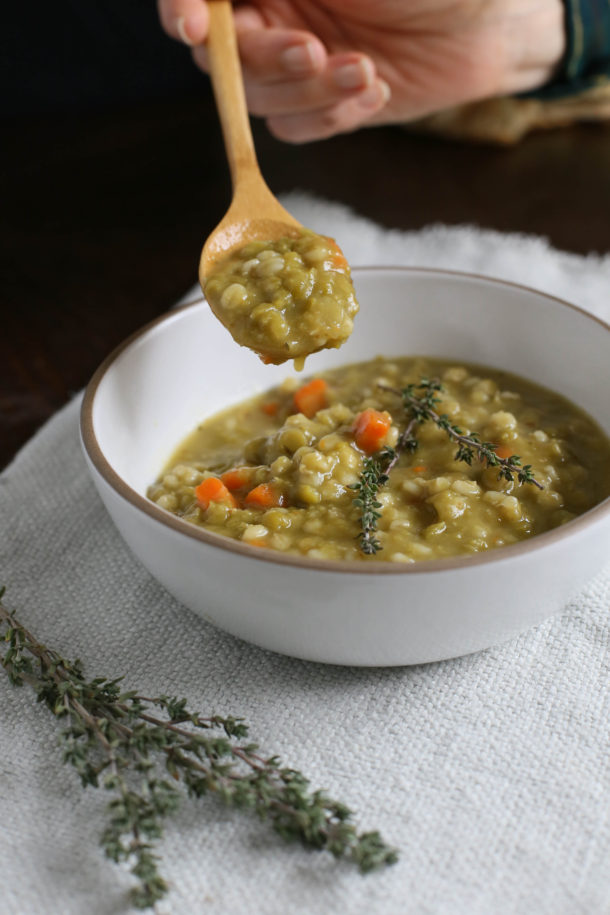 This year St. Patrick's Day falls on a Friday, which would make this soup Lent-appropriate since it is meat-free.  I'll post the recipe for the Irish soda bread before St. Patrick's Day, not to worry!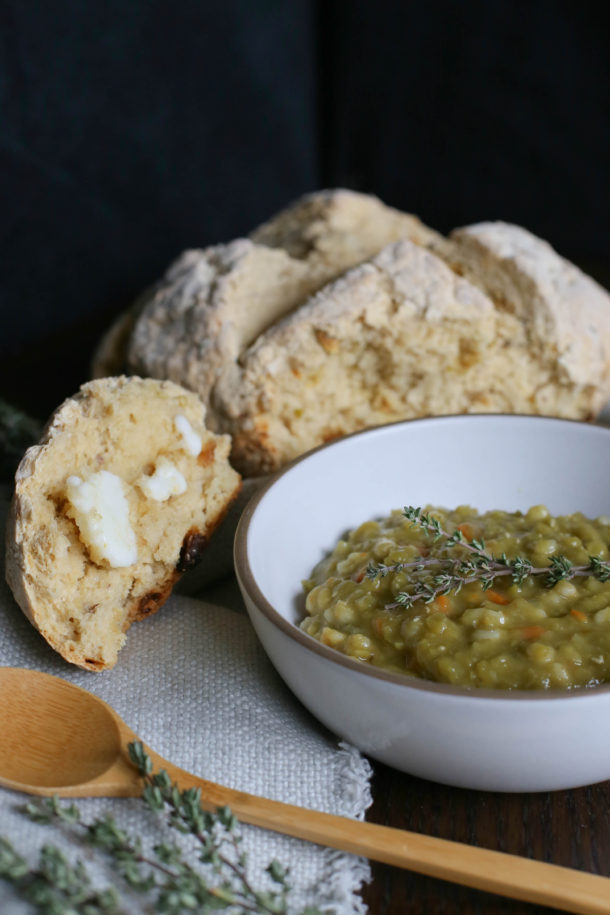 Split Pea and Barley Soup Recipe
Author:
adapted from California Pizza Kitchen
Ingredients
1 pound dried split peas, sorted and rinsed
½ cup semi-pearled barley (I use Bob's Red Mill or Arrowhead Mills*)
2 quarts water
2 bay leaves
1 teaspoon salt
1 Tablespoon shoyu or tamari
1 Tablespoon chopped fresh thyme leaves (or ½ Tablespoon dried)
2 teaspoons minced garlic
½ teaspoon rubbed dried sage
large pinch ground cumin
1 ½ cups diced carrots
⅔ cups minced onion
⅓ cup finely diced celery
optional: ¼ cup thinly sliced green onion tops
Instructions
In a large pot, combine peas, barley, water, bay leaves, salt, shoyu, thyme, garlic, sage and cumin. Bring to a boil over high heat. Reduce heat to a low simmer, cover and cook for about 20 minutes, stirring occasionally.
Stir in carrots, onion, and celery. Cover and simmer until vegetables are tender, another 25 to 30 minutes, checking periodically and adding small amounts of additional water if needed.
Discard bay leaves. Ladle soup into warmed soup bowls and garnish with green onion tops, if desired.
Notes
*They are labeled "pearled" but they are really semi-pearled.