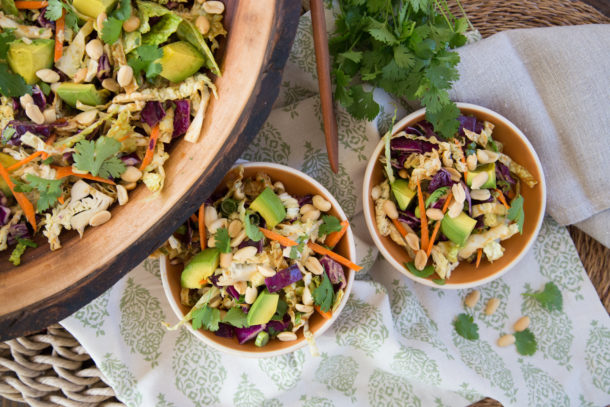 Just taking a wee break from Passover prep and other cooking class-related work to share a recipe I know you will love.  I taught this Thai Crunch Salad in my classes a few years ago and I still hear from my students that they make it all the time.  It's a season-less salad which is appropriate at any time of the year.  And now that peanuts (which are a legume) are Passover-approved, you can make this salad this week for dinner and put it in the kids' lunch boxes (or yours) the next day.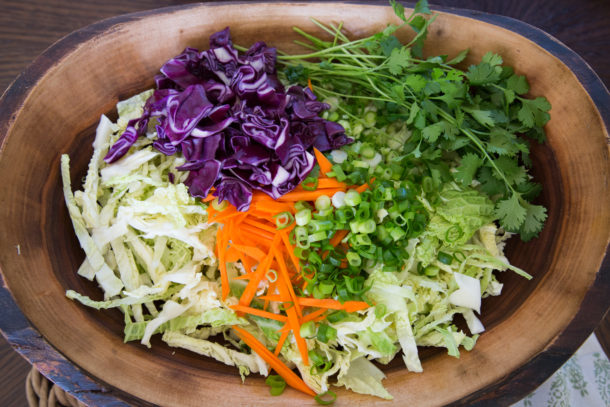 All my students know I am crazy for cabbage!  It is a totally under appreciated vegetable.  It is one of the few vegetables that are grown all year long, so it's always in season.  It's inexpensive and incredibly nutrient dense.  Cabbage is part of the brassica, or cruciferous, family of vegetables.  I try to incorporate vegetables from this group a few times a week because they contain an amazing amount of health benefits.  In these images, I used Napa and red cabbage, but you can use Savoy or standard green cabbage as well.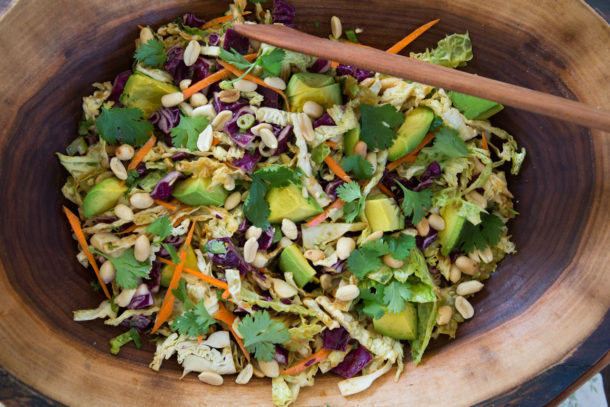 My kids love the dressing which is flavor-packed and peanut butter-based, but you can definitely use roasted cashew butter, almond butter or, for a nut-free option, sunflower butter.  Even tahini would be great!  Or do something totally different and use a cilantro-honey vinaigrette.  Click here for that recipe.  I love a super crunchy salad, and this does not disappoint.  In the summer, I love bringing this to potlucks and I'll swap out some of the cabbage for a little cucumber and sweet bell pepper.  For the cilantro-haters out there, leave it out.  You can use fresh mint with or without basil and it will still be delish.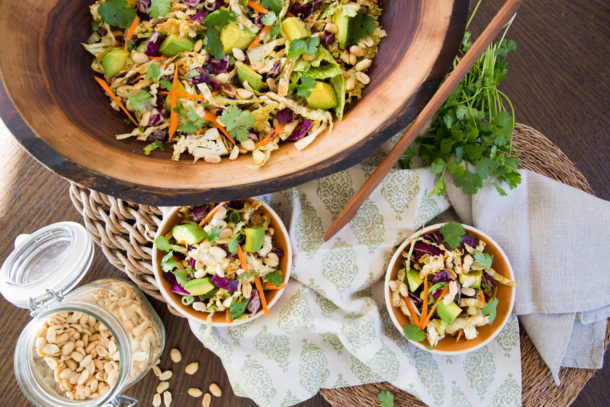 This salad already has your covered for protein with the added peanuts and peanut butter in the dressing, but you can certainly add more.  Blanched, shelled edamame are great in this, as is salmon or chicken prepared any way you like.  This salad is inspired by the Thai Crunch Salad at California Pizza Kitchen.  This is not intended to be a copy cat recipe, so please don't expect it to be exactly like their salad.  In fact, I think they toss the salad with a cilantro vinaigrette AND drizzle with a peanut butter dressing.  That said, feel free to play around with this and add some heat (more cayenne, add fresh ginger) or other fresh herbs.  You can't go wrong!

Thai Crunch Salad
Ingredients
For the salad:
½ head Napa cabbage, sliced* (see note next to dressing ingredients)
¼ head of red cabbage, chopped
1 carrot, peeled and julienned or shredded
2 scallions, sliced
handful of roasted peanuts
handful of cilantro leaves
1 ripe avocado, cubed
For the dressing*: (multiply by 1.5 if your cabbage is big or you like a lot of dressing)
2 Tablespoons creamy peanut butter
1 Tablespoon unseasoned rice vinegar
½ Tablespoon honey
½ Tablespoon water
½ Tablespoon shoyu or gluten-free tamari
pinch sea salt (or more if you use low-sodium soy sauce)
pinch cayenne pepper
1 Tablespoon unrefined, cold-pressed extra-virgin olive oil
other add-ins: grilled or roasted chicken, smoked tofu, mango, cucumber, sweet bell pepper, toasted coconut flakes
Instructions
Combine the salad ingredients in a large bowl.
To make the dressing: whisk together all of the ingredients in a bowl or a glass jar.
Use enough dressing to moisten the salad. Toss and serve. Leftovers stay good in the refrigerator for up to 4 days.