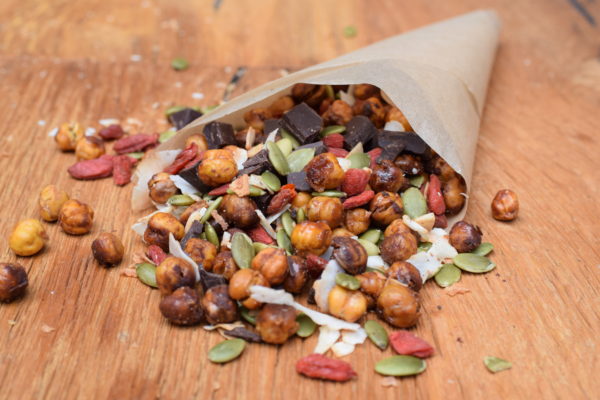 Snacks are tough.  My kids come home from school very hungry and they can eat a lot.  I want to offer them something nutritious obviously, but I don't have a ton of time to make homemade snacks every day.   Some of my default snacks are hummus with veggies or whole grain crackers, rice cakes with nut butter, quesadillas, yogurt with granola, almond flour muffins, apples and bananas with nut butter, and smoothies.  Stovetop popcorn and granola bars are common, too.  If I left my son to his own devices, I'm sure he would polish off a pint of ice cream or a bag of tortilla chips, but he has homework to focus on and soccer practice or religious school, so he needs better fuel than that.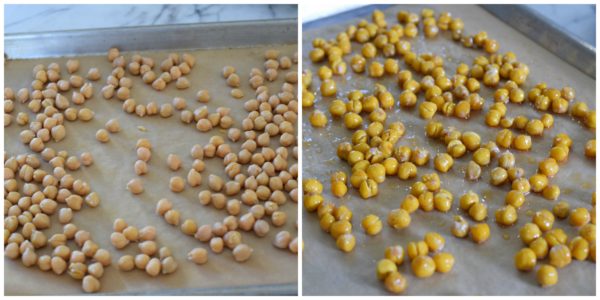 I've been intrigued by the appearance of "chickpea croutons" on dozens of salads I have seen all over Pinterest.  The cooked chickpeas are roasted until crunchy, sometimes seasoned with spices, and are a more nutritious alternative to croutons, which are basically small greasy bites of white toast.  I must have a little crunch in my salad, but I prefer the idea of chickpeas over croutons.  However, with all due respect to those who posted those crunchy chickpea recipes, most of them don't work.  Either the chickpeas do not ever become crunchy or they only stay crunchy for a few hours and then they become soft, like real chickpeas.  My son actually likes chickpeas and he likes trailmix, so I had an idea to make crunchy chickpeas and mix them with nuts + dried fruit + dark chocolate = crunchy chickpea trailmix, a perfect snack.  Except I tried at least a dozen recipes and the chickpeas always eventually became soggy, until one time I roasted them in the oven for a little while and then turned the oven off but left the chickpeas in there.  In this way, they wouldn't burn, but they would continue to dry out.  Ta da!  Winner!  This is the whole key to truly crisp-like-a-cracker chickpeas.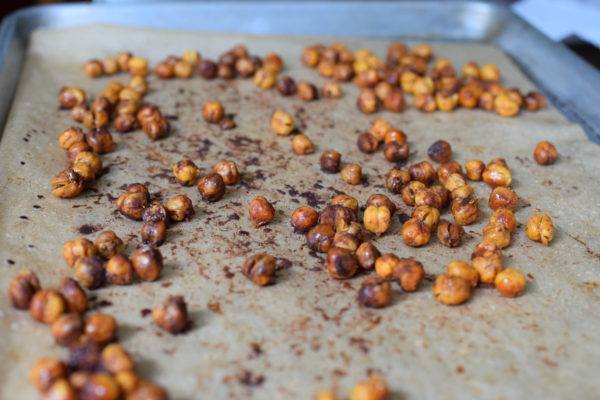 We are not nut-free in our house, nor do my kids go to nut-free schools, but I know there are a lot of families out there who contend with this challenge.  This trail mix is easy to make nut-free since the chickpeas make a great sub for nuts, and they are both high in protein which is something I always look for in a good snack.  And believe me, I am not trying to replace nuts.  Nuts are super good for you with exceptionally healthful fats, protein and fiber, BUT they are also high in calories and I have been known to overeat nuts without realizing it and it is possible to eat too much of a nutritious food if you are trying to maintain a healthy weight.  Like I said in my last post, I would be really skinny if nut butter didn't exist!  The nice thing about trail mix is that you can make it with whatever you have and to your liking.  I love a good balance of sweet and salty, soft and crunchy, with a touch of dark chocolate for fun.  Trail mix is my go-to snack for traveling since it keeps really well, although in the summer I usually omit the chocolate so there's no risk of melting.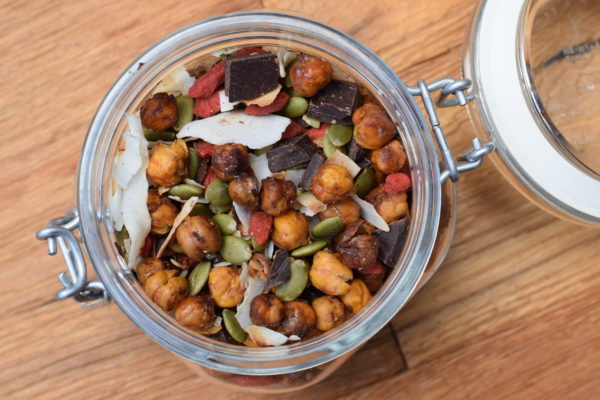 Every time I teach any recipe, someone asks me, "Does Mr. Picky like this?"  90% of the recipes I teach, he does like/tolerate.  He ate almost an entire pan of crunchy chickpeas in one sitting.  We all loved these and I haven't even begun to experiment with savory seasonings.  As long as you have the method down pat, you should definitely play around with different spices, like garlic powder + smoked paprika, cumin + cinnamon + cayenne, just to name a couple.  I think these would be amazing on salads, or on soups or on top of creamy dips like hummus, or as a "bar snack," to serve with cocktails.  These would even make a great hostess gift, especially if you've already given everyone you know homemade granola too many times. 😉  I can't wait to hear if you try this recipe.  Or just let me know about your experience roasting chickpeas until now!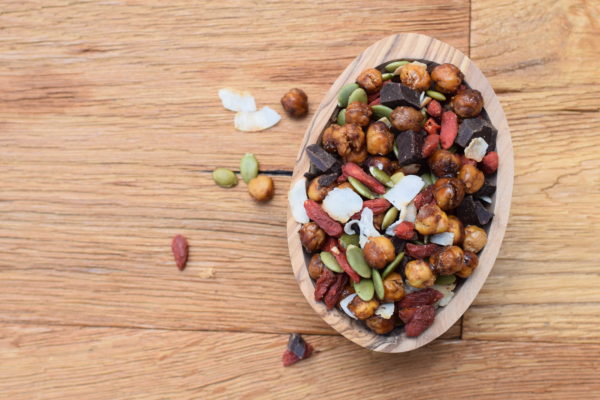 Really Crunchy Chickpea Trail Mix
Ingredients
1 ½ cups cooked chickpeas, or 1 15-ounce can, drained and rinsed
1 Tablespoon unrefined, virgin coconut oil
1 Tablespoon pure maple syrup, Grade A or Grade B
pinch of sea salt
½ teaspoon ground cinnamon
pinch of cayenne pepper
¼ cup goji berries or other dried fruit of choice, such as dried blueberries or cherries
¼ cup dark chocolate pieces
¼ cup pumpkin seeds or sunflower seeds, raw or toasted
¼ cup toasted, unsweetened coconut flakes (I do this in a dry skillet over medium heat, stirring until golden brown)
Instructions
Preheat oven to 400 degrees. Line a baking sheet with unbleached parchment paper.
Pat chickpeas dry as best you can. Remove whatever skins are loose. Place chickpeas on the baking sheet and roast for 20 minutes.
Remove from the oven and add coconut oil, maple syrup and salt and toss to coat. Put back in the oven and roast for another 15-20 minutes, or until golden brown. If a few pop, that's ok.
Turn the oven off. Toss the chickpeas with spices. Return pan to the oven and with the oven door closed and the heat off, allow the chickpeas to sit in the warm oven for another hour or until perfectly crunchy. You'll have to test one to be sure. It should be dry and airy. If they're still not crunchy, leave in the oven with the door closed and the heat off until they are crunchy through and through. Set aside to cool at room temperature.
Combine cooled chickpeas with dried fruit, dark chocolate, pumpkin seeds and toasted coconut. The crunchy chickpeas combine well with many different ingredients for a trail mix, so feel free to make swaps according to what you have on hand or what you like.