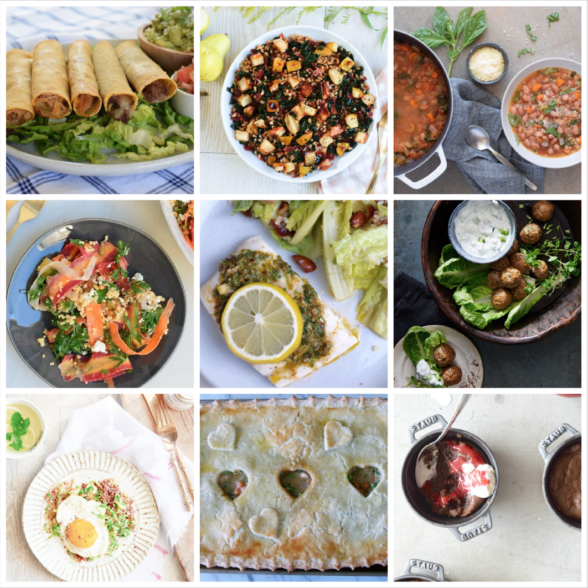 Check last week's dinner planner for some fun Super Bowl Sunday ideas!  In other news, I have two great giveaways happening on my Instagram feed, so definitely check those out.
I am really loving the Caraway nonstick pans I have been using since the summer.  They are ceramic-coated and non-toxic, heavy-bottomed so they conduct heat well and they are beautiful.  They NEVER go on sale, but through February 19th, they are offering my community 10% off the singles with this link (the discount will be automatic.)  Take advantage because whenever they do offer a promotion, it's usually only off an entire set! A few people have asked me about whether or not I have experienced deterioration of the interior and I have not.  Let me just say that high heat is discouraged when using these pans, and I don't advise using stainless steel utensils to saute.   Not everyone follows manufacturers' care guidelines for products, but I have and I continue to be pleased with these pans.
For my online cooking class students, I just filmed your February class today and it will be edited over the weekend and up shortly!!  It is fabulous and very adaptable.  I know you all eat differently, so there are plenty of swaps to make everything plant-based and gluten-free. Here's your dinner planner for the week:
Meatless Monday: Use those Super Bowl leftovers! Taquitos, homemade guacamole, Mexican sauteed greens
Tuesday: Farro and kale with roasted pears and turkey bacon, Fennel and green apple salad
Wednesday: Borlotti bean soup, crudites and dip (maybe red pepper pesto from QTQ)
Thursday: Simple roasted fish or fish with chermoula, rainbow carrot salad with millet, feta and lemon-yogurt dressing
Friday: Grain-free Greek Turkey meatballs from QTQ – so many ways to serve these!  Kids love them in pita with tzatziki or pasta/spaghetti squash with tomato sauce doctored up with dried oregano and fresh mint + feta; or in a bowl with rice (add some dill – yum!) or cauliflower rice and roasted veggies; or on a Greek salad bowl.
Saturday brunch: Brussel sprout and quinoa hash with fried eggs (p. 61) from KM
Sunday (Valentine's Day): I always make my Chicken Pot Pie (omit the chicken and sub extra veggies for a vegetarian version) with a simple fresh side salad and this year I'm making molten chocolate cakes for dessert!  Other dinner options that I love for Valentines Day are Salmon with Beets and Spinach, or Hearty Vegetable Vegan Lasagna or even Lasagne Cupcakes along with a lightly tossed green salad (for fun I take out my mini heart shape cookie cutter and cut radishes and avocado into hearts.) Another dessert option could be these Mini Flourless Chocolate Cakes with Raspberry Sauce or Chocolate Bundt Cake with Chocolate Ganache. Yum! If you're making a Valentine's Day breakfast instead of dinner I love making these pink Pitaya Pancakes. Also, this Valentine's Day Snack Board is the perfect snack.
Here's what you can do ahead if it helps you:
Sunday:
Wash greens, strip kale
Cook farro
Make stock, if using for bean soup
Make red pepper pesto
Wednesday:
Make yogurt-lemon dressing
Cook millet and  quinoa
Thursday:
Make meatball mixture
Make tzatziki, if using
My new-ish cookbook, Quicker Than Quick, is here!  I have LOVED seeing all your creations of my recipes on Instagram. If you make any of my recipes, please tag me @pamelasalzman #pamelasalzman so I can check them out!  If you have 1 minute, would you mind leaving a review on amazon?  I would be so grateful, thank you!
Take a peek at my first cookbook "Kitchen Matters"!