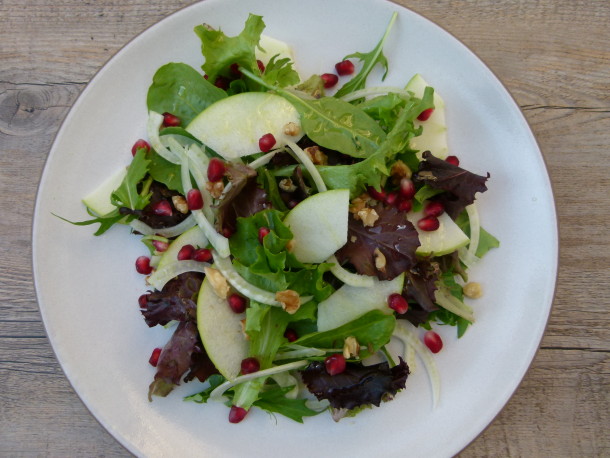 I just adore fennel and its hint of licorice (that's the black kind, not the red).  When I was a child, after a big Sunday dinner, my Aunt Maria would pass around a platter a raw fennel wedges along with a bowl of tangerines and unshelled nuts.  We would chomp happily on the fennel the way my kids munch on celery today.  Fennel is an amazing digestive aid and the perfect way to end a big meal in the fall and winter when it's in season.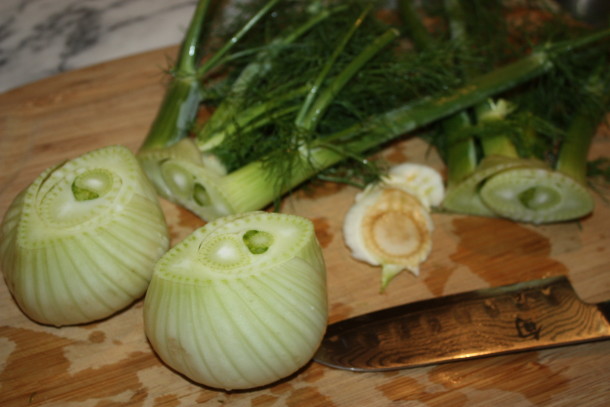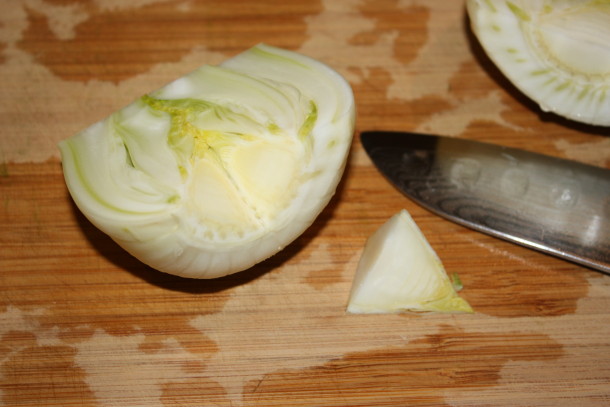 I started playing around with fennel and green apples last winter and loved the combination for a salad.  The flavors go so nicely with poultry and fish and even better, my kids tend to eat more salad when there's fruit in it.   I knew this had to be a part of our Thanksgiving dinner, no doubt the biggest meal of the year.  To dress it up a bit, I added greens and my favorite fall/winter salad add-in, pomegranate seeds.  While the salad was a huge hit on Thanksgiving, the green and red colors were a natural for Christmas.
Whether you are serving fish, pork, turkey or chicken this Christmas, I'm sure a salad would add some balance to your meal.   You can serve it with or without the greens, but the pomegranates are a must.  The little red seeds are like rubies or ornaments on a tree!  The walnuts were another last minute add-on, but provide some extra crunch and nutrition.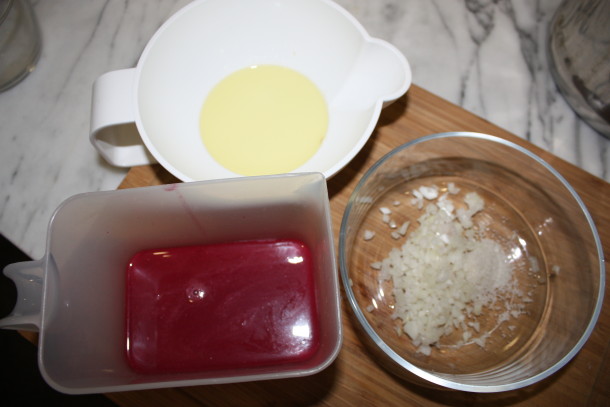 Because I have a juicer, I can make pomegranate juice easily for the dressing, but fresh squeezed orange juice would be a perfectly delicious substitute.  I'm sure if you wanted to, you could add some goat cheese, but don't overcomplicate this.  The best salads are the simplest.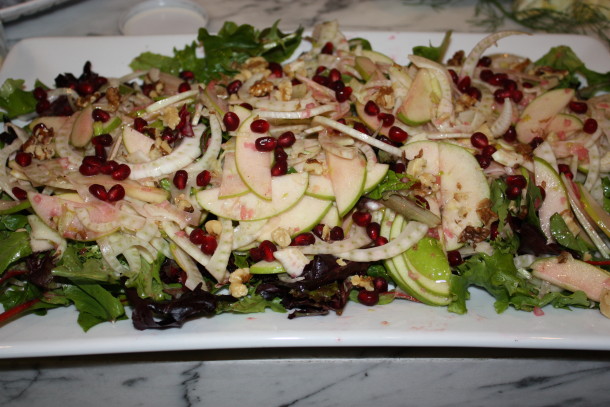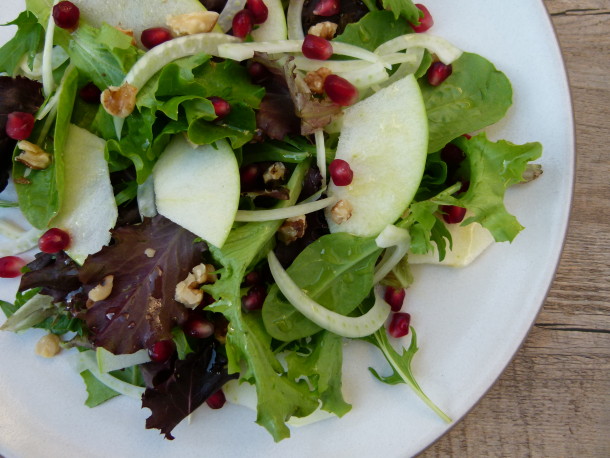 fennel and green apple salad recipe
Ingredients
Dressing:*
1 small shallot, finely chopped
½ teaspoon sea salt
2 Tablespoons fresh lemon juice
2 Tablespoon fresh pomegranate or orange juice
2 teaspoons maple syrup
a few grinds of freshly ground pepper
6-7 Tablespoons unrefined, cold pressed extra virgin olive oil
8 ounces mixed greens or 1 head of frisee (optional), washed, dried and leaves separated
1 -2 bulbs of fennel, cut in half, cored and sliced thinly
1 large (or 2 small) green apple, cored and sliced thinly
1 large handful of pomegranate seeds
1 large handful of walnuts, chopped
Instructions
Make the dressing: in a small bowl, combine the shallot, salt, lemon and pomegranate juices, maple syrup and black pepper to taste. Pour the oil into the bowl slowly, whisking constantly to emulsify. Reserve until ready to use.
Place the salad greens on a serving platter and drizzle with a small amount of dressing. Toss gently to coat. Add the fennel and apple slices and drizzle with dressing. Scatter pomegranate seeds and walnuts on top.
Notes
*An alternative dressing:

1 small shallot, finely chopped

½ teaspoon sea salt

a few grinds of black pepper

1 ½ Tablespoons sherry vinegar

6 Tablespoons unrefined, cold pressed extra virgin olive oil