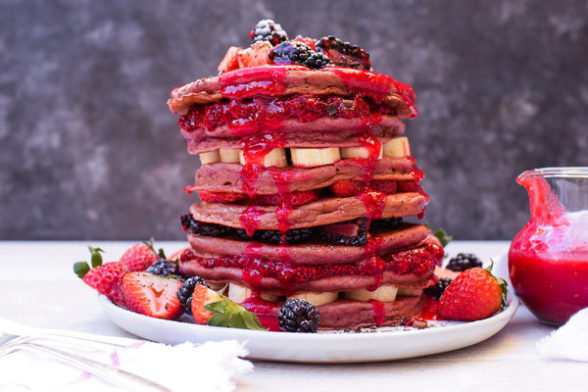 I debated whether or not this "recipe" actually deserved its own post, but I thought it was too fun not to share with you all.  I had this idea of a huge, layered stack of pink pancakes for Valentine's Day.  I visualized everyone digging into it and enjoying a different flavor with each bite, bananas commingling with raspberry chia jam with a hint of shaved chocolate.  I thought about other fillings like almond butter or date caramel sauce or yogurt, too.  How much fun would this be even if it's not Valentine's Day?  I am definitely going to make this for a family breakfast/brunch when my daughters come home for spring break.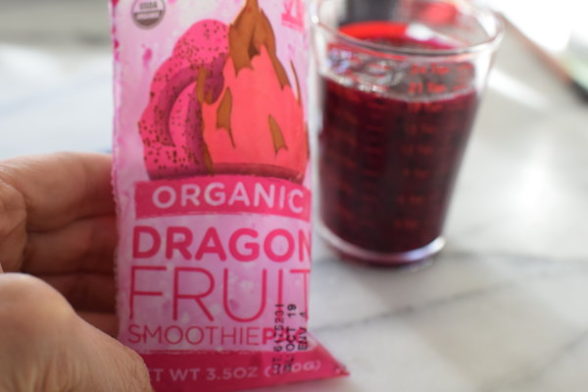 When I set out to make pink pancakes, I immediately thought of pureeing a cooked beet into the batter or using beet juice.  But I've tried that in muffins and cupcakes before and the cake tastes like beets.  I love beets, but not like that.  Then a packet of frozen pitaya caught my eye one morning in my freezer — which has never looked better, by the way!  I am obsessed with this pantry/freezer purge!  Anyhow, pitaya is also known as dragon fruit and can sometimes be found fresh in the produce section, but you can also find frozen packets of puree, much like açaí.  It is uper high in antioxidants and vitamins and a GORGEOUS pink color.  I thawed 1 packet and measured it – 6 Tablespoons.  Then I took my standard pancake recipe and took out 6 Tablespoons of buttermilk and subbed in the pitaya puree. Worked like a charm!  The batter was a stunning pink color and the pancakes tasted like normal pancakes.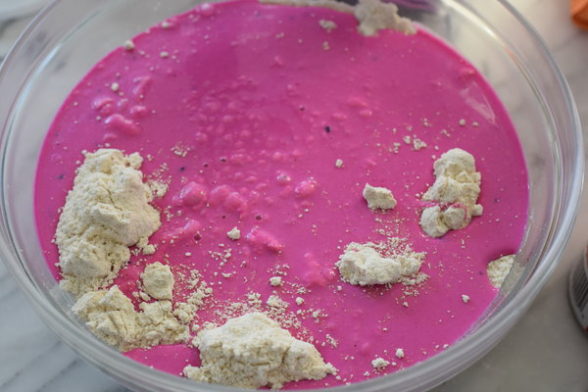 These images of the batter have not been enhanced in any way.  The batter was really this amazing color.  BUT, the problem came when I cooked the pancakes.  The resulting color was tan with a light pink undertone.  I was definitely disappointed that they didn't retain that pure pink color.  But my son still noticed that they were pink and LOVED the dramatic stack of 7 pancakes with loads of fruit.  So all was not lost.  I even dusted a little powdered sugar on top which he thought was the greatest thing ever and made me seem like a cool mom for 5 minutes.  We won't tell him that it was the equivalent of maybe 1/2 teaspoon of powdered sugar LOL.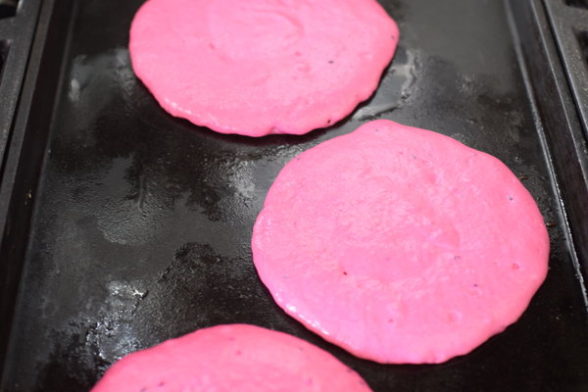 So even though these didn't turn out quite as I would have hoped, they were still fun and a delicious alternative to standard pancakes.  If you've struggled getting your family to eat whole grain pancakes, toss some pitaya in there and they won't even notice that they might have a little fiber in there!  And even if you don't use pitaya, a giant stack for everyone to share is a a lot fun.  Like I tried to show with my Valentine's snack board from the other day, we can use healthy foods in an unexpected and visually appealing way that can have as much wow factor as some artificial junk.  I'm going to try to show on Instagram this weekend some other simple ideas to woo the loves of your life without throwing in the towel, so to speak!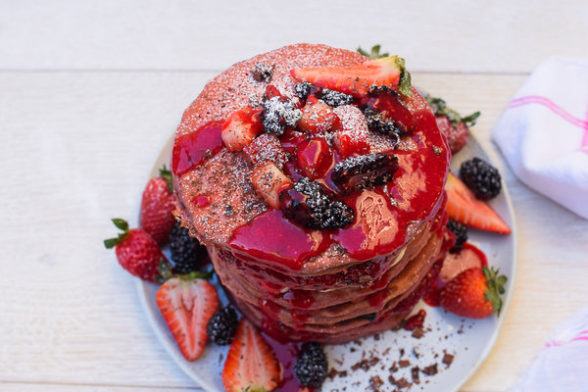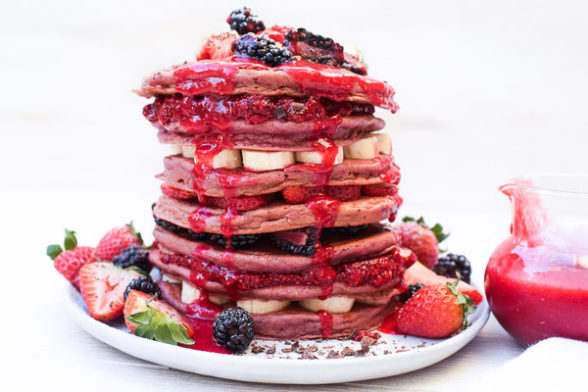 You can do this stack lots of different ways and you can use your favorite pancake recipe if you prefer.  Recipe for raspberry chia jam is HERE.  Recipe for raspberry sauce is within this recipe for flourless chocolate cakes.
Here's what I did, but I would LOVE to see your creations!  If you make this stack, please tag me @pamelasalzman #pamelasalzman.  Can't wait to see what you come up with!

Pitaya Pancake Stack
Serves:
7-8 large pancakes
Ingredients
2 cups whole wheat pastry flour, white whole wheat flour or whole spelt flour*
1 teaspoon aluminum-free baking powder
1 teaspoon aluminum-free baking soda
1 teaspoon fine sea salt
1 packet of frozen pitaya, defrosted and strained to remove seeds if desired
approximately 1 cup + 10 TBS buttermilk**
2 large eggs
1 teaspoon pure vanilla extract
1 Tablespoon 100% pure maple syrup
4 Tablespoons unsalted butter, melted
Melted, unrefined coconut oil for brushing the griddle
Suggested accompaniments: sliced bananas, fresh berries, raspberry chia jam, raspberry sauce, shaved chocolate
Other possibilities: nut butter, Greek yogurt, sautéed apples, blood orange segments, date caramel sauce
Instructions
Preheat a griddle to 400 degrees or medium heat.
Combine the flour, baking powder, baking soda and salt in a large mixing bowl.
Pour the defrosted pitaya into a 2-cup measuring cup and add enough buttermilk to make 2 cups.
In a medium bowl or 4-6 cup measuring cup, whisk together the pitaya-buttermilk mixture, eggs, vanilla, maple syrup and melted butter until well blended. (A blender can do this easily, too.)
Pour the wet mixture into the dry ingredients and stir until just combined.
Brush the griddle with coconut oil and spoon about ⅓ cup of batter onto the griddle. When bubbles start to form on the surface of the pancake and the edges become slightly dry, flip it over and cook until down. Maintain the heat on medium-low or 400 degrees.
Keep pancakes warm on a baking sheet in a 200 degree oven.
Stack as desired.
Notes
*Gluten-free: substitute ⅔ cup GF oat flour, ⅔ cup buckwheat flour and ⅔ cup brown rice flour or 2 cups GF flour of choice.
**No buttermilk? Sub half unsweetened yogurt and half milk of choice. Or use 1 ½ cups any kind of milk, omit the baking soda and use 2 teaspoons baking powder instead.