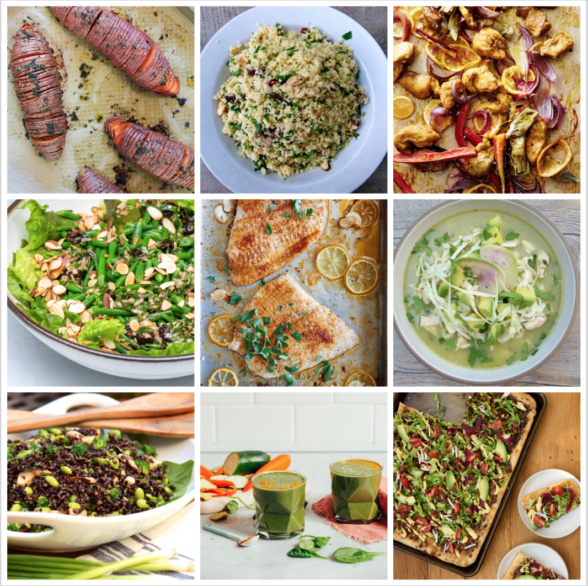 It was a wonderful week with no drama!  I finished the last class in my 4-week Plant-Based Bootcamp and although I was sad to see it come to end, I am rolling right into my new course, Plant-Based 2.0!  If you have prior knowledge of plant-based eating and would like to participate in this more advanced course, feel free to check it out here.  I am offering my website subscribers and previous bootcampers $100 off the course with the code YESPB2.
For my monthly online cooking class students, I am filming your class this week and will have it uploaded no later than February 10!  It's a great class!
Who is making a fun spread for the Super Bowl?  Even though it's just going to the be the 4 of us, I'm still planning all the snacks!! Here's your dinner planner for the week:
Meatless Monday: How about an all veggie dinner? Try the Hasselback Sweet Potatoes. While you're roasting the sweet potatoes, on a sheet pan roast sliced red onion, broccoli and kale, tossed in olive oil and sea salt, to roast as well. Let the veggies get crisp in the oven and when ready squeeze some lemon juice and drizzle tahini on top or make this lemon-tahini sauce.
Tuesday: couscous with dried apricots and herbs, Moroccan sheet pan chicken p. 221 from QTQ
Wednesday: Mixed green salad with green beans, almonds and dried cherry vinaigrette, simple broiled fillet of sole or flounder (there's a recipe in KM p. 198)
Thursday: Chicken posole verde with radish, cabbage and avocado garnishes (My son also likes tortilla chips.  We are fine eating just this, but a quesadilla or salad is a nice accompaniment if you need something more.) Swap pinto beans for the chicken if you want to make this meat-free.
Friday: Black rice salad with edamame and broccoli and stir fried tofu (check this recipe for the tofu). You could also add any leftover animal protein from another night.
Saturday brunch: This Warming Winter Smoothie from The Minimalist Baker
Sunday (Super Bowl): Taco pizza
Here are some of my favorite Super Bowl eats:
Turkey and Black Bean Chili, Vegetable Chili, slow cooker sweet potato and black bean chili, Cornbread, Baked Potatoes and topping bar, Mexican Chopped Salad
Meatball subs, homemade pizzas, Vegetarian Antipasto Chopped Salad, Mini Lasagne Cupcakes, Italian 7-layer dip
Taco bar (Ground Beef , barbacoa, slow cooker chicken, and Fish), Refried beans, Cilantro-Lime Slaw, Arroz Verde
I generally make Guacamole and Baked Tortilla Chips,  plus jicama cut into thin "chips," "Vegan Queso" with chips and baked sweet potato rounds, crudités with Hummus.
I have also done sliders/mini burgers, Mini Chicken Tostadas, Roasted Baby Potatoes with Broccoli and Cheese, spinach and artichoke dip
Here's what you can do ahead if it helps you:
Sunday:
Wash salad greens
Make lemon-tahini sauce
Make dried cherry vinaigrette
Make spice mix for sheet pan dinner
Tuesday:
Blanch green beans
Make chicken stock, if making from scratch
Wednesday:
Cook black rice
Make tomatillo sauce for posole
Saturday:
Make vegan queso
Cook black beans, if making from scratch
My new-ish cookbook, Quicker Than Quick, is here!  I have LOVED seeing all your creations of my recipes on Instagram. If you make any of my recipes, please tag me @pamelasalzman #pamelasalzman so I can check them out!  If you have 1 minute, would you mind leaving a review on amazon?  I would be so grateful, thank you!
Take a peek at my first cookbook "Kitchen Matters"!